Quick-Order Section
(No images)
Print-Out Order Form
(for FAX or Mail orders)
Donnelly/Colt
Box 188
Hampton, CT
06247

(860) 455-9621
FAX (860) 455-9597



Can't find something you're looking for? Just ask, and we'll let you know if we have it or can get it.
Friday, December 13.


Donnelly/Colt Progressive Resources is a family-owned and operated mailorder business that has been designing and distributing progressive materials promoting peace, social and environmental justice and human rights since 1975.
We offer over 1,200 items in stock; almost all the items are union-made and union printed in the U.S.. Handmade items are fair trade produced.
We also offer complete customprinting services for you or your organization, business, campaign, project, club, band or special event.
New items are added throughout the year to our in-stock catalogue. Wholesale pricing is also available, see Ordering Policies.
Our order form is 100% secure.
Since 2009 we generate our electricity from 46 solar photovoltaic panels on the roof that power our home and business and produce enough extra electricity during the day that goes out to the grid to power four more residences with electricity made here from sunlight year-round.


Calendar: 2014 Peace Calendar
$14.95
CAL-2014SCW
Provocative.... Inspirational.... Visionary... Essential
The most powerful antidote to shackles, prison bars and brutal isolation is art. Many of our constituents are cultural workers in prisons, and former prisoners themselves, who deeply value art from inside.



Calendar: Environmental Art 2014
$14.99
CAL-EA2014
Environmental Art celebrates our connection to the natural world through beauty, science, metaphor and ecological restoration. It encompasses a surprising landscape of approaches from ephemeral "art in nature" sculptures designed to last only a few hours before returning to the earth, to community-based "eco-art" installations which clean up polluted watersheds and promote public understanding of local and global environmental issues. The projects featured in this calendar provide a sampling of developments in this field – works that stimulate the imagination and promote the role of art in the creation of a more sustainable world culture.



Calendar: Green Patriot Wall Calendar 2014
$14.99
CAL-GP2014
The Green Patriot wall calendar is a collection of outstanding contemporary posters promoting sustainability and the fight against climate change. Based on the Green Patriot Posters book, published by Metropolis Books in association with the Environmental Defense Fund, it draws inspiration from the WPA (Works Progress Administration) and posters from the World War II era, when transforming consumption habits and conserving became patriotic. The work in this collection is a rallying cry, a potent tool for communication and social transformation.



Calendar: Land Art Wall Calendar 2014
$14.99
CAL-LA2014
Land Art, also known as Earth or Environmental Art, is created in nature and composed primarily of the natural elements available at hand. Purposely impermanent, these works are created and then left to change, erode and eventually be reclaimed by the elements. Environmental sculptor Martin Hill utilizes both processes and forms that reflect nature's cyclical system. His intent is to illuminate how our unsustainable way of life can be reversed through better design informed by the way nature works.



Calendar: Posters for Peace & Justice 2014
$14.99
CAL-PPJ
The Peace & Justice wall calendar is a survey of political protest poster art. Combining strong graphics and succinct messages that educate, these images are plastered on brick walls, stapled to power poles and silk-screened onto T-shirts, and have gone viral on the Internet. This inspiring calendar showcases reprints of some poignant examples of call-to-action posters, complemented by the artist's mission statement and comments on the cause.



Poster: Make Art Not War
$18.00
P-MANW
Designed by Shepard Fairie • 2007 • 18" x 24" • post-consumer recycled satin finish stock. Also available as a postcard (see Peace Postcards; Social Justice Postcards)



Poster: Eugene V. Debs Quote
$10.00
11" x 17" • 2012 • scratchboard art by Ricardo Levins Morales



Poster: Greetings & Thanks to the Natural World (accordian-folded)
$12.00
P-G&T
4.25" wide by 5.3" tall, folded (4.5" x 39" long, unfolded) • 100% postconsumer recycled paper
In eleven hand-lettered and watercolor-illustrated panels, GREETINGS & THANKS honors the universal message of gratitude and thanksgiving. It is long and narrow when hung on your wall (it comes with hanging string), or small and handy for prayers and meditations when keep folded on a table. Inspired by the Thanksgiving Address of the Haudenosaunee, an oral tradition used at gatherings. Designed and drawn by Karen Kerney. A portion of the proceeds from sales of this poster go to the Onondaga Nation. (www.onondaganation.org)
• Click on title to see the full text of the poster



Poster: Towards a Just Peace: Feed, Teach, House, Employ
$10.00
P-TAJP
P-TAJP
11" x 17" • 2010/1985 • 80 pound cover stock
From apartheid-era South Africa, End Conscription Campaign. Also available as a T-Shirt (T-TAJP)



Poster: Never Doubt
$18.00 $12.00 On Sale!
P-MMQ
"Never doubt that a small group of thoughtful committed citizens can change the world. Indeed, it's the only thing that ever has." Margaret Mead Quote (Donnelly/Colt ©1995). 11"x17". Heavy-weight 110 pound recycled stock.



Poster: Change The World
$15.00 $12.00 On Sale!
P-DDCTW
18" x 24" • 80 pound print stock • photograph of Dorothy Day by Bob Fitch published by the Resource Center for Nonviolence, Santa Cruz, CA
Dorothy Day, the radical Catholic Worker activist at a United Farm Workers protest in Lamont, CA in July, 1973. Print run: 1,000 copies.

• Click on title to read the complete text on the poster...



T-Shirt: Towards A Just Peace: Feed / Teach / House / Employ
$25.00 $18.00 On Sale!
T-TAJP
100% Cotton • Union-made & printed in U.S. • The words on the graphic are universal and timeless: "Towards a just peace... Feed, Teach, House, Employ" Now printed using discharge dye water-based screenprinting for a soft feel, instead of Plastisol inks – the standard, heavy, non-porous inks used in screenprinting.
• Click on title for the rest of the story . . .



Banner: Rainbow Peace Flag String
$49.00 $37.00 On Sale!
BNR-9RPF
9 hand-batiked panels, each measuring 11" wide by 9" long, made of 100% rayon, sewn together on a cord. Each banner is an individually made art piece, not printed by machines. The designer, artist Amara Wahaba Karuna, works for fair trade relations with small family shops where each banner is batiked, hemmed and sewn onto the cord. The vibrant colors are made using permanent dyes. This vibrantly beautiful, brightly colored banner is over 10 feet long. "Peace" is written in 7 languages: English, Arabic, Chinese, Sansrit, Russian, Latin and Hebrew. Ideal for display outdoors or indoors, at home, on holiday, at events, vigils, demonstrations, services.



Peace and Justice Cobalt Blue Glass Mug
$15.00 $13.00 On Sale!
GM-PJ
13 oz. cobalt blue glass mug. An etched imprint on one side says "Peace and Justice" with a graphic of cranes flying, a symbol of peace. The other side carries a Margaret Mead quote - "Never doubt that a small group of thoughtful committed citizens can change the world, indeed it's the only thing that ever has."

Union made in the U.S.A. and dishwasher safe, it's a perfect gift for the struggling activist, or the retired activist, or the radical, progressive friend, colleague, teacher, mentor or partner who drinks coffee, tea or any other beverage.
• Click on product title for a customer's unsolicited comments about this item




Button: Peace not War / Generosity not Greed / Empathy not Hate / Creativity not Destruction / Everybody not just Us
$1.00
PNW
(1.5" Button)



Bumpersticker: Actually, Guns DO Kill People
$2.00
S-AGDK
3.75" x 7.5"



Poster: Raise Our Voices
$15.00
P-ROV
18" x 24" • art by Eric Drooker
Caption reads: "Raise our voices against the tanks! Join with us! Swell our ranks! Rid the world of evil tanks funded by evil banks!"



Button: Actually, Guns DO Kill People
$1.00
AGDK
1.5" diameter



Button: Reduce Re-use Recycle (arrows graphic)
$1.00
RRR
one inch diameter. Made from re-purposed 1" recycle logo stickers, originally designed to put on packaging that is being re-used, and on calendars and date books as reminders of recycling days.



Labels: Reduce Re-use Recycle
$1.00
L-RRR
Sheet of 12 one inch round self-sticking aper labels. Designed to help increase awareness of and the practice of re-using corrugated cardboard boxes, envelopes, etc. Also use to mark recycling days in calendars and datebooks.




Button: If You Think The System Is Working Ask Someone Who Isn't
$1.00 $0.50 On Sale!
SYSTEM
(1.5" Button) Unemployed special on sale from now on...



Bumpersticker: If you think the system is working ask someone who isn't
$2.00 $1.00 On Sale!
S-SYSTEM
Unemployed special on sale from now on...



Button: Make Peace With Nature
$1.00
MPN
(1.25" Button) This upside-down peace symbol in the form of a tree is a timeless classic.



Bumpersticker: Earth--Oval
$3.00 $2.00 On Sale!
S-EARTH
4" x 6" European style oval sticker used to identify one's country. This version is for the rest of us who identify as citizens of the world. A 21st century classic.



Poster: Transition to... Green
$6.00 $4.00 On Sale!
P-TTG
Click the poster to see a larger version of it.
• 8" x 17"



Poster: How To Build Community
$18.00
P-HTBC
12" x 36" • Designed by Karen Kerney • watercolor • also available as postcard P-HTBC
TEXT:
Turn off your TV • Leave your house • Know your neighbors • Look up when you are walking • Greet people • Sit on your stoop • Plant flowers • Use your library • Play together • Buy from local merchants • Share what you have • Help a lost dog • Take children to the park • Garden together • Support neighborhood schools • Fix it even if you didn't break it • Have pot lucks • Honor elders • Pick up litter • Read stories aloud • Dance in the street • Talk to the mail carrier • Listen to the birds • Put up a swing • Help carry something heavy • Barter for your goods • Start a tradition • Ask a question • Hire young people for odd jobs • Organize a block party • Bake extra and share • Ask for help when you need it • Open your shades • Sing together • Share your skills • Take back the night • Turn up the music • Turn down the music • Listen before you react to anger • Mediate a conflict • Seek to understand • Learn from new and uncomfortable angles • Know that no one is silent though many are not heard • Work to change this.



Button: Live Green (red tree)
$1.00
LGR
1.25" Button, hand-assembled without electricity. 100% post-consumer recycled paper.



Button: Our Problems Stem from Our Acceptance of this Filthy Rotten System
$1.00
OPS
(1.25" Button)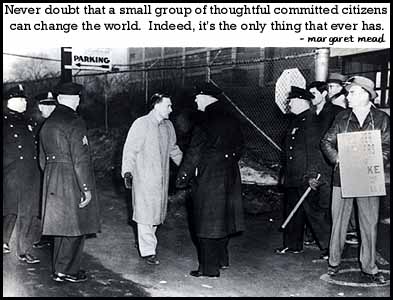 James Donnelly (Kate's father, 1917-1986) negotiating
with police as vice-president of his local United Rubber
Workers union, on strike in West Haven, CT in 1953.
• We now have a Quick-Order Section without images so that you can find what you're looking for more easily if you have a slow Internet connection.
• We've put together a collection of our favorite progressive web sites. Be sure to check them out, and let us know if there are any great sites we're missing!

• Customer Comments we've received over the years.
To subscribe to our very, very occasional (3-5 times a year) newsletter to receive news about new products and special deals, enter your email address below and click Subscribe.
To unsubscribe, enter your email address below and click "unsubscribe".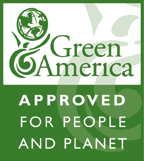 Back to top of page.