Quick-Order Section
(No images)
Print-Out Order Form
(for FAX or Mail orders)
Donnelly/Colt
Box 188
Hampton, CT
06247

(860) 455-9621
FAX (860) 455-9597



Can't find something you're looking for? Just ask, and we'll let you know if we have it or can get it.

Bumpersticker: Recovering Tele-Holic; Beware the Media-Trivia Complex
$2.00
S-RTB



Button: Pink Triangle with Fist
$1.00 $1.00 On Sale!
TF
(1" Button)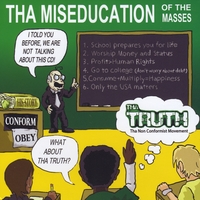 CD: The Mis-Education of the Masses
$17.00 $12.00 On Sale!
CD-TT-MOTM
CD0-TT-MOTM
by political rap/hip-hop artist Tha Truth • 2010 • 1 hour, 11.5 minutes
Tha Truth is a conscious/political underground hip hop artist and "rap-tivist" (rapper-activist) known around the Philadelphia area for battling inequality, poverty, discrimination, and injustice. He has performed in countless venues at concerts, colleges, demonstrations, conferences, and benefits. Since 2006 Tha Truth has released three critically acclaimed underground political rap albums that attack the forces that maintain the status quo.
mix: truth, revolution, struggle, the red pill from the matrix, V for Vendetta, fightclub, the spirits of Bob Marley, Howard Zinn, and George Carlin, then add the Simpsons, the Boondocks, and fighting the system, and cook for 60 minutes.
"Tha Mis-Education of the Masses" was released on May 19th 2010 (Malcolm X's birthday). Tha Truth chose this release date purposely to honor freedom fighters Malcolm X and also Harvey Milk (whose birthday is May 22nd). This CD expands on the themes of equality and justice as his previous projects, while adding substantial doses of sarcastic wit, mind bending and humorous metaphors, and a variety of diversified beats comprised from Middle Eastern live percussion/drums, native flutes, acoustic and rock guitar, reggaeton, and a lot of the lost arts of DJ scratching and mixing.
• Click on the title for more information . . .



Bumpersticker: If you want Peace work for Justice
$2.50 $1.00 On Sale!
S-IYW
2.75" x 15"