Quick-Order Section
(No images)
Print-Out Order Form
(for mail orders by post)
Donnelly/Colt
Box 188
Hampton, CT
06247

(860) 455-9621



Can't find something you're looking for? Just ask, and we'll let you know if we have it or can get it.

Bumpersticker: Recovering Tele-Holic; Beware the Media-Trivia Complex
$2.00
S-RTB



Button: Pink Triangle with Fist
$2.00
TF
(1" Button)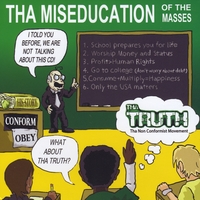 CD: The Mis-Education of the Masses
$17.00 $12.00 On Sale!
CD-TT-MOTM
CD0-TT-MOTM
by political rap/hip-hop artist Tha Truth • 2010 • 1 hour, 11.5 minutes
Tha Truth is a conscious/political underground hip hop artist and "rap-tivist" (rapper-activist) known around the Philadelphia area for battling inequality, poverty, discrimination, and injustice. He has performed in countless venues at concerts, colleges, demonstrations, conferences, and benefits. Since 2006 Tha Truth has released three critically acclaimed underground political rap albums that attack the forces that maintain the status quo.
mix: truth, revolution, struggle, the red pill from the matrix, V for Vendetta, fightclub, the spirits of Bob Marley, Howard Zinn, and George Carlin, then add the Simpsons, the Boondocks, and fighting the system, and cook for 60 minutes.
"Tha Mis-Education of the Masses" was released on May 19th 2010 (Malcolm X's birthday). Tha Truth chose this release date purposely to honor freedom fighters Malcolm X and also Harvey Milk (whose birthday is May 22nd). This CD expands on the themes of equality and justice as his previous projects, while adding substantial doses of sarcastic wit, mind bending and humorous metaphors, and a variety of diversified beats comprised from Middle Eastern live percussion/drums, native flutes, acoustic and rock guitar, reggaeton, and a lot of the lost arts of DJ scratching and mixing.
• Click on the title for more information . . .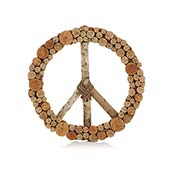 Wreath: Flat Peace Sign
$20.00 $28.00 On Sale!
Galtang vine wreath is framed with variously sized circles, cross sections of branches from the Philippine Coral Tree (what the locals call "takip-asin"). Nailed to the vine frame in three layers, the circles lend depth and a touch of modern appeal to this natural wreath. 16" diameter x 1 1/2"deep. Had-crafted and fair trade imported by the non-profit org., SERRV.



Bumpersticker: If you want Peace work for Justice
$2.00 $2.00 On Sale!
S-IYW
2.75" x 15"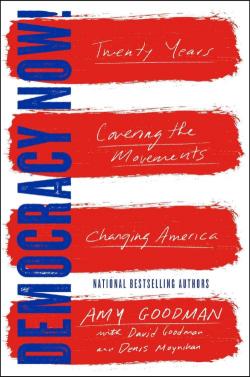 Book: "Democracy Now! 20 Years Covering the Movements Changing America"
$30.00 $24.00 On Sale!
BK-DN
by Amy Goodman, co-host & founder of daily independent radio/TV program "Democracy Now!" • 2016 • 384 pages • hardcover

A celebration of the acclaimed news program "Democracy Now "and the extraordinary heroes who have moved our democracy forward. In 1996 Amy Goodman started a radio show called "Democracy Now " to focus on the issues that are underreported or ignored by mainstream news coverage. Shortly after September 11, 2001, they were broadcasting on television every weekday. Today it is the only public media in the US that airs simultaneously on satellite and cable television, radio, and the Internet. Now Amy and her journalist brother, David, share stories of the progressive heroes--the whistleblowers, the organizers, the protestors--who have brought about remarkable, often invisible change over the last two decades in seismic ways. "Rebellion" looks back over the past twenty years of "Democracy Now " and considers that as the courts and government abdicate their responsibilities, it has fallen to ordinary people to hold the powerful to account. Amy gives voice to these leaderful, not leaderless, movements: the countless charismatic leaders who are taking to the streets in Ferguson, Staten Island, Wall Street, and other places where people are rising up to demand justice. This is the guiding principle of "Democracy Now ," which is front and center in the powerful, important "Rebellion." "A sweeping look at both the origins of the show and its unique role in American political life. It's also a scathing critique of corporate media and its corrosive culture." Sean Illing, Salon "An impassioned book aiming to fuel informed participation, outrage, and dissent." – Kirkus Reviews "Democracy Now! presents the voices of people prevented from earning livable wages, fired for organizing for labor rights, incarcerated unjustly, bombed illegally, discriminated against, foreclosed on, spied upon, disenfranchised and deported. They call us to the better angels of our democracy." – Jim Swearingen, The National Book Review





Small Labels: Peace Sign Wreath / set of ten
$2.50 $1.25 On Sale!
SL-PSW-10 • 1.5" Round • ten per sheet.
Use these small labels any time of year on envelopes, cards, and stick them anywhere. We sell these at our cost. Ask about larger quantities at lower cost per label: like 5,000 at .075¢ each, 10,000 at .06¢ each, 15,000 at .04¢ each, oner 25,000 at .02¢ each (allow a week for production and delivery time for quantities of 2,000 or more)
We also have these labels in stock in packs of 100. See item code: SL-PSW-100
Also available as a button, item code: PSW.



Small Labels: Peace Sign Wreath/set of 100
$12.95 $9.95 On Sale!
SL-PSW-100
1.5" Round Paper Labels • 5 sheets of twenty labels per sheet (100 total)
Use on holiday cards and envelopes, as well as year-round. Hand them out at events, put on gift boxes, bags, postcards.