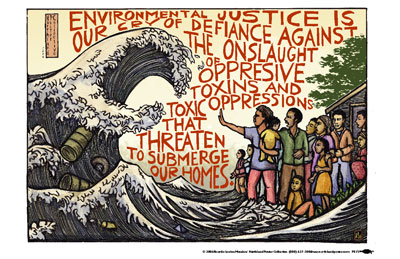 Poster: Environmental Justice
$12.00
11" x 17" • design by Ricardo Levins Morales • 2006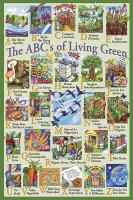 Poster: The ABC's of Green Living
$20.00
P-ABCGL
24" x 36" • 100% post-consumer recycled 100 pound weight print stock • by Donna Tarbania, Karen Kerney (illustrations and design), Dik Cool and many friends © 2010 • Green living defined letter by letter with 26 illustrations.
• Click on the title to see an enlarged version of the poster that's legible.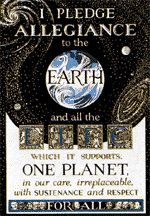 Poster: Pledge To The Earth
$20.00 $15.00 On Sale!
P-PLEDGE
Rare print: "I pledge allegiance to the Earth and all the life which it supports. One planet, in our care, irreplaceable, with sustenance and respect for all." • designed by Janina Lamb (Lamb and Lion Studio) • 18" x 24".
Also available as a 5" x 7" postcard (product code: PC-PLEDGE)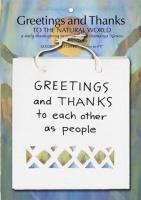 Poster: Greetings & Thanks to the Natural World (accordian-folded)
$13.00
P-G&T
4.25" wide by 5.3" tall, folded (4.5" x 39" long, unfolded) • 100% postconsumer recycled paper
In eleven hand-lettered and watercolor-illustrated panels, GREETINGS & THANKS honors the universal message of gratitude and thanksgiving. It is long and narrow when hung on your wall (it comes with hanging string), or small and handy for prayers and meditations when keep folded on a table. Inspired by the Thanksgiving Address of the Haudenosaunee, an oral tradition used at gatherings. Designed and drawn by Karen Kerney. A portion of the proceeds from sales of this poster go to the Onondaga Nation. (www.onondaganation.org)
• Click on title to see the full text of the poster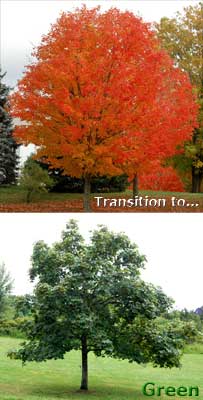 Poster: Transition to... Green
$6.00 $4.00 On Sale!
P-TTG
Click the poster to see a larger version of it.
• 8" x 17"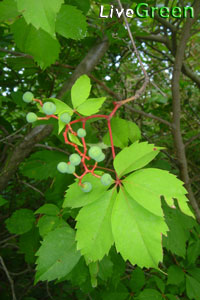 Poster: Live Green
$8.00 $5.00 On Sale!
P-LGL
Click the poster to see a larger version of it.
• 11" x 17"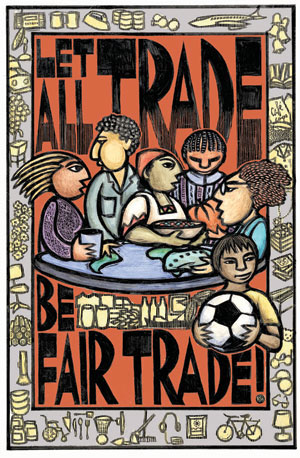 Poster: Let All Trade Be Fair!
$11.00 $9.00 On Sale!
P-LATBF
11" x 17"Full Color • by Ricardo Morales Levins
Whether it's coffee, soccer balls, fruit, chocolate, children's toys or household goods, let all trade be fair to the people of the world.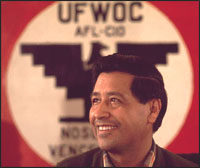 Poster: Cesar Chavez
$18.00
P-Chavez
MARCH 31st is CESAR CHAVEZ DAY (1927-1993)

18" x 24" • Photo of Cesar Chavez taken in 1971 in Delano, CA by Bob Fitch at a United Farm Workers meeting. The photo was used to create the artist's rendering of Chavez on a 2002 commerative postage stamp. The federal government took out the U.F.W. Organizing Committee flag that appears in the background of the original photograph to de-politicize the image. The U.S. Postal Service has never honored union organizing on any of its hundreds of commemorative stamps over the past century.
The poster also has text along the left side in ivory ink on the red background: " 'I am convinced that the truest act of courage, the strongest act of manliness, is to sacrfice ourselves for others in a totally nonviolent struggle for justice...
Nonviolence is not inaction. It is not discussion. It is not for the timid or weak.
Nonviolence is hard work. It is the willingness to sacrifice. It is the patience to win.' – Cesar Chavez "
The poster is union printed (2007) by Community Printers, Santa Cruz, CA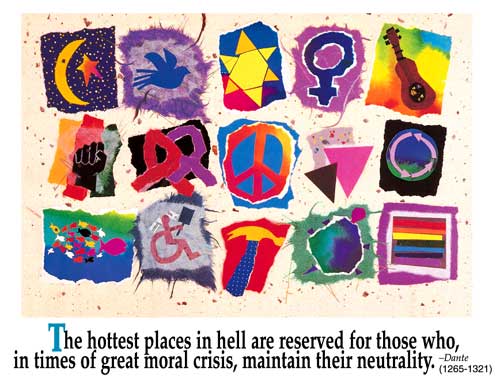 Poster: Signs
$18.00
P-SIGNS
Beautiful 17" x 22" watercolor illustration by Amy Bartell on heavy stock (A.E. Originals) witha quotation from Dante: "The hottest places in hell are reserved for those who, in times a great moral crisis, maintain their neutrality."
• also avaiable as a T-shirt and postcard.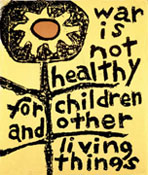 Poster: "War Is Not Healthy for Children & Other Living Things"
$25.00
P-WINH
22" x 26" Original design by Lorraine Schneider for Another Mother for Peace (1966) This classic image was reproduced with permission by the Center for the Study of Political Graphics in 2003, and is available again after being out-of-print for decades.



Poster: How To Build Community
$18.00
P-HTBC
12" x 36" • Designed by Karen Kerney • watercolor • also available as postcard P-HTBC
TEXT:
Turn off your TV • Leave your house • Know your neighbors • Look up when you are walking • Greet people • Sit on your stoop • Plant flowers • Use your library • Play together • Buy from local merchants • Share what you have • Help a lost dog • Take children to the park • Garden together • Support neighborhood schools • Fix it even if you didn't break it • Have pot lucks • Honor elders • Pick up litter • Read stories aloud • Dance in the street • Talk to the mail carrier • Listen to the birds • Put up a swing • Help carry something heavy • Barter for your goods • Start a tradition • Ask a question • Hire young people for odd jobs • Organize a block party • Bake extra and share • Ask for help when you need it • Open your shades • Sing together • Share your skills • Take back the night • Turn up the music • Turn down the music • Listen before you react to anger • Mediate a conflict • Seek to understand • Learn from new and uncomfortable angles • Know that no one is silent though many are not heard • Work to change this.


Supergrip Suction Cup Inside Window Bumpersticker/Poster Holder
$3.00 $1.50 On Sale!
SCBPH
A pair of 1.5" diameter supergrip suction cups with sign holder attached to each. Made of clear vinyl. Another way to display (and easily change) bumperstickers or any sign inside the back or side window of any vehicle. They also work great to display signs or posters of any size inside a window. They will firmly hold any bumpersticker, card or sign up to .080" thick. These hard-to-find little gadgets really work, but you won't find them at any hardware store. They are the best solution we've found for inside window display of stickers. Made in U.S.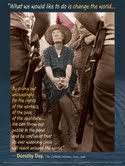 Poster: Change The World
$18.00
P-DDCTW
18" x 24" • 80 pound print stock • photograph of Dorothy Day by Bob Fitch published by the Resource Center for Nonviolence, Santa Cruz, CA
Dorothy Day, the radical Catholic Worker activist at a United Farm Workers protest in Lamont, CA in July, 1973. Print run: 1,000 copies.

• Click on title to read the complete text on the poster...


Poster: Solar Energy - the fire in the sky
$18.00
P-SE
24" x 34" • 100% post-consumer recycled 100 pound poster stock • designed by Alan Kettler © 1985 / SCW © 2010
Renewable energy is generated from natural resources such as sunlight, wind, rivers, oceans and geothermal heat, which are naturally replenished. Unlike fossil fuels (coal and petroleum products), renewable sources of energy (solar, wind, water and geothermal) are clean and do not pollute the air, water or land.


Poster: Wind Power - the benevolent breeze
$20.00
P-SCWWIND
Renewable energy is generated from natural resources such as sunlight, wind, rivers, oceans and geothermal heat, which are naturally replenished. Unlike fossil fuels (coal and petroleum products), renewable sources of energy (solar, wind, water and geothermal) are clean and do not pollute the air, water or land.

24x34
Artist: Alan Kettler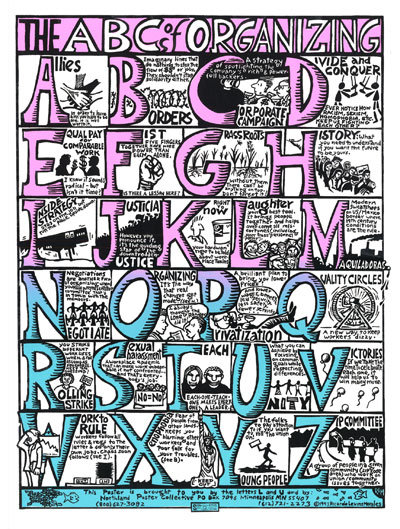 Poster: The ABC's of Organizing
$15.00 $12.00 On Sale!
P-ABCOO
11" x 17" • by Ricardo Levins Morales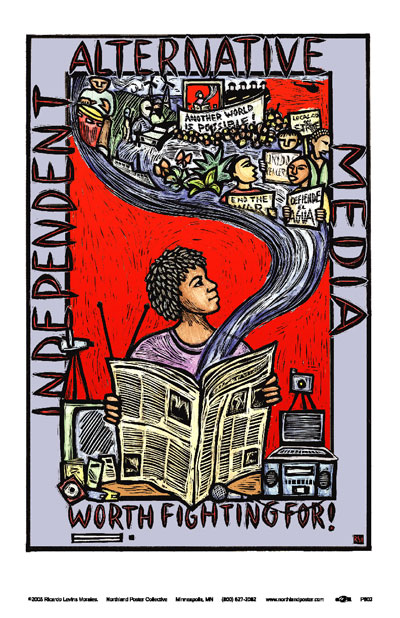 Poster: Independent Alternative Media
$15.00 $10.00 On Sale!
P-IM
2008 • 11" x 17" print • designed by Ricardo Levins Morales.

Whether it's magazines, weekly papers, pirate low-power radio, cable TV channels, or internet broadcasting, alternative media tell our stories when the mainstream media does not. And alternative media is increasingly under attack.



Poster: How to Build Global Community
$18.00
P-HTBGC
12" x 36" • Designed by Karen Kerney • watercolor • also available as postcard (P-HTBGC)
TEXT:
12" x 36" • Designed by Karen Kerney • watercolor
TEXT:
Think of no one as "them" • Don't confuse your comfort with your safety • Talk to strangers • Imagine other cultures through their poetry and novels • Listen to music you don't understand • Dance to it • Act locally • Notice the workings of power & privileged in your culture • Question consumption • Know how your lettuce and coffee are grown: wake up and smell the exploitation • Look for fair trade and union labels • Help build economies from the bottom up • Acquire few needs • Learn a second (or third) language • Visit people, places, and cultures - not tourist attractions . . .
• For rest of the quote, click on the title (above)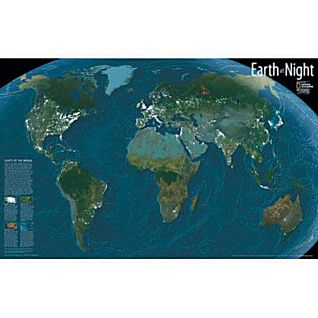 Poster: Earth At Night
$18.00
P-EAN
National Geographic Society • 2009 • 22 x 35"
This intriguing map reveals the lights of the Earth at night in stunning detail. The rare view is a composite digital image made over a year on cloud-free nights. It also shows where fires rage, natural gas burns off, and fishing takes place at night. The most economically-developed countries of the world are also the most illuminated ones. The countries of western Europe, North America and Japan are the most illuminated at night, as are the industrial cities of China and India that operate 'round the clock.
An excellent conversation-starter and way to raise global awareness. Great for any classroom.



Poster: Welcome
$14.00
P-WELCOME
Accordion Poster • 4" x 35" • 2012
Each of the seven 4" x 5" WELCOME panels contains a beautiful letter filled-in with graphics from a previously published Syracuse Cultural Workers product, and a progressive saying which begins with the panel's letter. This inspirational poster will welcome people to your home, office, place of worship, classroom or any other location of your choosing. It can also be used as a booklet/gift for welcoming rituals.
Folded, it comes with a strng through a hole at teh top to hang it.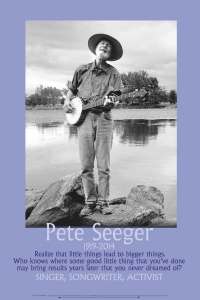 Poster: Pete Seeger - 'Presente!
$12.00
12" x 18" offset lithographed photographic print • 2014 • union printed 110 pound recycled poster stock using soy-based inks. Celebrate the life and legacy of Pete Seeger (1917-2014)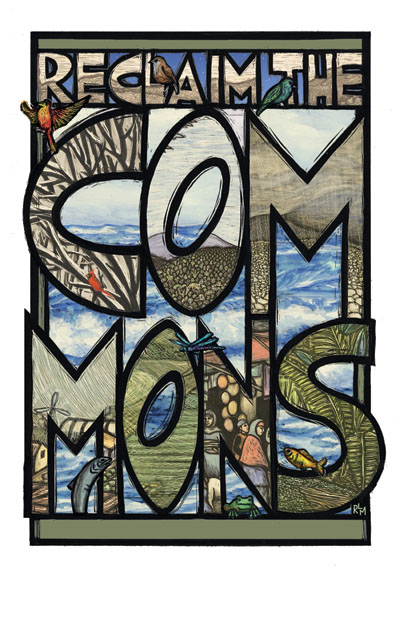 Poster: Reclaim The Commons
$12.00
11 x 17" poster • art by Ricardo Levins Morales • union printed
In an age of corporate commercial privatization of nearly every institution once held in common for the use of all, we need to reclaim and retain as part of our commonwealth all such essentials as water, roads, parks, and more.



Poster: WELCOME - 9" x 60" Horizontal version
$25.00
9" x 60" accordion-folded; seven 9" x 8.75" horizontal panels, spelling "Welcome" • 2013
The large horizontal can be hung in classrooms, offices, and it "accordions" across a shelf, on a mantle or at the back of a display. Each of the seven panels in our accordion posters contains a beautiful, single letter from the word "welcome" which is filled with graphics of previously published images.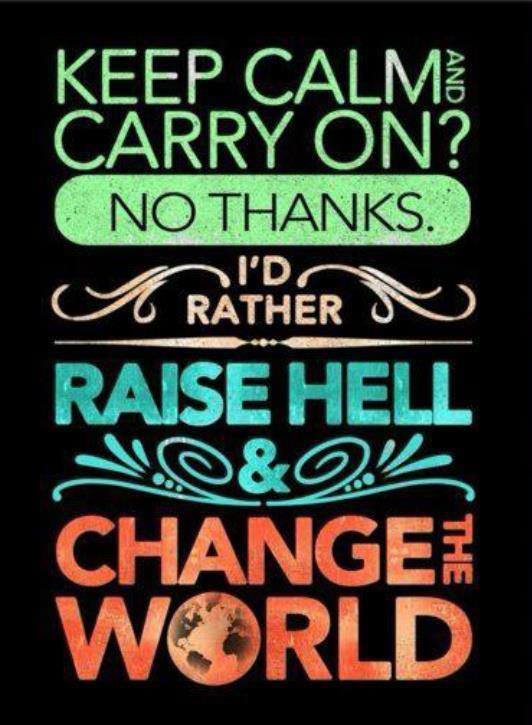 Poster: Keep Calm & Carry On. NO THANKS. I'd Rather Raise Hell & Change The World
$12.00
P-KC
11" x 17" poster • 67 pound cover stock • union printed • 2013 • also available as a postcard (PC-KC)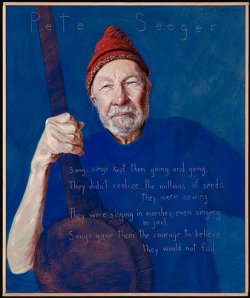 Poster: Pete Seeger
$20.00
2013 • 11" x 17" print signed by the artist, Robert Shetterly
This painting is part of Robert Shetterly's growing series of Americans Who Tell the Truth. Shetterly, a Maine portrait artist has created dozens of paintings of women and men throhghout U.S. history, who have challenged the status quo in many fields. This is the first of his portraits that we are offering.
The text reads: "Song, song, kept them going and going. They didn't realize the millions of seeds they were sowing. They were singing in marches, even singing in jail. Songs gave them the courage to believe they would not fail."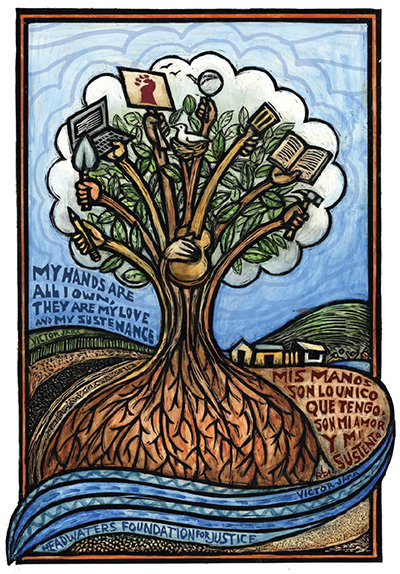 Poster: My Hands Are All I Own...
$12.00
11 x 17" poster • art by Ricardo Levins Morales • union printed
Text reads: "My hands are all I own, they are my love and my sustenance." – Victor Jara
"Mis manos son lo ϊnico que tengo, son mi amor y mi sustento."
Headwaters Foundation for Justice
This is a quote from the popular Chilean singer-songwriter, Victor Jara, who was arrested, imprisoned among thousands of other leftists in the national stadium where he was tortured and had all his fingers broken. The military guards then said "Play your guitar now!" and Victor did with broken fingers. The guards shot and killed him in front of the thousands of others they had rebounded up to torture and murdered. This owas one of the moist brutal coups ever backed by the U.S. government. The Chilean military bombed the Presidential palace on September 11, 1973 in a CIA-backed Coup D-Etat that overthrew the democractically-elected Socialist President. Salvador Allende. Henry Kissinger and the Nixon administration in the U.S. supported this coup, and for the next 19 years Chile was ruled by the fascist government of military General Augusto Pinochet. The ttory behind Victor Jara makes his words about his hands so much more powerful.
For n outstanding a docudrama about the September 11th Chilean Coup, see the Academy Award-Winning 1983 film "Missing" by Costa-Gavras. We carry the DVD.


Poster: Sing & Shout...Pete Seeger (1919-2014)
$18.00
P-S&S...Pete
18" x 24" offset lithographed print • 2014 • photograph of Pete Seeger by Bob Fitch • published by Resource Center for Nonviolence 6/14 • union printed
This photograph of Pete Seeger was taken when he was fifty in 1969, three years past the halfway point of his 94 year life, which spanned most of the 20th century and influenced folk music as well as the peace, social and environmental justice movements of the last half century. Thank you, Pete, for your service to both your country and the world, as a global citizen.