Bumpersticker Display Sleeves - Pack of Ten
$3.00
BDS-15
[no image...because, they're clear, and wouldn't show up well in a photo]
$2.00 buys ten of these 4" x 15" clear plastic 4 mil thick Bumpersticker Display Sleeves. They are the same thickness as a bumpersticker, so they're durable and long-lasting. The image shown here is the old way some people have devised to display stickers on a table outdoors.
Sure, bungee cords will help keep your stickers in place on a windy day, but we think, also having them in the clear Display Sleeves makes it easier and quicker to store, set up and also to pack up afterwards.

• Please click on the product name above (in blue) for more info about them.
• Open on one 4" end. These are THE best solution we've found to organizing bumperstickers for display at tabling events and shops.
• Ask us to send you a free sample, if you want to see one. Contact us through the Comments field on this website, or by email, fax or phone.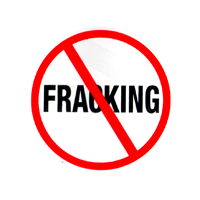 Small Vinyl Sticker: No Fracking (circle/slash graphic)
$0.50 $0.25 On Sale!
SVS-NF
3.5" diameter • screenprinted on vinyl for 5-8 year outdoor durability.



Bumpersticker: Yes We Can Tax the Rich
$2.00 $0.75 On Sale!
S-YWC
3.75" x 11.5" This is the main message that the 1% need to start seeing on vehicles everywhere. They don't have to worry about health insurance, mortage payments, finding a job, paying college tuition, dental or medical bills, prioritizing what to pay for between paychecks. They don't even have to worry about driving their car, they have chauffers for that. So they do have plenty of time to read this bumpersticker. We've lowered the price so they're more affordable.



Bumpersticker: "The universe is wider than our views of it." -Henry David Thoreau
$2.00 $1.00 On Sale!
S-TQ



Bumpersticker: "The moral arc of the universe is long, but it bends toward justice." --Martin Luther King Jr.
$2.00 $1.00 On Sale!
S-MAJ
3" x 11.5" bumpersticker • Martin Luther King quote;
One free sticker with every order this February



Bumpersticker: I'll believe that corporations are people when Texas executes one
$2.00
S-IBCP



Bumpersticker: 2% of U.S. Owns 90% of the Wealth. What's your share?
$2.00 $1.50 On Sale!
S-2%
3" x 9" Bumpersticker


Bumpersticker: Alone We Can Do So Little, Together We Can Do So Much
$2.00 $1.00 On Sale!
S-AWC
This is what is meant by the word "solidarity."



Bumpersticker: "Never doubt that a small group of thoughtful, comitted citizens can change the world; indeed it's the only thing that ever has." -Margaret Mead
$2.00
S-MMQ



Bumpersticker: War is not working; Neither are millions of Americans
$2.00
S-WNW



Bumpersticker: "In a time of universal deceit, telling the truth is a revolutionary act" George Orwell
$4.95
S-OQ
3.75" x 11.5" • George Orwell quote • Out-of-Print, only a couple left.
We can reprint any out-of-print stickers,if you can order the minimum of 100 at the wholesale custom printing price, which is lower for our stock designs than for a new design: $1.25 one color; $1.65 two colors; $2.05 three colors; $2.45 four colors. These are Silkscreen printed & colorfast, for 5-7 year outdoor durability. Digitally printed stickers only have a 1-2 year outdoor durability.



Bumpersticker: We ARE the 99%
$2.00 $0.75 On Sale!
S-99%
3.75" x 7.5"
You can also order these custom printed in higher quantities, starting at 250 in any size or colors at much lower cost. Prices on our Custom Printing Button page. (click on yellow "Customprinting" tab at top of this page to get there)



Bumpersticker:"All Truth Passes Through Three Stages: First it is Ridiculed. Second it is Violently Opposed. Third it is Accepted as Being Self-Evident." - Schopenhauer
$2.00
S-ATP
3.75" x 11.5" bumperstickler • quote from the German philosopher Arthur Schopenaur (1788-1860)



Bumperstickers: Get Corporations Off Welfare
$2.50 $1.50 On Sale!
S-GCO



Bumpersticker: I'd Rather Be Smashing Imperialism
$2.50 $2.00 On Sale!
S-RBSI



Bumpersticker: "Whatever you do may seem insignificant, but it is most important that you do it." -Gandhi
$2.00
S-GQ
3" x 11.5"



Small Vinyl Sticker: If You're Not Outraged You're Not Paying Attention
$1.00
SVS-IYNO



Bumpersticker: "A closed mind stumbles over life's blessings without even recognizing them at all." --Amy Pursifull
$2.00
S-APQ


Small Vinyl Sticker: Fight TV Addiction
$1.00
SVS-FTVA



Bumpersticker: Organize
$2.00 $1.00 On Sale!
S-ORGN
1.75" x 11.5"



Bumpersticker: "The most violent element in society is ignorance." -Emma Goldman
$2.00
S-TMV



Bumpersticker: What Part Of "No" Don't You Understand?
$2.00
S-WPON



Bumpersticker: A Closed Mind is a Wonderful Thing to Lose
$2.00
S-CM



Bumpersticker: God Bless the Freaks
$1.00
S-GBTF



Bumpersticker: "Imagination is More Important than Knowledge" -Albert Einstein
$2.00
S-IMAG



Bumpersticker: Sprawl Marts Suck the Life out of Your Town
$2.00
S-SM



Bumpersticker: Organize
$2.00
S-ORG



Bumpersticker: Question Authority
$2.00 $1.00 On Sale!
S-QA



Bumpersticker: If you think the system is working ask someone who isn't
$2.00 $1.00 On Sale!
S-SYSTEM
Unemployed special on sale from now on...



Bumpersticker: My Other Vehicle is my Imagination
$2.00
S-MOV



Bumpersticker: Against Abortion? Wear a Condom, Dude
$2.00
S-AAWC



Bumpersticker: Your Hate Becomes You
$2.00
S-YHBY



Bumpersticker: Think Globally, Act Globally
$2.00
S-TGAL



Bumpersticker: Unity Thru Diversity
$2.00 $1.00 On Sale!
S-UTD



Bumpersticker: Pro-Choice: Keep Abortion Safe and Legal
$2.00 $1.00 On Sale!
S-PCK



Bumpersticker: "If there is no struggle, there is no progress" --Frederick Douglass
$2.00
S-NSNP



Bumpersticker: Another Friend of Ishmael
$2.00
S-AFI



Bumpersticker: Organize Locally Resist Globally
$2.00
S-OLRG



Small Vinyl Sticker: Seven Deadly Social Sins: Politics without Principle. Wealth without work. Commerce without morality. Pleasure without Conscience. Education without Character. Science without Humanity. Worship without Sacrifice. --Mohandas K. Gandhi (1869-1948)
$1.50 $0.75 On Sale!
SVS-DS7
3.75" x 4.25" • Quote from Gandhi, also available on the poster P-SDSS in the poster section of the website.



Small Vinyl Sticker: Peer Mediation It Works
$0.50
SVS-PMIW



Small Vinyl Sticker: 6 Pack of Rainbow Triangle (adhesive on front)
$6.00 $3.00 On Sale!
SVS-6Pk-RTRIfront
Set of six. 2" on each side. Adhesive is on the front of the sticker, so it can be placed inside a window. Screenprinted on vinyl in durable colorfast ink for longterm outdoor use on vehicles.



Small Vinyl Sticker: VOTE (peace sign)
$1.00
SVS-VOTE



Small Vinyl Sticker: Another Intelligent Compassionate Youth
$1.50
SVS-AICY
3" round vinyl screenprinted sticker (also available as a 1.5" button).



Bumpersticker: "Live simply that others may simply live." --Elizabeth Seaton
$2.00
S-LS



Bumpersticker: Subvert The Dominant Paradigm
$2.00
S-SDP



Small Vinyl Sticker: Celebrate Diversity
$1.00
SVS- CD



Small Vinyl Sticker: Tobacco kills 3 times more people than AIDS, Alcohol, Murder, car accidents, illicit drugs and suicide all combined
$1.00
SVS- TK3



Small Vinyl Sticker: One Must Understand What Fear Means In a world where murder is legitimate, and where human life is considered trifiling... All I ask is that in the midst of a murderous world, we agree to reflect on murder and to make a choice." --Albert Camus
$1.00
SVS-OMU


Small Vinyl Sticker: Attitudes are the Real Disability
$1.00
SVS-ARD
Two for $1.00



Small Vinyl Sticker: In 1992 the average CEO made 157 times more than the average worker: CEO: 3,842,247 Worker: 24,411 Teacher: 34,098
$1.00
SVS-CEO



Small Vinyl Sticker: Every Minute the World Spends $700,000 on War While 30 children Die of Hunger & Inadequate Health Care
$1.00
SVS-EM



Bumpersticker: (stop) Homophobia
$2.00
S-STOPSIGNHOMO
Stop Sign Sticker Case History: Hundreds of stop signs in Berkeley and Oakland, California became political statements overnight, when in 1983 a small crew of local activists took their campaign to the streets. Fade-Proof, Vinyl Stickers. Warning: This civic sign improvement is considered illegal by some authorities.



Bumpersticker: (stop) Rape
$2.00
S-STOPSIGNRAPE
A sticker 4" x 18" sticker that just has the word "RAPE' in large white capital letters on a red background. One alleged purpose of this four-letter word sticker is to compliment the word "STOP" on any stop sign. "stop." Stop Sign Sticker Case History: Legend has it that hundreds of stop signs in Berkeley and Oakland, California became political statements overnight, when in 1983 a small crew of local activists took their campaign to the streets. Some can still be seen today, a quarter-century later! Fade-proof, union-printed vinyl stickers.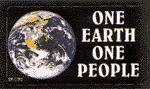 Postcard/Sticker: One Earth One People
$2.00 $1.00 On Sale!
PC-OEOP
This is a unique hybrid product: both a postcard and a bumpersticker. The front is a full color, high-resolution N.A.S.A. photograph of the earth from space with the words "One Earth One People" on 4 mil weatherproof, adhesive-backed vinyl that peels off from the postcard-formatted backing card. The back side has a writeable matte finish and a typical postcard layout. Send it to someone, or just use it as a bumpersticker. Overall size: 3-5/8" x 6" • Sticker size: 3-1/8" x 5-9/16"



Bumpersticker: The future belongs to those who change; The changes will do you good...
$2.00
S-CWD



Bumpersticker: Love Makes A Family
$2.00
S-LMF



Bumpersticker: Why do we kill people who kill people to show that killing people is wrong?
$2.00 $1.00 On Sale!
S-WDW



Bumpersticker: Question Reality
$2.00
S-QR



Bumpersticker: Kids need encouragement everyday
$2.00
S-KNEE



Bumpersticker: Commit Planned Acts of Organized Resistance & Premeditated Solidarity
$2.00
S-CPA


Bumpersticker: If you can't change your mind are you sure you still have one?
$2.00
S-ICCM



Bumpersticker: Support Our Soldiers; Bring Them Home Alive; End the War Now
$2.00 $1.00 On Sale!
S-SOS


Bumpersticker: Killing one Person is Murder; Killing 100,000 is Foreign Policy
$2.00 $1.00 On Sale!
S-KO



Bumpersticker: Stop the War
$2.50 $1.00 On Sale!
S-STW
FREE with all orders!



Bumpersticker: If you think education is expensive try Ignorance
$2.00 $1.00 On Sale!
S-EE



Bumpersticker: Honor Diversity
$2.00 $1.00 On Sale!
S-HD



Bumpersticker: Diversity is our Strength
$2.00 $1.50 On Sale!
S-DIOS



Bumpersticker: "There is no flag large enough to cover the shame of killing innocent people." - Howard Zinn
$2.00
S-ZQ


Supergrip Suction Cup Inside Window Bumpersticker/Poster Holder
$2.00
SCBPH
A pair of 1.5" diameter supergrip suction cups with sign holder attached to each. Made of clear vinyl. Another way to display (and easily change) bumperstickers or any sign inside the back or side window of any vehicle. They also work great to display signs or posters of any size inside a window. They will firmly hold any bumpersticker, card or sign up to .080" thick. These hard-to-find little gadgets really work, but you won't find them at any hardware store. They are the best solution we've found for inside window display of stickers. Made in U.S.





Bumpersticker: Target Poverty Not People = Real Solutions
$2.00
S-TPNP



Bumpersticker: Our Ignorance Is Their Power
$2.00
S-OITP


Bumpersticker: I Brake for Stop Signs
$2.00
S-IBS



Bumpersticker: You Reap Just What You Sow
$2.00
S-YRJ
3.75 x 7.5" REFLECTIVE bumpersticker



Bumpersticker: Within the Contradiction Lies the Hope
$2.00 $1.00 On Sale!
S-WCL



Bumpersticker: It is just as patriotic to keep your country from dying as it is to die for your country. --William Sloane Coffin
$2.00
S-IJP



Bumpersticker (Reflective): Imagine Peace
$3.00 $2.00 On Sale!
S-IP
Light reflective at night • 2" x 6.35"

Sometimes the simplest and fewest words can have the greatest impact. These two were inspired by John Lennon's 1971 song "Imagine" and are even more relevant and needed today. These stickers will enhance any bicycle, bumper or well-trafficked public space you chose to post them.



Bumpersticker: Stay in school, Learn the system, Then change the system, Before it changes you
$2.00
S-SIS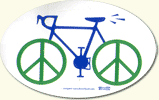 Small Vinyl Sticker: Bike with Peace Sign Wheels Graphic
$1.00
SVS-BIKEPEACE
oval 2.5" x 3.5" decal



Bumpersticker: You may say I'm a dreamer (I've been called worse)
$2.00
S-YMS



Bumpersticker: National Health Care Now
$2.00 $1.00 On Sale!
S-NHCN



Bumpersticker: Tax Cuts for the Rich / Don't Trickle Down On Me
$2.00
S-TC



Bumpersticker: The future belongs to those who change / The changes will do you good...
$2.00 $1.00 On Sale!
S-TFB



Bumpersticker: Real Freedom Requires Free Thinkers
$2.00
S-RFR



Bumpersticker: Single Payer Health Care
$2.00 $1.00 On Sale!
S-SPHC



Small Vinyl Sticker: Peace Sign
$1.00
SVS-PS
3" round sticker. 2008 is the 50th anniversary of the design of the peace sign. Celebrate by putting the symbol known in many languages for peace. (see the book we carry: "Peace: The Biography of a Symbol"



Bumpersticker: Earth Can No Longer Afford The Rich
$2.00
S-RICH
This is actually a metalic silver sticker with dark green lettering, which may not be clear from the scanned image. The material it is screenprinted on is a polyester with a brushed chrome appearance to the finish.



Bumpersticker: How Many Lives per Gallon? www.democracynow.org
$2.00
S-HML
The website given is to the outstanding one hour news broadcast every Monday through Friday, "Democracy Now!" Go to the website and see how you can see, hear or read it every weekday to get the news you won't find on mainstream media.



Bumpersticker: Question Assumptions
$2.00
S-Q



Bumpersticker: What do you do to make the world a better place?
$2.00
S-WDYD
S-WDYD
3" x 11.5"



Bumpersticker: These Colors Don't Run The World
$2.00 $0.75 On Sale!
S-TCDR
An honest re-working of an old pro-war cliche: the addition of the last two words brings truth to a powerful myth. 3" x 11.5"



Bumpersticker: Tobacco Sucks The Life Out Of Your Lungs
$2.00
S-TS



Bumpersticker: Dare to Speak Truth to Power
$2.00
S-DTST



Bumpersticker: The Best Things in Life Aren't Things
$2.00 $0.75 On Sale!
S-BTIL



Bumpersticker: 5% of the World's People consume a third of its resources and make nearly half the waste. That 5% is US
$2.00 $1.00 On Sale!
S-5%
You can't see it, but the "stars"on the U.S. flag are corporate logos. This is the corporate U.S. flag designed by Adbusters magazine in Vancouver, B.C., Canada. The design works either way: close up where you can see that they are corporate logos, or, from a distance, when they just appear to be the white "stars"of the flag. 3" x 11.5"


Bumpersticker: Don't Trust Corporate Media
$2.00
S-DTCM



SVS-Three Inch Rainbow Bar
$1.00
SVS-3INCHRAINBAR
1.5" x 3" screenprinted 7 color weatherproof vinyl sticker. Fade-resistant.



Bumpersticker: Hail to the Thief & HIs Daddy's Judges Who Installed Him
$2.00
S-HTTT



Bumpersticker: We The People Not We The Corporations
$2.00
S-WTP
The Supreme Court considers corporations to have the same rights as human beings, and they've given them that status for over a century. But people have a limited lifespan, while corporations go on indefinitely. Challenging and overturning this false and wrong legal status for corporations is one of the overriding issues f our time.



Bumpersticker: No one is free when others are oppressed
$2.00
S-NOF



Bumpersticker: America - Love it and heal it
$2.00
S-ALIHI



Bumpersticker: Don't Mourn, Organize
$2.00 $1.00 On Sale!
S-DMO
3.75" x 11.5" Bumpersticker • Joe Hill's famous last words



Bumpersticker: Choose Joy
$3.00
S-CJ


Bumpersticker: Stop-sign modification sticker: "Rape"
$1.00
S-R
Designed to place on stop signs as shown in graphic. NOTE: This image shows the sticker affixed to a stop sign. The sticker itself is only the word "RAPE" (4" x 12") in white on a red background. It can only be used effectively when placed under the word "STOP" on a sign.



Bumpersticker: If There is No Struggle There is No Progress
$2.00
S-NSNP



Bumpersticker: Your Silence Will Not Protect You
$2.00
S-YSWN



Bumpersticker: Sugar the gateway drug
$2.00
S-STGD


Bumpersticker: It's the War Economy, Stupid
$2.00
S-IWE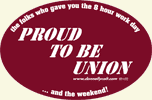 Bumpersticker: Proud to BE Union
$2.00
S-PTBU
4" x 6" oval bumpersticker



Bumpersticker: Union Workers Built the American Dream
$2.00
S-UWB



Bumpersticker: Encourage your Hopes not your Fears
$2.00
S-EYH



Bumpersticker: Honor the Dead, Heal the Wounded, End the War
$2.00
S-HTD



Bumpersticker: Never underestimate the power of stupid people in large groups
$2.00
S-NUPS
3" x 11.5" New version is black and white text on white and red background.



Bumpersticker: Good things grow locally
$2.00
S-GTGL



Small Vinyl Sticker: Kill Your TV
$1.00
SVS-KTV



Bumpersticker: "Our life is more than our work, and our work is more than our job." --Charlie King
$2.00
S-CKQ



Bumpersticker: Disney: Out of My Subconscious
$1.50
S-DO



Bumpersticker: Celebrate Diversity
$3.00 $1.00 On Sale!
S-CD



Bumpersticker: Be the Change you Wish to See in the World - Gandhi
$2.00 $1.50 On Sale!
S-BTC



Bumpersticker: Everyone Makes a Difference
$2.00
S-EMAD



Bumpersticker: Corporations are not people - Amend the constitution
$2.00
S-CANP
S-CANP
3" x 11.5"
For more info about the movement to eliminate corporate personhood, visit


Bumpersticker: Coexist (Reflective)
$4.00
S-R-COE
Made of highly reflective material, the same seen on road signs. Revised by Pete Seeger. He made the "s" a yin-yang symbol instead, and wanted this edition to be reflective, so they are brightly visible day and night.



Bumpersticker: Nuclear Free Zone
$4.00 $2.00 On Sale!
5" Round Screenprinted Vinyl sticker.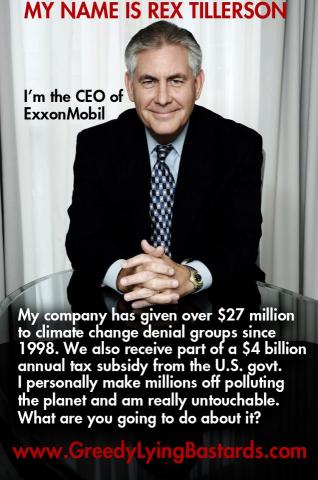 Pack of Ten Stickers: Greedy Lying Bastards
$3.00
S-GLB
PACK OF TEN - 4" x 6" Full Color vinyl sticker • permanent adhesive • ideal to stick where people have time to read the 58 word message on the sticker. Places like metal utility poles at pedestrian cross walks on city streets.



Bumpersticker: If you want Peace work for Justice
$3.00 $2.00 On Sale!
S-IYW
2.75" x 15"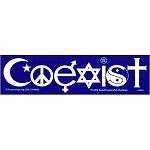 Bumpersticker: Coexist
$2.00
3" x 11.5" • our version is on a dark green background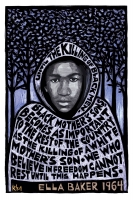 Poster: Until The Killing...
$12.00
11" x 17" poster • 2014 • Ricardo Levins Morales
The stirring words of Ella Baker from 1964 and popularized in the song, "Ella's Song" by Sweet Honey In The Rock a generation later in 1988. The face of Trayvon Martin in the illustration poignantly brings the words to our present time. Here is a video of the group singing "Ella's Song": http://youtu.be/U6Uus--gFrc



Sticker: Hate Free Zone
$3.00 $2.00 On Sale!
5" diameter full color vinyl sticker.



Magnetic Bumpersticker Backing
$3.00
Magnetic Bumpersticker Backing
Add magnetic backing any bumpersticker you get from now on. The sticker adheres onto the magnet and the magnet mounts on your car. When it's on the vehicle it isn't doesn't look different than any other sticker. Now you can quickly remove bumper stickers and switch them to different vehicles. Display different stickers at different times for different reasons. Take stickers off any time you want. As easy to change as wearing a button. This adds a whole new dimension to displaying your views. It also lets you put them on a rental vehicle, so you can be as opinionated in a rened car as in your own. You can even tag that U-Haul truck you rent for a day.
• Our 3 & 3/4" x 15" heavy duty (.035 mil thick) flexible magnetic material will hold any size sticker or decal.
• The material can be easily trimmed to any size or shape with scissors. Sturdy grip will not come off at any speed.
Now change your stickers easier than you change your oil! We recommend you take the magnetic stickers off before going through a car wash; the high-pressure water could blow them off.
NOTE: It's also a good idea to remove magnetic-backed bumperstickers every 3 to 4 weeks because dust and dirt can build up along the edge and work its way under the magnetic material. Temperature extremes of hot and cold can make the magnetic material difficult to remove if left on a vehicle for a longer length of time than a month.



Sticker: Boycott Bottled Water
$2.50
1.75" x 5" • clear mylar with White, green & light blue imprint
Designed to put on your own re-usable steel, glass or Nalgene water bottle.



Bumpersticker: War Is Terrorism
$2.00 $1.00 On Sale!
S-WIT
3.75" x 7.5" silkscreened bumpersticker



Bumpersticker: War Is Terrorism With A Bigger Budget
$2.00 $1.00 On Sale!
S-WITBB
3" x 11.5" Bumpersticker



Bumpersticker "The Price of Apathy Is To Be Ruled By Evil Men" – Plato
$2.00
3" x 11.5" Bumpersticker * Quote from Plato on Apathy