Donnelly/Colt
Box 188
Hampton, CT
06247

(860) 455-9621



Can't find something you're looking for? Just ask, and we'll let you know if we have it or can get it.
DVDs & Videos: Alphabetized
All of our films in alphabetic order.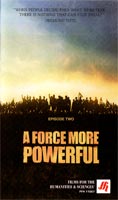 DVD: A Force More Powerful
$39.95
DVD-FMP
A two-part documentary series on one of the 20th Century's most important and least-known stories - how nonviolent power overcame oppression and authoritarian rule at different times and places in the world. Episode One: In South Africa in 1907, Mohandas Gandhi led Indian immigrants in a nonviolent fight for rights denied them by white rulers. The power that Gandhi pioneered has been used by underdogs on every continent and in every decade of the 20th century, to fight for their rights and freedom.
• Click on title for film description...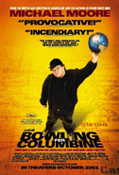 DVD: Bowling for Columbine
$25.00 $18.00 On Sale!
DVD-BFC
Filmmaker Michael Moore's Oscar-Winning Best Documentary of 2002, Bowling for Columbine is a must-see. Give a copy to your local library!
Available as DVD or VHS. Select below:



DVD: Bringing Down A Dictator
$30.00
DVD-BDD
Color • 59 minutes • closed-captioned • Written, produced & directed by Steve York • Narrated by Martin Sheen
In the year 2000, in a war barely noticed outside Yugoslavia, the indicted war criminal, Slobodan Milosevic fought to hold power. He controlled a battle-hardened army, a tough police force, and most of the news media. But, he underestimated his opponents, led by a student movement called "Otpor!" (Serbian for "Resistance"), who attacked the rigime with ridicule...
• Click on title for the rest of the description...



DVD: China Blue
$39.00 $34.00 On Sale!
DVD-CB
Our best-selling DVD • a film by Micha X. Peled (Store Wars: When Wal-Mart Comes to Town) • 88 minutes • audience age: grades 9-12, college, adult • NOTE: Any school or library orders for this DVD must be placed directly with Bullfrog Films (800-543-3764 or online: www.bullfrogfilms.com/catalog/china.html ) We can only sell it to individuals or activists at this home video price. The school & library price for this DVD is $295.00 and includes public screening rights in perpituity. This DVD is not available through Netflix, other retail websites or in videostores.
• Winner of the Amnesty Human Rights Award at the Amsterdam International Film Festival
• Winner 2007 PBS Independent Lens Audience Award
• Winner - Doen/Amnesty International Award I.D.F.A. 2005
• "Heartbreaking yet boldly essential...fairly-balanced and richly human." - Seattle Times
• "An unflnching indictment of globalization and the unfettered consumerism that fuels it. The cheap clothes we wear come at a high price, for real people." - Marin Independent Journal

• Click on title for description...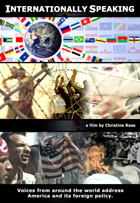 DVD: Internationally Speaking
$14.00 $7.00 On Sale!
DVD-IS
A film by Christine Rose (Liberty Bound, 2004)

Voices from around the world address America and its foreign policy. Seen as individuals rather than as cultural stereotypes, people from all over the world share their opinion of America, its government, its foreign policy and its people. In the midst of growing international anti-Americanism, real people from various other countries, tell us what they think and why, in an attempt to further understanding and compassion.
• Click on title for more about the film...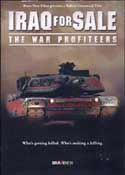 DVD: Iraq for Sale - War Profiteers
$12.00
DVD-IFS
Directed by Robert Greenwald (2006) • 75 minutes + 20 min. short version

• Click on the film title for more excerpts from reviews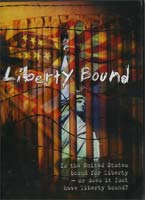 DVD: Liberty Bound - Is the U.S. bound for liberty – or does it just have liberty bound?
$28.00 $14.00 On Sale!
DVD-LB
A film by Christine Rose • A U.S. Citizen's journey of discovery into the lies, oppression and corruption that has invaded her country since 9/11.
The catastrophic events of September 11, 2001 caused a sea change in U.S. domestic and foreign policy. Liberty Bound takes a unique look at America's ongoing struggle to keep a comfortable balance between democracy, capitalism and fascism. This is a film about historic events that have changed our country and the world. It is a film about courage and fear; ignorance and awareness; propaganda and rhetoric.
The documentary explores unanswered questions, examines the U.S. government's reasons for war with Afghanistan and Iraq, and delves into accusations that...
• Click on film title for more information...


DVD: McLibel: The Story of Two People Who Wouldn't Say McSorry
$25.00
DVD-M
Produced & directed by Franny Armstrong • 85 minutes

McLibel is the true story of a postman and a gardner who took on McDonald's and wouldn't say "McSorry," in a legal battle since described as "the biggest corporate PR disaster in history." Filmed over ten years by no-budget Direcor Franny Armstrong ("Drowned Out"). In this entertaining documentary, every aspect of the corporation's business is cross-examined: from junk food and McJobs, to animal cruelty, environmental damage and the company's advertising to children. McLibel is not about hamburgers. It is about the power that multinational corporations wield over our everyday lives and two unlikely heroes who are changing McWorld. To watch the trailer go to: http://www.youtube.com/ewatch?v=LyGK5j_EcmE
McLibel features reenactments of key courtroom scenes directed by seasoned British filmmaker Ken Loach. • Click on title for more info...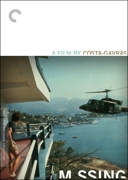 DVD: Missing
$39.00 $30.00 On Sale!
DVD-MISSING
1982 • 123 minutes • Criterion Collection edition • 2 discs
Missing is political filmmaker extraordinaire Costa-Gavras's compelling, controversial dramatization of the search for American filmmaker and journalist Charles Horman, who mysteriously disappeared during the 1973 coup in Chile. Jack Lemmon and Sissy Spacek give magnetic, emotionally commanding performances as Charles's father and wife, who are led by U.S. embassy and consulate officials through a series of bureaucratic dead-ends before eventually uncovering the terrifying facts about Charles's fate and disillusioning truths about their government. Written and directed with clarity and conscience, the Academy Award–winning Missing is a testament to Costa-Gavras's daring. Outstanding adaptation of a true story directed by Costa-Gavras. His first English language film, it won the Academy Award for Best Screenplay. There was an earlier catastrophe on a September 11th, in 1973 in Santiago, Chile. A coup d'etat that overthrew a democratically-elected President and installed a brutal dictator who reigned for nineteen years. This film is the true story of one of the victims of that coup: one of the 3,000 who disappeared, were tortured and killed by Pinochet's death squads in the national stadium where they were rounded up. Double-disc includes a restored high-definition digital transfer, theatrical trailer, and ...

• Click on title for the rest of the film description and more information.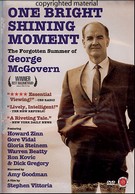 DVD: One Bright Shining Moment
$30.00 $25.00 On Sale!
DVD-OBSM
A film by Stephen Vittoria • 2005 •125 minutes • featuring the music of Bob Dylan, Robbie Robertson, Donovan, Leon Russell and Elvis Costello.
******George McGovern (1922-2012) R.I.P.******
• FOUR STARS – Christian Science Monitor
• "Hearing and seeing McGovern makes it all too apparent what is missing in contemporary Washington." – Los Angeles Times
• "A riveting tale of idealism versus cynicism." – N.Y. Daily News
• "Well-researched." – New York Times • "Tremendously thought-provoking." – CBS Radio
• "An elegant homage. It illuminates much of the political landscape of the '60's and early '70's - as well as today," – Minneapolis City Pages

• Click on title for more reviews...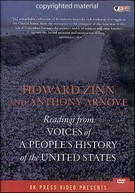 DVD: Readings from Voices of a People's History of the United States
$25.00
DVD-RFV
120 minutes • 2005 • Powerful dramatic readings from primary sources quoted in Howard Zinn & Anthony Arnove's book "Voices of A People's History of the United States"

Paul Robeson Jr. reading his father Paul Robeson's suppressed testimony before the House Committee on Un-American Activities. Lili Taylor reading Emma Goldman's blistering attack on patriotism. John Sayles raeding an anti-imperialist essay by Mark Twain. Brian Jone reciting Frederick Douglass' poweful words delivered on Independence Day. Sarah Jones as Yuri Kochiyama. Playwright and actor Wallace Shawn as Vito Russo. Leslie Silva as Anne Moody, and many other talented actors and activists bringing the forgetten words of our neglected national past to life.
• Click on title for more about the film...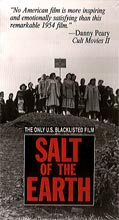 DVD: Salt of the Earth (with Special Features)
$35.00
DVD-STE-SF
For a description of the movie, see above listing of the "Salt of the Earth" DVD.
DVD-STE-SF
The Special Features of this edition include:
• a new digitally-enhanced transfer of "Salt of the Earth"
• "The Hollywood Ten", a short film documenting the lives and work of the blacklisted people who were the "Hollywood Ten."
• A chronicle of the troubled production and distribution of the only black- listed U.S. feature film.
• Hundreds of production and filmographies.
• Original theatrical trailer.
• Editing and shooting notes.
• A history and hundreds of pictures of the actual strike the film is based on.
• The history of the blacklist in Hollywood.
• Congressional testimony of the blacklisted filmmakers.
"As effectively as any other film in my curriculum, Salt of the Earth celebrates the possibility of people being able to create a very different, very much better society through solidarity and collective action." - Bill Bigelow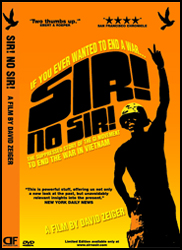 DVD: Sir! No Sir!
$20.00 $15.00 On Sale!
DVD-SNS
The untold story of the G.I. movement to end the war in Vietnam

Directed by David Zeiger • 2006 • 84 mnutes

• "The voices of the veterans alone, however, make this an important and poignant film that can speak to any generation." - John McMurtrie, S.F. Cronicle

• Click on film title for more information and reviews.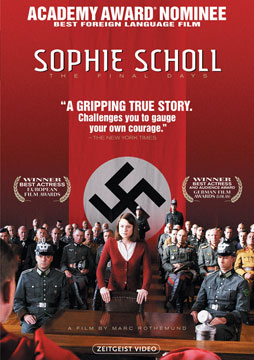 DVD: Sophie Scholl - The Final Days
$30.00
DVD-SSFD
Directed by Marc Rothemund • 2005 • 117 minutes • Germany • Starring Julia Jensch, Alexander Held • German with English subtitles

2005 Academy Award Nominee for Best Foreign Film, this is the true story of Germany's most famous anti-Nazi heroine brought to thrilling, dramatic life. Armed with recently uncovered historical records of her incarceration, interrogation and so-called "trial," director Marc Rothemund expertly re-creates the last six days of 22 year old Sophie Scholl's life: a heart-stopping journey from arrest to interrogation, trial and sentence in 1943 Munich. Unwavering in her convictions and loyalty to her comrades, her cross-examination by the Gestapo quickly escalates into a searing test of wills as Scholl delivers a passionate call to freedom and personal responsibility that is both haunting and timeless.

• Click on film title for more information and review quotes.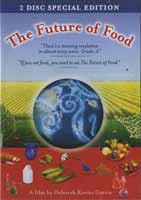 DVD: The Future of Food
$35.00 $29.00 On Sale!
DVD-FF
A film by Deborah Koons Garcia • Two Disc Special Edition (2005)
• "One of 2005's must-see documentaries." - S.F. Cronicle
• "A rarity! Learned and persuasive" - Village Voice
• "Quietly inflammatory. Unsettling." - N.Y. Times
• "a stunning revelation in almost every scene. Grade A." - Christian Science Monitor
• "If you eat food, you need to see The Future of Food." - Newstarget.com
There is a revolution happening in the farm fields and on the dinner tables of America. A revolution that is transforming the very nature of the food we eat.
• Click on title for more about the film...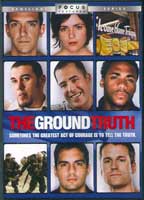 DVD: The Ground Truth
$19.00
DVD-TGT
Produced & directed by Patricia Foulkrod (2006) • 1 hour 18 minutes.

This film may well be the best feature-length documentary about recently-returned Iraq war veterans yet made. Ideally, show it in conjunction with the film, "Soldiers Speak Out" (28 minutes). Together they make a very persuasive case against war, militarism and sacrifice to a trumped-up false "noble" cause.

• Click on film title for more info and review excerpts.



DVD: The Time Is Now
$25.00 $15.00 On Sale!
DVD-TIN
Featuring, written and directed by Kenneth Brady • 2006 • 78 minutes
DVD-TIN
Kenneth Brady's film is very powerful, reflective, poetic and brutrally honest. It is simply one man speaking directly to the camera. No film crew, no audience present. It is a revelation , as if it were made so that the information he tells us is recorded and preserved for a time capsule, to be viewed by a future generation. He has made it to tell us today, as well as those in the future that, yes, some of us – many, in fact – knew of the things that our government did in our name, and even though some did not remain silent, they were not able to prevent the atrocities. But, most importantly, the truth-tellers may have helped to limit the extent of the deeds. His point is that the truth-tellers of every era, are essential. Still, this film is not a guilt-trip for those who knew better but did not act or do enough. It is a plea to all of us to always, under all circumstances, do what we can to recognize the connections, refuse to be complicity and act courageously against actions committed in our name by the state. Show this film in home screenings and as part of a free community film series. It's a uniquely engaging form of narrative documentary that will captivatethe audience. "The Time Is Now" heralds a new voice and a courageous new examination of America. This searing political monologue exposes shocking discoveries in a way that is part plea, part confessional, and part outcry. Acathartic antidote to apathy and numbing complacency.
• Click on title for more information...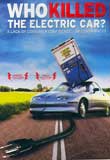 DVD: Who Killed the Electric Car?
$30.00 $19.00 On Sale!
DVD-WKEC
The auto industry's biggest mystery - revealed. Running solely on electricity, General Motors' fleet of EV-1 electric vehicles were so efficient, they were on the brink of altering the future of driving in America -- perhaps even the world. Those lucky enough to drive one gave it glowing reviews. So why were they all destroyed?

• Click on title for more info about the film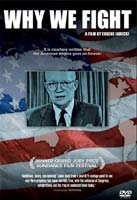 DVD: Why We Fight
$29.00 $24.00 On Sale!
DVD-WWF
Directed by Eugene Jurecki • Documentary • 90 minutes.

It is nowhere written that the American empire goes on forever? Is US foreign policy dominated by the idea of military supremacy? At last, a film that you can show anyone, even your Republican and (still) pro-Bush neighbors, relatives and friends. They will even watch it all and will learn a few facts from this remarkable true story of the growth of America's military-industrial complex, a term first used by President Eisenhower in his 1961 farewell speech to the nation. This is an even-handed documentary film – in an era of highly polarized views.

• Click on title for further description...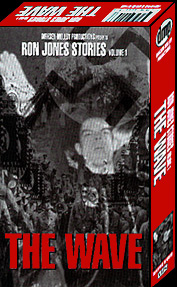 DVD: Ron Jones Stories - The Wave
$30.00
DVD-WAVE
Written & Performed by Ron Jones • 1996 • 60 minutes • Dirksen/Malloy Productions
For the first time, breaking a long silence, world history teacher Ron Jones tells "what really happened" in his 1967 classroom "experiment" The Wave.
• Click on title for the rest of the story...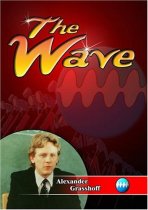 DVD: The Wave (TV drama version)
$25.00 $14.00 On Sale!
DVD-TWTV
44 minutes • 1981 •This is the made-for-TV version adapted from the true incident in history teacher Ron Jones' Palo Alto, California high school classroom in 1967. (the DVD case mistakenly says 1969). It is the dramatization that millions of people have seen. This dramatization was directed by Alexander Grasshoff, and produced for television by Norman Lear. It aired nationally in 1981. The powerful forces of group pressure that lead to a totalitarian mindset grew out-of-control in the classroom experiment known as "The Wave." After all the years since it was made, this is still a valuable lesson for students to see and learn. A novel was adapted from the TV script.
Also see "The Wave - Ron Jones Stories" to hear the story told for the first time, first hand, before a live audience in 1996, by the teacher who created it in his classroom, 29 years after it happened. (1 hour) Both films, together make a profound presentation, over two or more days (total time: 1:44)
• For more about the story, visit "The Wave" and "The Third Wave" entries on www.wikipedia.org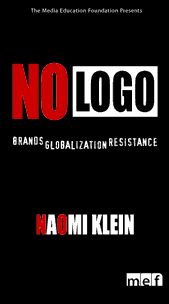 DVD: No Logo: Brands, Globalization, Resistance
$25.00
DVD-NL
produced by Media Education Foundation • 42 minutes + 9 min. of extras
In the age of the brand, logos are everywhere. But why do some of the world's best known brands find themselves on the wrong end of the spray paint can– the targets of anti-corporate campaigns by activists and protesters?
NO LOGO, based on the best-selling book by Canadian journalist and activist, Naomi Klein, reveals the reasons behind the backlash against the growing economic and cultural reach of multinational companies

• Click on title for more information...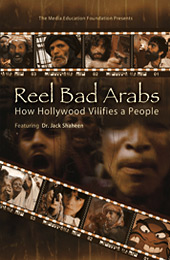 DVD: Reel Bad Arabs: How Hollywood Vilifies a People
$39.00
DVD-RBA
Produced by Media Education Foundation • 50 minutes • featuring Dr. Jack Shaheen
NOTE: This price is ONLY for home purchase. Schools, libraries & community groups & universities must pay $250, which includes public screening rights. REEL BAD ARABS take a devastating tour of the American cinematic landscape, moving from the earliest days of silent film to today's biggest Hollywood blockbusters to reveal an astonishing and persistent pattern of slanderous Arab stereotyping. Featuring acclaimed author and Hollywood film consultant Dr. Jack Shaheen, the documentary exposes America's long love affair with Arab villainy and buffoonery, from over-sexed Bedouin bandits and submissive maidens to sinister sheikhs and blood-thirsty terrorists. Along the way, the film provides striking insights into the origin of these images, their disturbing similarities to anti-Semitic and racist stereotypes from the past, and their political resonance during key moments of conflict in U.S. history...
• Click on title for the rest of the description.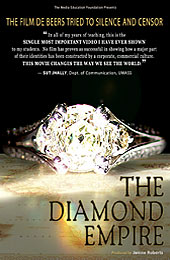 DVD: The Diamond Empire (the film DeBeers Tried to Silence & Censor)
$125.00 $95.00 On Sale!
DVD-DE
Produced by Janine Roberts • 1994 (first time on video is 2008) • 102 minutes
• "In all my years of teaching, this is the single most important video I have ever shown to my students. No film has proven as successful in showing how a major art of their identities has been constructed by a corporate, commercial culture. This movie changes the way we see the world." – Sut Jhally, Dept. of Communication, UMass
• "Our goal is to make diamonds a cultural imperitive for all important aspects of a woman's life." – DeBeers promotional statement to its retailers
• Click on title for film description...


DVD: The Forest For The Trees
$30.00
DVD-FFTT
Directed by Bernadine Mellis • 57 minutes • Grades: 10-12, College, Adult
"The Forest For The Trees" is the amazing story of the fight to clear EarthFirst! activist Judi Bari's name after her car was bombed and she was arrested because the F.B.I. wanted to portray her as a terrorist, in order to destroy the EarthFirst! movement. This is an intimate look at an unlikely team of young activists and old civil rights advocates who come together to battle the U.S. government. Filmmaker Bernadine Mellis is the daughter of civil rights lawyer Dennis Cunningham, who started out his career representing the Black Panthers and the Attica Brothers.
Judi Bari was an EarthFirst! leader who was one of the first to place as much importance on the future of the trees as she did on timber workers' lives and families. Her car was bombed in 1990, and three hours later, she was arrested as a terrorist – charges that were later dropped. Convinced it was a ploy by the F.B.I. to discredit her and EarthFirst!, Judi decided to sue.
Cunningham took on Judi's case an after 12 long years, Judi Bari vs. the F.B.I. finally gets a court date. Mellis is there to document her morally-driven, very tired dad. Not your typical "Take Your Daughter To Work Day," The Forest For The Trees offers access into the life of the extraordinary Judi Bari, and a piece of U.S. history that every day grows increasingly resonant, as once again the lines between dissent and terrorism are being intentionally blurred.
• Click on title for more about the film...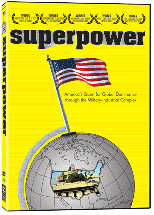 DVD: Superpower
$25.00 $18.00 On Sale!
DVD-SP
2008 • directed by Barbara Steegmuller • 120 minutes
This well-balanced film straddles the philosophical divide and allows viewers to understand the U.S. quest for global dominance through economic and military strategy that is exposed through review of historical events, personal interviews, and analysis of US foreign policy. "Superpower' is far from a conspiracy film about the dangers of government secrets and regime change. 52 hours of footage was shot and edited down to 2 hours.
• Click on title for more info and reviews . . .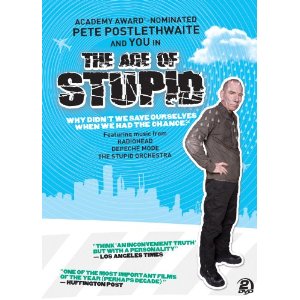 DVD: The Age of Stupid
$30.00 $25.00 On Sale!
DVD-AOS
Directed by Franny Armstrong • 2010 • 92 minutes • Drama/Documentary/Animation
'The Age of Stupid' is the long-awaited new documentary from the Director of 'McLibel' and the Producer of the Oscar-winning 'One Day in September'. This enormously ambitious drama-documentary-animation hybrid stars Oscar-nominated Pete Postlethwaite as an old man living in the devastated world of 2055, watching 'archival' footage from 2008 and asking: why didn't we stop climate change while we had the chance? All the 'archival' footage is actual documentary footage from the time the film was made (2006-08)
Climate change, oil, war, politics, consumerism and human stupidity are the subject and theme of the film.
Featuring:
Pete Postlethwaite, British actor (drama)
Fernand Pareau, 82-year old French mountain guide (documentary)

• Click on title for more information . . .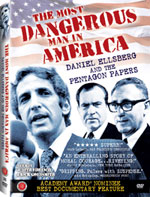 DVD: The Most Dangerous Man In America
$28.00 $26.00 On Sale!
DVD-MDM
Download a free 92-page Teaching Guide to the film at: http://www.zinnedproject.org/posts/7325
Academy Award nominee for Best Feature Documentary Freedom of Expression Award from the National Board of Review Boadcast nationwide on the POV series on PBS this past October 2010 John E. O'Connor Film Award from the American Historical Association 2011 History Makers Award for Best History Production
Co-winner of the 2010 Freedom of Expression Award from the National Board of Review (and one of their Five Best Documentaries of the Year), Winner of the Special Jury Award at IDFA, and in contention for the year's Best Documentary Oscar, The Most Dangerous Man in America tells the story of Daniel Ellsberg, a high-level Pentagon official and Vietnam War strategist, who in 1971 concludes that the war is based on decades of lies and leaks 7,000 pages of top secret documents to The New York Times, making headlines around the world. A riveting story of how this one man's profound change of heart created a landmark struggle involving America's newspapers, its president and Supreme Court. With Daniel Ellsberg, Patricia Ellsberg, Tony Russo, Howard Zinn, Hedrick Smith, John Dean, and, from the secret White House tapes, Richard Nixon and Henry Kissinger, who called Ellsberg "the most dangerous man in America."
• Click on title for more info about the Teaching Guide and film reviews . . .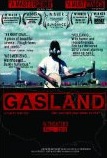 DVD: Gasland
$25.00
DVD-GL
DVD-GL
Directed by Josh Fox • 2010 • 107 minutes + 45 min. of extras
"This is grassroots documentary filmmaking at its finest" - Trinie Dalton, Amazon
Little did director Josh Fox know that he'd find himself trailing the history and future of natural gas mining for this documentary, Gasland, or so he claims in this moving and evocative political exposι. Thankfully unpretentious and lacking in the didacticism that plagues many political documentaries, Gasland is edifying in the most entertaining and palatable way. Fox's open-ended questions presented during his narration are answered by interviewees found as he travels cross-country to source out water pollution happening as a result of hydraulic fracturing. The tension begins when Fox researches a letter he receives in the mail at his rural Pennsylvania farmhouse, inviting him to sell his land for $100,000 and give permission to mine natural gas. • Click on the title for an excerpt from the film and more reviews . . .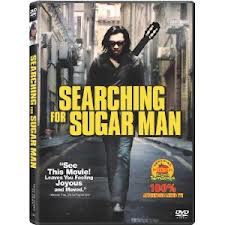 DVD: Searching For Sugar Man
$30.00 $24.00 On Sale!
DVD-SFS
Documentary • 2012 • 85 minutes • directed by Malik Bendelloul • ACADEMY AWARD WINNER: BEST DOCUMENTARY 2013!
How is it possible that a musician named Rodriguez could fail with two albums in the U.S., disappear into obscurity for years and then be unknowingly resurrected as a successful, inspirational hero in totally different country? Searching for Sugar Man tells the uplifting, almost unbelievable true mystery of Rodriguez, a story more extraordinary than any of the existing myths about him. From the producer of the Oscar-winning Man on Wire, Searching for Sugar Man is that rare film which connects with audiences and critics alike on an extraordinarily emotional level. Winner of two awards at the 2012 Sundance Film Festival, including the Audience Award, director Malik Bendjelloul's documentary is a film about hope, inspiration and the resonating power of music.

• Watch the movie trailer here.
• CLICK on title to read the filmmakers comments about Rodriguez, the story and the movie...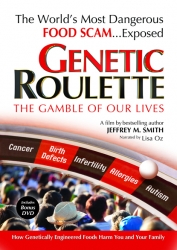 DVD: Genetic Roulette
$25.00 $20.00 On Sale!
DVD-GR
(2012) • Directed by Jeffrey M. Smith • Narrated by Lisa Oz • 85minutes
Are you and your family on the wrong side of a bet?
When the US government ignored repeated warnings by its own scientists and allowed untested genetically modified (GM) crops into our environment and food supply, it was a gamble of unprecedented proportions. The health of all living things and all future generations were put at risk by an infant technology.
After two decades, physicians and scientists have uncovered a grave trend. The same serious health problems found in lab animals, livestock, and pets that have been fed GM foods are now on the rise in the US population. And when people and animals stop eating genetically modified organisms (GMOs), their health improves.
This seminal documentary provides compelling evidence to help explain the deteriorating health of Americans, especially among children, and offers a recipe for protecting ourselves and our future.
• Click oin the title for more about the many extra features on this DVD . . .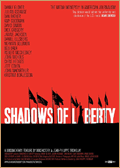 DVD: Shadows of Liberty
$34.00 $20.00 On Sale!
Produced, written & durected by Jean-Philippe Tremblay • 2012 • 93 and 53 minute version on one disc • categories: Democracy, Media Studies, Law, Sociology, Journalism, Government, History, Political Science, Communications.
SHADOWS OF LIBERTY examines how the U.S. media are controlled by a handful of corporations exercising extraordinary political, social and economic power. Having always allowed broadcasting to be controlled by commercial interests, the loosening of media ownership regulations, that began under Reagan and continued under Clinton, has led to the current situation where five mega corporations control the vast majority of the media in the United States. These companies not only don't prioritize investigative journalism, but can and do clamp down on it when their interests are threatened.
The film begins with three journalists whose careers were destroyed because of the stories they broke: Roberta Baskin, whose scoop about Nike sweatshops didn't sit well with CBS when Nike became a co-sponsor of the Olympics; Kristina Borjesson, another CBS reporter, whose job lasted precisely one week after the network spiked her investigation into the TWA Flight 800 disaster in 1996; and Gary Webb, whose story linking US support for Nicaraguan Contras and the epidemic in crack cocaine was trashed by The New York Times and the Washington Post. (His story was true, but Webb lost his job and eventually killed himself.)

• FOR MORE ABOUT THE FILM AND REVIEWS, CLICK ON THE FILM TITLE . . .