Quick-Order Section
(No images)
Print-Out Order Form
(for mail orders by post)
Donnelly/Colt
Box 188
Hampton, CT
06247

(860) 455-9621



Can't find something you're looking for? Just ask, and we'll let you know if we have it or can get it.
Mugs
We have created a new section for mugs with the addition of the new travel mugs.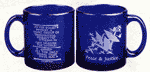 Peace and Justice Cobalt Blue Glass Mug
$20.00 $14.00 On Sale!
GM-PJ
13 oz. Cobalt Blue Glass Mug.
A silkscreened imprint on one side says "Peace and Justice" with a graphic of cranes flying, a symbol of peace. The other side carries a Margaret Mead quote "Never doubt that a small group of thoughtful committed citizens can change the world, indeed it's the only thing that ever has."

Union made in the U.S.A. and dishwasher safe, it's a perfect gift for activists, colleagues, and teachers. • We pack it in a 4" x 4" x 4" corrugated cardboard box in a larger, padded box with any other items you order at the same time.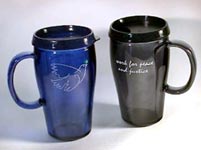 Peace Travel Mug in Smoke Grey
$16.00 $10.00 On Sale!
M-TM
"Work for Peace and Justice" text on one side, peace dove with olive branch graphic on the other side.

Made of heavy duty plastic, 15 oz capacity, insulated, keeps beverage hot or cold, dishwasher safe. Union made in the U.S.A.

Available ONLY in the Smoke Grey color. Cobalt Blue is discontinued.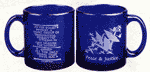 Mug & Your Choice of 12 Buttons and/or Bumperstickers: FILL-A-MUG
$24.00
Mug: FILL-A-MUG
Our U.S.-made 13 oz. Cobalt Blue Glass Mug with the Margaret Mead quote on one side, and the words "Peace & Justice" on the other side.
YOU choose any 12 buttons and and/or bumperstickers: Write the product codes or names of each item in the "Ordering Instructions" or the "Customer Comments" field. We will price the buttons you select at $1 each – HALF the regular $2 price. You save $12. Your buttons will be packed in the mug, and the mug will be put in a corrugated cardboard box. To ensure against breakage, we double-pack the boxed mug in a box with recycled paper, foam "peanuts" or air pillows, all re-used from packing in cartons sent to us from other suppliers. The mug and buttons are all made in the U.S.