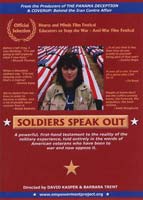 DVD: Soldiers Speak Out
$18.00
DVD-SSO
THIS DVD NEEDS TO BE SEEN BY EVERY HIGH SCHOOL STUDENT IN THE COUNTRY. It's short enough (28 minutes) to show in a class. It effectively counters the disinformation recruiters routinely tell young people about enlisting.
"A powerful, first-hand testament to the reality of the military experience, told entirely in the words of American veterans who have been to war and now oppose it."
Soldiers Speak Out sheds light on the growing and courageous anti-war and anti-occupation movement within the military and military families. • Click on title for more information...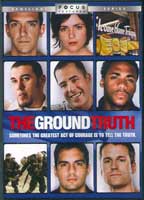 DVD: The Ground Truth
$19.00
DVD-TGT
Produced & directed by Patricia Foulkrod (2006) • 1 hour 18 minutes.

This film may well be the best feature-length documentary about recently-returned Iraq war veterans yet made. Ideally, show it in conjunction with the film, "Soldiers Speak Out" (28 minutes). Together they make a very persuasive case against war, militarism and sacrifice to a trumped-up false "noble" cause.

• Click on film title for more info and review excerpts.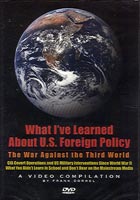 DVD: What I've Learned About U.S. Foreign Policy
$20.00 $10.00 On Sale!
DVD-WILA
A two hour video compilation by Frank Dorrel. This is an excellent introduction and overview of the issues confronting us today. A valuable primer for those new to the hidden history of the U.S. and a sobering refresher for those who may have forgotten or who've chosen to base their political beliefs on denial of the painful facts presented here. Excerpted from ten outstanding documentaries made in recent years, and now available together on one DVD. Very worthwhile, informative and empowering as a primer for people who need to know this neglected and hidden history.
• Click on title for more information...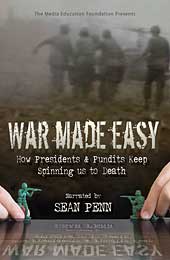 DVD: War Made Easy - How Presidents & Pundits Keep Spinning Us to Death
$24.00 $20.00 On Sale!
DVD-WME
Written & Directed by Loretta Alper & Jeremy Earp • Produced by Sut Jhally/Media Education Foundation • Based on the book by Norman Solomon • 2007 • 72 minutes • 15 pg. House/Community Screening Organizer's Kit included.
WAR MADE EASY brings to the screen Norman Solomon's insightful analysis of the strategies used by administrations, both Democratic and Republican, to promote their agendas for war, from Vietnam to Iraq.

• Click on title for more information...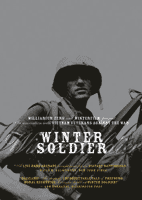 DVD: Winter Soldier
$25.00
DVD-WS
A film as relevant today as it was 35 years ago when it was made. Listen to these 18 to 25 year old soldiers speaking their truth to an America that was unwilling to listen to them at the time, which is in large part why we are in the occupation/quagmire we are in today. We did not learn the bitter lessons of that war, and find ourselves, once again, waist-deep in another mistake of a war – only the stakes are far greater today.
"One of the most devastating antiwar films ever made!...A testament to those who had the bravery to speak out and speak up." – David Fear, Time Out New York
• Click on title for more about the film...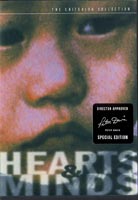 DVD: Hearts and Minds
$39.00 $31.00 On Sale!
DVD-H&M
Directed by Peter Davis •1974 • 112 minutes • The Classic Academy Award winner for Best Documentary, 1974 • Released by the Criterion Collection.
Chillingly relevant to our times, filmmaker and journalist Peter Davis illustrates, in poignant graphic terms, both the horrors and lessons of the Vietnam war. Edited from over 200 hours of footage - incorporating newsreels, telecasts, even scenes from Hollywood war movies - Davis' film captures the experience of war through multiple perspectives, depicting its effects on the diverse range its participants (from "doves" to "hawks," military advisors to bombing victims, G.I.'s to bar girls) both in Vietnam and the United States.
• Click on title for more information and a review by N.Y. Times film critic Judith Crist...



Button: Yo No Soy El Army [Spanish for I'm Not An Army of One]
$2.00 $1.00 On Sale!
YNS
(1.25" Button) The Army's latest recruiting pitch is emphatically countered in Spanish. The whole "Army of One" is an advertising catch-phrase designed to appeal to a young man's macho fantasy of personal super-hero delusion. Only the truly courageous will wear this; only those who know they're being lied to by recruiters and who can resist the bait.



Button: Students Not Soldiers
$2.00
SNS
(1.25" Button)



Button: Demilitarize Our Schools
$2.00 $1.00 On Sale!
DOS
(1.25" Button) Designed by & for the Commitee on Militarism & the Draft in San Diego - one of the best local/national groups in the country.



Book: Addicted To War: Why The U.S. Can't Kick Militarism
$10.00
BK-ATW
77 pages • 161 reference notes • 8.5" x 11" graphic format • Over 375,000 in print!
An illustrated expose by Joel Andreas, "Addicted to War" takes on the most active, powerful and destructive military in the world. Hard-hitting, carefully documented and heavily illustrated, it reveals why the United States has been involved in more wars in recent years than any other country.
The book reveals the terrible fact of the U.S.'s addiction to war and militarism, as well as powerful insights into the causes. In a format accessible to kids from nine to ninety-nine. Packed with historical photos and quotes, the book explains who benefits from our wars, who pays and who dies. Highly recommended from High school age and up. Donate a copy to your school and community library.

The book is endorsed by Veterans For Peace. This Third Edition has been updated in 2004 and 14 more pages have been added covering the war against Iraq. It has been translated into Japanese, Korean, Thai, Danish and German. A Spanish edition is also available from us. It is being used in hundreds of high schools and colleges as a supplemental U.S. history text. Watch a 4 minute video created from the first pages of the book.

Click on title for reviews and the author's Preface to the book...



Button: Youth for Peace and Justice
$2.00
YPJ
(1.25" Button)



Bumpersticker: Why is there Always Money for War, But Not for Education?
$2.25
S-WITA



Button: Estudiantes Si / Soldados No [Spanish for Students Yes / Soldiers No]
$2.00 $0.50 On Sale!
ESSN
(1.25" Button) Espaρol version. We also have a similar message in English. Designed by & for Committee on Militarism & the Draft, San Diego.



Button: Why is There Always Money for War and Not For Education?
$2.00
WITA



Button: Lies Start Wars
$2.00
LSW
(1" Button)



Button: Military Recruiters Lie
$2.00
MRL
1.25"



Button: Yellow Ribbons Won't Bring the Troops Home, Ending the War Will
$2.00 $0.25 On Sale!
YRW
2.25" Button
From Bush (Senior and Junior's) Middle East Shock 'n Awe invasions, occupations and failed wars.



Button: Educate, Agitate, Organize
$2.00
EAO
1" Button
Also available as a bumpersticker, Item Code: S-DMO



Button: Peace Dove Graphic-Peace in English, Arabic and Hebrew
$2.00
MEP
(1.5" Square Button) Full color pinting by Artists for Mid-East Peace, with "Peace" in English, Hebrew and Arabic.



Button: Peace Sign Graphic
$2.00
PS
(1" Metal Lithographed Button) This is the Original, designed over sixty years ago in 1958 by Gerald Holtom for the English Campaign for Nuclear Disarmament. Inside the back of this button is a very tiny and very brief few words about the origin of the peace sign.
The last metal lithograph printer in North America went out of business in 2018, We cannot gt any more Metal Lithoigraphed buttons again. We only have a few dpzrn left. These are only available at the retail price. They are now collector's itms, and will increase in value into the foreseeable future.
We also offer the peace sign on a cloissonne jewelry pin with a clutchback secure attachment on the back. The product code for that is JP-PS58.
Both the button and the jewelry pin are union-made in the U.S. Small enough to wear with anything from the most casual to the most formal.
• Click on button title for the rest of the story...



Button: There's No Way to Peace - Peace is the Way
$2.00
NWP
(1.5" Button) These words are attributed to the pacifist A. J. Muste, but he may hve borrowed them from elsewhere. Their point is that the process is the way; an end in itself. This could be quite the conversation-starter at a get-together or Twelve-Step meeting.



Bumpersticker: To Stop Terrorism Stop Terrorizing
$2.25
S-TST



Button: Wage Peace
$2.00
WP
1" Button • hand assembled



DVD: Uncovered: The War on Iraq
$20.00
Produced and Directed by award-winning filmmaker and documentarian Robert Greenwald (Outfoxed: Rupert Murdoch's War On Journalism; Unconstitutional; Unprecedented; The Burning Bed; Steal This Movie). EXPANDED NEW EDITION FOR 2005.

Click title above for film description and more information.


Button: Are You Willing to Die for Exxon?
$2.00
AYWTDFE
(1.5" Button) • It doesn't get any more in-your-face than this one from the build-up to the Gulf War, in the fall of 1990. The point is still valid: it was and still is a rich man's oil war, no matter how they tried to disguise it with lies about yellow cake from Niger and Iraq's hidden (and still unfound) weapons of mass destruction.
• Click on the button title for the rest of the rant . . .



Button: Hatred Feeds War; Breeds Fear; Fuels Hatred
$2.00
HFW
(1.5" Square)



Bumpersticker: "There is no flag large enough to cover the shame of killing innocent people." - Howard Zinn
$2.25
S-ZQ



Bumpersticker: War Sucks, Why Fight It?
$2.25
S-WS


Book: Stop the Next War Now
$14.95
BK-STN
Edited by CODEPINK Cofounders Medea Benjamin and Jodie Evans. 384 pages.

Effective responses to violence and terrorism. In an effort to stop the war in Iraq, a powerful global movement demonstrated a passion for peace. Armed with insights from the trenches and a vision for a world without war, over 70 experts, scholars, artists, activists, and journalists come together.

Contributors include: Congresswoman Barbara Lee,
Playwright Eve Ensler,
Journalist Helen Thomas,
Conscientious Objector Camilo Mejia,
Analyst Phyllis Bennis,
Activist Leslie Cagau,
Writer Barbara Ehrenreich,
Nobel Prize Winner Jody Williams,
Radio journalist Amy Goodman,
Doctor Helen Caldicott,
Author Naomi Klein,
Environmentalist Wangari Maathai,
and Writer Sharen Salzberg.



Button: Troops Out Now! No Blood for Oil
$2.00 $0.25 On Sale!
TON
1.75"