Donnelly/Colt
Box 188
Hampton, CT
06247

(860) 455-9621



Can't find something you're looking for? Just ask, and we'll let you know if we have it or can get it.

Book: Addicted To War: Why The U.S. Can't Kick Militarism
$10.00 $7.50 On Sale!
BK-ATW
77 pages • 161 reference notes • 8.5" x 11" graphic format • Over 375,000 in print!
An illustrated expose by Joel Andreas, "Addicted to War" takes on the most active, powerful and destructive military in the world. Hard-hitting, carefully documented and heavily illustrated, it reveals why the United States has been involved in more wars in recent years than any other country.
The book reveals the terrible fact of the U.S.'s addiction to war and militarism, as well as powerful insights into the causes. In a format accessible to kids from nine to ninety-nine. Packed with historical photos and quotes, the book explains who benefits from our wars, who pays and who dies. Highly recommended from High school age and up. Donate a copy to your school and community library.

The book is endorsed by Veterans For Peace. This Third Edition has been updated in 2004 and 14 more pages have been added covering the war against Iraq. It has been translated into Japanese, Korean, Thai, Danish and German. A Spanish edition is also available from us. It is being used in hundreds of high schools and colleges as a supplemental U.S. history text. Watch a 4 minute video created from the first pages of the book.

Click on title for reviews and the author's Preface to the book...



Book: Adicto a la Guerra [Espanol ed.]
$10.00 $5.00 On Sale!
BK-AALG
The same best-selling graphic history book, "Addicted To War" translated into Spanish. A must-read for Spanish-speaking recruitment-age youth.



Book: National Security & Double Government
$30.00 $22.50 On Sale!
by Michael Glennon • Oxford University Press • 272 pages • Hard cover • 2015
• "This work is of huge importance. It explains the phenomenon that myself and many other informed voters have seen - namely - how the policies of the United States government seem impervious to change no matter the flavor of administration. I found myself baffled and chagrined that President Obama, who I cheerfully voted for twice (and still would prefer over the alternatives) failed to end many of the practices that I abhor, such as the free reign of the NSA, the continual increase in defense budgets and the willingness to keep laws that are clearly against the wishes of the vast majority of Americans, be they Progressives or otherwise." – Tom Hunter

• Click on the book title to read more description, editorial and customers' reviews . . .



Book: Handbook For Nonviolent Action
$3.00 $1.50 On Sale!
BK-HNA
Co-published by War Resisters League and Donnelly/Colt.
This is the handbook used throughout the country for civil disobedience action trainings. Nonviolent civil disobedience requires discipline and preparation as well as a burning commitment and desire for change. This handbook continues a tradition of sharing and passing on beliefs, strategies, values and tactics. It offers the combined experience and wisdom of many people who have struggled to make the world more just. It empowers the the reader to honestly reflect on the guidance it offers. The four editions of this handbook have been widely used all over the country in nonviolence training sessions for many years. Even the single copy price is far less than the cost of photocopying the 36 pages (which at .07' a page would cost $2.52 to photocopy, not including colating and binding) 4th revised edition. 36 pages. Save in bulk: $1.00 each for 10-25; 26-199 for .75' each; Carton of 200 for .50' each ($100) + shipping (actual UPS rate will be used)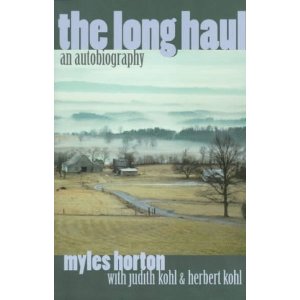 Book: The Long Haul
$30.00 $22.50 On Sale!
BK-LH
by Myles Horton • 1998 • 231 pages
In his own direct, modest, plain-spoken style, Myles Horton tells the story of the Highlander Folk School. A major catalyst for social change in the United States for more than sixty years, this school has touched the lives of so many people, Martin Luther King, Jr., Rosa Parks, Eleanor Roosevelt, and Pete Seeger. Filled with disarmingly honest insight and gentle humor, this is an inspiring hymn to the possibility of social change.
Click on title for more information . . .



Book: Telling the Truth about History
$14.00 $10.50 On Sale!
Appleby, Lyn Hunt & Margaret Jacob. "A wise and moderate book. The authors, all distinguished historians, speak with confidence about the value of both the historian's traditional craft and modern criticism of it. Their sane and readable discussion should give hope to [those] who...believe in the possibility--even the pleasure--of writing history." - Caroline Walker Bynum



Book: Why Unions Matter
$12.00 $9.00 On Sale!
By Michael Yates. This book is an excellent introduction to the labor movement. It proves with irrefutable statistics and persuasive analysis that unionized workers get more pay and better benefits than employees who are not unionized. This book gives the history of the labor movement, basic understanding of issues, and its purpose and promise. Softcover, 180 pages.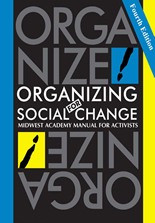 Book: Organizing for Social Change: The Midwest Academy Manual for Activists
$29.95 $22.50 On Sale!
BK-OFSC
Organizing for Social Change: The Midwest Academy Manual for Activists
2010 • 4th Revised Edition
By Kim Bobo, Jackie Kendall, and Steve Max. A comprehensive manual for grassroots organizers working for social, political, environmental, and economic change at the local, state, and national levels. The Academy handbook provides an invaluable reference source for organizers throughout their careers. Also included are anecdotes about a wide variety of real organizations working on issues concerning labor, pollution, housing, voter registration, racism, healthcare, peace, religion, consumer protection, energy, and public campaign financing. An indespensable source book! Paperback, 424 pages.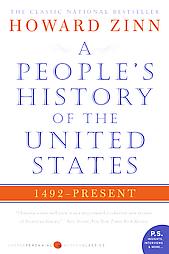 Book: A People's History of the United States: 1492-Present
$20.00 $13.00 On Sale!
BK-PH

by Howard Zinn • 729 pages • Paperback • Revised & updated (2014)


"[Howard Zinn's A People's History] made me feel that I was a player in this moment in history, as we all are... It gave me a sense of myself in the context of this huge American experience and empowered me to feel that in my small way, I had something to say, I could do something."
– Bruce Springsteen"

Zinn has written a brilliant and moving history of the American people from the point of view of those who have been exploited politically and economically and whose plights has been largely omitted from most histories. Extending its coverage...the book is an excellent antidote to established history. Seldom have quotations been so effectively used; the stories of blacks, women, Indians, and poor laborers of all nationalities are told in their own words. While the book is precise enough th please specialists it should satisfy any adult reader." Library Journal If your last serious read of American history was in high school - or even in a standard college course - you'll want to read this amazing account of America as seen throuigh the eyes of its working people, women and minorities.
• Click on title for more info . . .



Book: Mobilizing Resentment
$25.00 $18.75 On Sale!
By Jean Hardisty. "[This book] takes readers on a personal, historical, and well-researched tour through the parallel universe of right-wing America. By exposing the power of its deep resentment of democracy, she also shows us how to confront and diminish that power. If you have time for only one book about the ultra-conservative resurgence, this is it." - Gloria Steinem. Hardcover, 286 pages.


Book: Stop the Next War Now
$14.95 $11.25 On Sale!
BK-STN
Edited by CODEPINK Cofounders Medea Benjamin and Jodie Evans. 384 pages.

Effective responses to violence and terrorism. In an effort to stop the war in Iraq, a powerful global movement demonstrated a passion for peace. Armed with insights from the trenches and a vision for a world without war, over 70 experts, scholars, artists, activists, and journalists come together.

Contributors include: Congresswoman Barbara Lee,
Playwright Eve Ensler,
Journalist Helen Thomas,
Conscientious Objector Camilo Mejia,
Analyst Phyllis Bennis,
Activist Leslie Cagau,
Writer Barbara Ehrenreich,
Nobel Prize Winner Jody Williams,
Radio journalist Amy Goodman,
Doctor Helen Caldicott,
Author Naomi Klein,
Environmentalist Wangari Maathai,
and Writer Sharen Salzberg.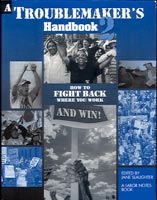 Book: A Troublemaker's Handbook 2
$24.00 $18.00 On Sale!
BK-TH2
Edited by Jane Slaughter. 372 pages.

"How to fight back where you work...and win!"

From the foreword by Baldemar Vlαsquez, President, Farm Labor Organizing Commitee:
"Honest discussion, investigation, and the willingness to question conventional wisdom on how best to represent and organize workers and challenge entire industries... The following pages chronicle the experiences and lessons of labor's Rosa Park's--and perhaps tomorrow's Martin Luther King, Jr.'s and Malcolm X's."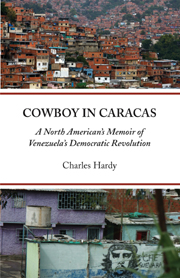 Book: Cowboy In Caracas: A North American's Memoir of Venezuela's Democratic Revolution
$14.00 $10.50 On Sale!
BK-CIC
by Charles Hardy • 145 pages • Curbstone Press, Willimantic, CT

"An old and evil way of life is dying and those who enjoyed it are fighting to survive..."

• "Charles Hardy has given us a unique persective on the Chavista revolution as viewed from a cardboard shack on a hillside barrio in Caracas. Writing in a graceful and conversational style in a series of vignettes, Hardy conveys with genuine affection and admiration the dignity and courage of the ordinary people of Venezuela – people whom the western media, enscounced in fine hotels or toney apartments, only know as maids and waiters. A reader comes away understanding both why Hugo Chavez is loved by these people – and why the U.S. government is trying so hard to oust him. With the Bush administration still trying to demonize Chavez and his backers, this book is a must-read for all Ameicans – but a must-read that you won't be able to put down." – Dave Lindorff, columnist for Counterpunch, Salon.com and author of The Case For Impeachment (2006)

• Click on title for more reviews...


Book: Uprooting Racism
$17.00 $12.75 On Sale!
Learn how to stand up against racism. There's a long tradition of white people opposing racism, but there are also hundreds of excuses we give ourselves for not getting involved. Uprooting Racism is designed to help white people act on their conviction that racism is wrong. It is a supportive 'how-to' book for white people who are willing to work to end racism. Uprooting Racism talks about racism without rhetoric or attack. It helps us understand the dynamics of racism in our society, insitutions and daily live, and it shares stories, suggestions, advise, exercises and approaches for working together to fight racism. It includes specific consideration of Latino/a, Asian American, African American, Native American and Jewish issues. 243 pages.



Book: Eyes Right! Challenging the Right Wing Backlash
$17.00 $5.00 On Sale!
Edited by Chip Berlet, Political Research Associates. With contributions from 38 activists and journalists, this anthology brings together some of the most insightful and original thinking about fighting the right today. It brings essential facts, analysis and advise for anyone interested in fighting the right. 398 pages.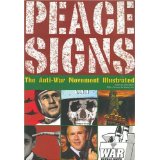 Book: Peace Signs
$35.00 $26.25 On Sale!
BK-PEACE SIGNS
The Anti-War Movement Illustrated

Edited by James Mann • Forward by historian Howard Zinn
200 posters and graphics against the war in Iraq. From over 20 countries around the world in full color and large format (9" x 13") Free to copy and distribute for any not-for-profit manner. One copy left (out-of-print)



Book: Dark Ages America: The Final Phase of Empire
$16.00 $12.00 On Sale!
BK-DAA
by Morris Berman • 2007 • 385 pages
In Dark Ages America, Morris Berman argues that the nation has entered a dangerous phase in its historical dvelopment, from which there is no return. As the corporate-consumertist juggernaut thgat now defines the nation rolls on, the very factotrs that once propelled America to greatness – extreme individualism, terriotorial expansion, and the pursuit of material wealth – are now, paradoxically, the nails in our collective coffin. Within a few decades, Berman argues, te united Statyes will be marginalized on the world stage, its hegemony replaced by China or the European Union. We could also, he sugests, be just one more terrortist attack away from a police state."
• Click on title for excerpts from reviews...


Book: A People's History of Sports in the United States: ...
$27.00 $20.25 On Sale!
BK-PHS
...250 Years of Politics, Protest, People, and Play

By David Zirin and various contributors • Hardcover • 320 Pages.

From the author Robert Lipsyte calls "the best young sportswriter in America," a rollicking, rebellious, myth-busting history of sports in America that puts politics in the ring with pop culture.

Click book title to read more!



Book: 50 Facts That Should Change the World
$15.00 $11.25 On Sale!
Book: 50 Facts That Should Change the World
By Jessica Williams In this book the BBC's Jessica Williams presents us with crucial information that is often missed, glossed over or hidden by the government and the media. 50 Facts That Should Change The World is simply presented with explanation and analysis backed by thorough references.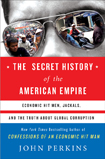 Audio Book on CD: The Secret History of the American Empire
$40.00 $35.00 On Sale!
ABCD-SHAE
Unabridged • 9 CDs • approx. 11 hours • Read by Jonathan Davis. The inside story of the corruption, cronyism and corporate manipulation behind the American Empire today.
• Click on Title for the rest of the description...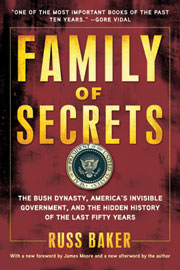 Book: Family of Secrets
$20.00 $15.00 On Sale!
BK-FOS
by Russ Baker • 2010 •paperback
George W. Bush released his autobiography to massive media attention in 2010. He's promoting his own mythology, re-writing the history of the eight years of his regime, to put his legacy in the best light, in spite of his massive unpopularity.
Meanwhile, another groundbreaking book that reveals much more about the Bush family also was published in 2010, to virtually no media coverage.
Learn why the conventional understanding of Watergate gets the story wrong. Discover how Nixon was implicated in a sprawling plot to which he was not a party, and how an aggressive effort was mounted to use the 'facts' of the case to force him from office. Read new revelations about the precise involvement of George Herbert Walker Bush (senior), Bob Woodward and White House counsel John Dean in this still-mysterious American epic from 1972.
Also learn:
• Why George H.W. Bush can't remember where he was on November 22, 1963. Every other adult in the country remembers they were that fateful day.
• about a Texas Russian immigrant, George DeMorehschildt, who oddly is personally acquainted with both George H.W. Bush AND Lee Harvey Oswald. He died of an apparemt self-inflicted gunshot wound the day before he was to testify before the House SelectCommittee on Assassinations in 1977. • Why FBI Director J.Edhar Hoover, in 1963, refers in an FBI memo to "George Bush of the CIA" - two decades before George H.W. Bush claims he began his first affiliation with the Agency when he was appointed as Director for one year. • Why oilman George H.W. Bush shows up in early CIA documents
• The real story behind George W. Bush's missing military service
• The inside scoop on the Bushes and Saudi influence in America
• The strange saga of Harvard University and its endowment
• The untold real story behind George W. Bush's religious awakening
• Never before told anecdotes from George W. Bush's wild past
• How the CIA monitors the White House and its occupants
• Why Barack Obama and his supporters should read this book
AND MUCH MUCH MORE
Investigative journalist Russ Baker spent years fact-checking every statement in this book for accuracy. The Bush family doesn't deny any fact presented here. They just hope it won;'t be widely read and will sink into obscurity.
• Click on title for more . . .


Book: Sophie Scholl & The White Rose
$15.00
BK-SSWR
– Jud Newborn & Annette Dumbach • 256 pages • 2006 • 7 COPIES AVAILABLE • This book is OUT-OF-PRINT.
"Nothing is so unworthy of a civilized nation as allowing itself to be governed, without opposition, by an irresponsible clique that has yielded to base instinct." So wrote the White Rose, a group of ardent young activists inside Nazi Germany who opposed the reign of fascism in their country during the early 1940's.
• "The animated narrative reads like a suspense novel." – N.Y. Times
• "Inspiring - and could not be more timely." – Studs Terkel
• "Superbly written" – Library Journal
• "Heart-wrenching and inspiring...a story few readers will forget." – San Francisco Chronicle
• "Could change your life forever." – Dayton (Ohio) Daily News
• "A must for anyone – especially young people – to read." – Evelyn Rubin, author of Ghetto Shanghai
• "This is an impressive, highly readable and beautifully researched account of two brave German youths and their comrades who rejected Hitler's demonic vision and fought to open their countrymen's eyes to the horrors that lay ahead – at the cost of their lives ...This book drives home the high cost of courage in a world gone mad, and the brilliant light these brave young people shone into the dark night of Nazi Germany." – Susan Rubinowitz, political reporter, New York
Click on this link for a brief, powerful introductiion to Sopohie Scholl:
http://www.viruscomix.com/page474.html

• Click on title for more customer reviews...


Book: The Fight for Peace: A History of Antiwar Movements in America
$35.00 $26.25 On Sale!
BK-FFP
Ted Gottfried • 136 pages • 2006
Reinforced sturdy library binding • A book to donate to your local elementary, middle, high school or public library, in this era of tight budgets for public education. Reading level: Grade 7; Interest range: Grades 5 - 12.
There is no other book specifically on this subject avaiable for young and teen readers.
"A readable, engaging resource for reports that will also appeal to general readers." – Starred, Booklist
• "A well-organized, well-documented resource." – School Library Journal
Throughout U.S. history. antiwar activists have gathered and lobbied to prevent armed conflict. Often their work put them at odds with the majority population. Sometimes their antiwar positions gave their opponents reason to question the activist' loyalty to the U.S.
THE FIGHT FOR PEACE traces the work of antiwar activists from the Revoluionary War (1776-1783) to the conflict in Iraq in the 2000's. This book shines light on the U.S. peace movements and organizations that developed in the 1800's, as well as the international pacifist groups that bucked the majority in the 1900's. No other books present this history (besides Howard Zinn's classic 1980 "A People's History of the United States") The book also gives voice to those who argue that some causes are worth fighting for. In so doing, The Fight For Peace makes us face the ongoing tension between those who fight wars and those who fight to preserve peace.
• Click on title for two full reviews from School Library Journal and Booklist.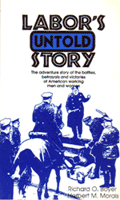 Book: Labor's Untold Story
$12.00 $9.00 On Sale!
BK: LUS
By Richard O. Boyer and Herbert M. Morais (1955). One of the best histories of the labor movement in the United States, this book traces its development from the civil war through the fifties. An essential for anyone concerned about the role of labor in our society. Softcover, 380 pages.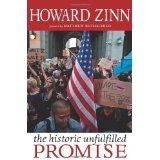 Book: The Historic Unfulfilled Promise
$17.00 $12.75 On Sale!
BK-THUP
2012 • by Howard Zinn (1923-2010)
"Passionate, iconoclastic, and wrly humorous . . . [Zinn] sometimes proves astounding in his almost clairvoyant analysis."
—Publisher's Weekly Starred Review Howard Zinn's life and work are the stuff of legend. His People's History of the United States has sold over two million copies and has altered how we see and teach history. A hero in word and deed, Zinn's views on freedom, fairness, history, democracy, and our own human potential are educational and transformative. In few places is the genius of his voice more crystallized and accessible than in the dozens of articles he penned for The Progressive magazine from 1980 to 2009, offered together here in book form for the first time.
• Click on the title for more info . . .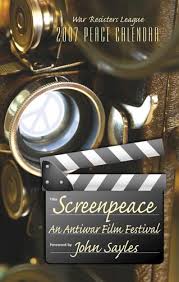 Book: Screenpeace - An Anti-War Film Festival
$16.00 $12.00 On Sale!
BK-SCREENPEACE
Spiral-bound • 5.25" x 8.5" •72 pages • Introduction by John Sayles
Edited by Judith Pasternak & Gloria Williams • Published by the War Resisters League, New York, 2007.
Originally published as the 2007 annual desk appointment calendar with the theme of anti-war films, with the calendar pages removed, it is a 72-page reference guide to anti-war films made since the previous "Films For Peace & Justice" (1987) desk calendar and film guide.
From Director John Sayles' Foreword:
"Movies, since their inception, have been a vital part of the cultural conversation. Some of the earliest "'moving pictures' with stories were battle scenes of the Philippine-American War presented by Thomas Edison's Biograph Company. That the footage had been staged in New Jersey with African-Americans standing in as Filipino soldiers was apparently less important to audiences of the day than the novelty, action, and patriotic fervor displayed within these one-minute 'views.'
• For more of Sayles' Foreword, click on the title of this book . . ./