Quick-Order Section
(No images)
Print-Out Order Form
(for mail orders by post)
Donnelly/Colt
Box 188
Hampton, CT
06247

(860) 455-9621



Can't find something you're looking for? Just ask, and we'll let you know if we have it or can get it.

Book: Rumors of Peace
$15.00
By Ella Leffland. The novel was written in 1979 about the years of World War II from from the bombing of Pearl Harbor until the bombing of Hiroshima. It is is told through the eyes of a young woman living in California. This is a beautiful coming of age story, and gives insight into how war effects young people living through it. Softcover, 382 pages.



Book: The Story of B (Hardcover)
$23.00
by Daniel Quinn (1996). This is a novel of suspense and visionary speculation that will ""unglue, stun, shock, and rearrange everything you 've learned and assume about western civilization and our future"" (Paul Hawken). It continues the ideas first written about in Ishmael. If you haven't yet read Ishmael, start your journey with either book; both are fascinating originals. 326 pages. Hardcover.


Book: The Mishomis Book: The Voice of the Ojibway
$18.00
BK-MB
by Edward Benton Banai. The major intent of the Mishomis Book is to provide to the reader an accurate and undistorted account of the culture, history and philosophy of the Ojibway Nation so that people of all nations can also benefit from these teachings which have endured from antiquity. Eddie explains that this is the first book written in this manner, "from oral tradition, and I hope it is only the beginning. I firmly believe it is time for Indian people to come forward with teachings, prophecies and insight. It is time to talk with our Brothers and Sisters of other nations, colors and beliefs. The world family is at a time when ideas and philosophies of yesterday may be the key to the family future." Ages 8-14, 114 pages.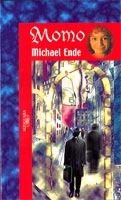 Book: Momo (in Spanish)
$12.00 $9.00 On Sale!
BK-MOMO-ESP
In Spanish. 274 pages. with 23 line drawing illustrations (not included in the English language edition) Paperback. (English edition out-of-print in the U.S.) 236 pages. Paperback.

Click title for book description and more information.