Donnelly/Colt
Box 188
Hampton, CT
06247

(860) 455-9621



Can't find something you're looking for? Just ask, and we'll let you know if we have it or can get it.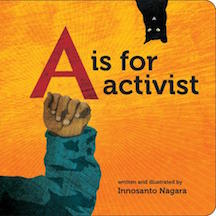 Book: "A is for Activist"
$17.95
Bk-AA
An ABC book for kids of all ages, that you, the unflinching progressive with a child/children in your life, can truly enjoy reading over and over and over again. Every night. A perfect holiday, birthday, any occasion gift for child and adult, activist or progressive, or anyone just starting to think critically about issues and the ways of the worlds. Written and illustrated by Innosanto Nagara
• For a brief interview with the author, click on the book title above . . .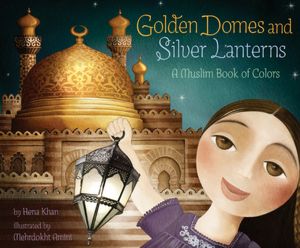 Book: Golden Domes and Silver Lanterns: A Muslim Book of Colors
$18.00 $16.00 On Sale!
BK-GDSL
by Hena Khan, Mehrdokht Amini (Illustrator)

Magnificently capturing the colorful world of Islam for the youngest readers, this breathtaking and informative picture book celebrates Islam's beauty and traditions. From a red prayer rug to a blue hijab, everyday colors are given special meaning as young readers learn about clothing, food, and other important elements of Islamic culture, with a young Muslim girl as a guide. Sure to inspire questions and observations about world religions and cultures, Golden Domes and Silver Lanterns is equally at home in a classroom reading circle as it is being read to a child on a parent's lap.

Publication date: 6/6/2012
Hardcover, full color, 32 pages
Age range: 3 - 7 Years



Book: Because I Am a Girl
$16.95
BK-BIAG
by Rosemary McCarney, Jen Albaugh, Plan International
Paperback
Because I am a Girl is a global initiative from Plan International to end gender inequality, promote girls' rights and lift millions of girls out of poverty. Plan helped the UN declare October 11th the "International Day of the Girl" to recognize and advocate for girls' rights globally. This book illustrates the Because I am Girl call to change by telling stories of girls around the world. They begin by telling us "Because I am a girl, I eat if there is food left over when everyone is done" and "I am the Poorest of the Poor." But it ends with the inspiring section "Because I am a Girl, I can change the world." Each part begins with one real girl's story, illustrated with Plan's amazing photographs.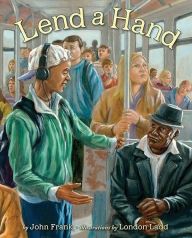 Book: Lend a Hand: Poems About Giving
$17.95
BK-LAH
by John Frank, London Ladd
Hardcover
A collection of original poems centered on giving and spontaneous acts of kindness, which also incorporate larger themes of community, intergenerational relationships, young mentors, and care for the environment. Acts of kindness happen every day, but often go unnoticed with the exception of the giver and receiver. In this book, every day acts of kindness are celebrated in a special way for the reader of this delightful book to see. Each page contains an anecdote about kindness in some capacity whether it is about training a service dog, a group of girl scouts serving the community by picking up trash, a young man helping an old man on a bus, a student sharing a sandwich with a classmate, and many more inspiring examples.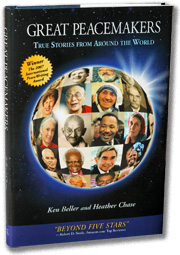 Book: Great Peacemakers: True Stories From Around The World
$27.00 $24.00 On Sale!
BK-GPM
by Ken Beller & Heather Chase • 2008 • Middle/High School, College/Adult • Hardcover
This book tells the true life stories of 20 great peacemakers from around the world, including famous leaders such as Mahatma Gandhi and Martin Luther King, Jr., as well as lesser-known individuals from various walks of life who are making a positive difference in the world. Winner of 30 book awards!
• "Powerful, well-researched and, above all, timely, Great Peacemakers should be required reading for the youth of the world. Classrooms are flooded with history textbooks that celebrate military heroes. It is long past time that our children learn from books that celebrate peace."
—Dr. Oscar Arias
president of Costa Rica and recipient of the Nobel Peace Prize

Ask about deep discounts as much as 45% off list price!

• Click on title for more endorsements and reviews of this important new book.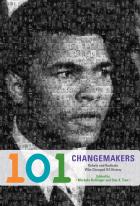 Book: 101 Changemakers
$20.00
BK-101CM
8.5" x 11" • Hardcover • 2013 • 215 pages • Edited by Michelle Bollinger & Dao X. Tran * Haymarket Books • History, Middle School reference
In the great tradition of Howard Zinn, 101 Changemakers offers a "peoples' history" version of the individuals who have shaped our country for middle school students. In the place of founding fathers, presidents, and titans of industry, are profiles of those who courageously fought for social justice in America: Tecumseh, Harriet Tubman, Mark Twain, César Chávez, Rachel Carson, Harvey Milk, Henry Wallace, and many more. 101 Changemakers aims to provide young students with new ways of understanding how history is written and made.
• Click on title for more info . . .


Book: The Mishomis Book: The Voice of the Ojibway
$18.00
BK-MB
by Edward Benton Banai. The major intent of the Mishomis Book is to provide to the reader an accurate and undistorted account of the culture, history and philosophy of the Ojibway Nation so that people of all nations can also benefit from these teachings which have endured from antiquity. Eddie explains that this is the first book written in this manner, "from oral tradition, and I hope it is only the beginning. I firmly believe it is time for Indian people to come forward with teachings, prophecies and insight. It is time to talk with our Brothers and Sisters of other nations, colors and beliefs. The world family is at a time when ideas and philosophies of yesterday may be the key to the family future." Ages 8-14, 114 pages.


Book: Why War Is Never a Good Idea
$16.99
BK-WWNG
by Alice Walker, Stefano Vitale (Illustrator), Stefano Vitale (Illustrator) hardcover.

Though War is Old
It has not
Become wise.

Poet and activist Alice Walker personifies the power and wanton devastation of war in this evocative poem. Stefano Vitale's compelling paintings illustrate this unflinching look at war's destructive nature and unforeseen consequences.



Book: Talking Walls
$18.00
by Margy Burns Knight. Talking Walls is a unique addition to the field of children's literature: it introduces young readers to different cultures by exploring walls around the world, showing the impact of walls on the people who build and are divided or unified by these partitions. In Talking Walls, vibrantly colored pastel illustraions portray the way children live with these walls. We wander into a dark cave with four French children to discover the amazing Lascaux cave paintings. An Australian aboriginal youth shows us how each generation in his family has added images of their hands to a wall of paintings going back thousands of years. A child tucks his folded prayer between the stones of the Western Wall in Jerusalem listenig for a an answer.



We Just Want to Live Here: A Palestinian Teenager, an Israeli Teenager an Unlikely Friendship
$12.00
BK: WJW
by Amal Rifai Palestinian Amal Rifa'i and Israeli Odelia Ainbinder are two teenage girls who live in the same city, yet worlds apart. They met on a student exchange program to Switzerland. Weeks after they returned, the latest, violent Intifada broke out in the fall of 2000. But two years later, Middle East correspondent Sylke Tempel encouraged Amal and Odelia to develop their friendship by facilitating an exchange of their deepest feelings through letters. In their letters, Amal and Odelia discuss the Intifada, their families, traditions, suicide bombers, and military service. They write frankly of their anger, frustrations, and fear, but also of their hopes and dreams for a brighter future. Together, Amal and Odelia give us a renewed sense of hope for peace in the Middle East.



Book: Tarra & Bella: The Elephant and Dog Who Became Best Friends
$20.00
BK-T&B
by Carol Buckley.
Best friends come in all shapes and sizes After retiring from the circus, Tarra became the first resident of the Elephant Sanctuary in Tennessee. When other elephants moved in and developed close friendships, only Tarra remained independent until the day she met a stray mixed-breed dog named Bella.

It was love at first sight as this unlikely duo became inseparable. They ate together, slept together, and even understood each other s language. And when Bella suffered a severe spinal injury, Tarra stayed by her side and was there for her until Bella regained her health.

Brilliant color photographs of Tarra and Bella at home in the Elephant Sanctuary deftly illustrate this inspiring story of companionship, and an informative note about the Sanctuary provides a great resource for parents and teachers.



Book: Quien es de aqui? Una historia amercana
$17.00
by Margy Burns Knight. Este libro, narrado con un lenguaje sencillo, esta basado en una historia real. Margy Burns Knight autora del aclamado libro Las paredes hablan, invitan a los jovenes lectures a explorar las implicaciones de la intolerancia en la humanidad. Junto al relato de Nary se ofrecen anecdotas relacionadas con las experienceias de otros refugiados sus contribuciones a la cultura americana. Cada pagina ha sido magnificamente ilustrada con los coloridos pasteles de Anne Sibley O'Brien. El compendio al final del libro ofrece informacion detallada sobre Pol Pot, Ellis Island Y otras topicos mencionados en este. 36 pajinas.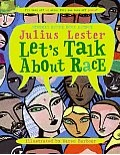 Book: Let's Talk about Race
$8.00
BK-LTAR
by Julius Lester. Paperback, 32 pages. OUT OF PRINT • LAST 5 COPIES

I am a story.
So are you.
So is everyone.
Julius Lester says, "I write because our lives are stories. If enough of these stories are told, then perhaps we will begin to see that our lives are the same story. The differences are merely in the details." Now Mr. Lester shares his own story as he explores what makes each of us special. Karen Barbour's dramatic, vibrant paintings speak to the heart of Lester's unique vision, truly a celebration of all of us. • Click on book title for review ad more info about the author



Book: Las paredes hablan
$18.00
Mary Burns Knight. Las Paredes Hablan es una original contribucion a la literatura infantil. Introduce a los jovenes lectores a diferentes culturas mediante la exploracion de muros, murallas o paredes, y tambien a traves del impacto de estas paredes en la gente que las construyo, y la union o la division de las persona a causa de ellas. Las llamativa ilustraciones a pastel de Las Paredes Hablan muesrtan a los ninos que vene cerca de ellas. Nos perdemos en una oscura caverana junto a cuatro ninos franceses para descubrir las sorprendentes caverna de Lascaux. Un joven aborigen de Australia nos muestra como cada generacion de su familia fue agregando las huellas de sus manos a una pared llena de dibujos que tienen miles de anos. Un nino introduce un papelito enrollado con sus plegarias entre las piedras del Muro de los Lamentos en Jerusalen, y espera un respuesta



Book: Everyone's Kids' Books: A Guide to Children's Literature
$16.00
BK-EKB
by Nancy Braus and Molly Geidel. A guide to Multicutural, Socially Conscious Books for Children. A great reference of brief and informative descriptions of kids' books, including recommended age levels. A great place to start finding good books for your kids. Paperback. 231 pages.



Book: If the World Were a Village
$16.00
BK-WWV
A Book about the World's People.

Written by David J. Smith, Illustrated by Shelagh Armstrong.

"If the World Were a Village" tells us who we are, where we live, how fast we are growing, what languages we speak, what religions we practice and more. So come and learn about our global village. What you find out may surprise you! (taken from inside cover)



Book: Don't Laugh at Me (with audio CD )
$16.95
BK-DLM
by Steve Seskin Age Level: 6-UP With these words the chart-topping song of the same name has percolated through schools and camps across North America with its unforgettable message of acceptance and pride. The Don't Laugh at Me Project, inspired by the text of this book, asks kids to raise their voices to create ridicule-free environments. Those voices are now brought into full-color harmony through the rich, emotionally engaging illustrations of Glin Dibley. Legions of children are eager to learn a new language and stop the cycle of teasing. Hey, aren't we all? -- Musical score included



Book: Harvesting Hope: The Story of Cesar Chavez
$17.00
BK-HH
by Kathleen Krull. Illustrated by Yuyi Morales. Hardcover.

Cesar Chavez is known as one of America's greatest civil rights leaders. When he led a 340-mile peaceful protest march through California, he ignited a cause and improved the lives of thousands of migrant farmworkers. But Cesar wasn't always a leader. As a boy, he was shy and teased at school. His family slaved in the fields for barely enough money to survive.

Cesar knew things had to change, and he thought that--maybe--he could help change them. So he took charge. He spoke up. And an entire country listened.

This beautifully illustrated book is recommended for ages 6-9



Cosechando esperanza: La historia de César Chávez (paperback)
$7.00
BK-HHSP
This Spanish-language edition of the award-winning "Harvesting Hope" tells the story of Hispanic civil rights leader Csar Chavez.

by Kathleen Krull, Yuyi Morales, F. Isabel Campoy (Translator), Alma Flor Ada (Translator). Paperback.

Cesar Chavez is known as one of America's greatest civil rights leaders. When he led a 340-mile peaceful protest march through California, he ignited a cause and improved the lives of thousands of migrant farmworkers. But Cesar wasn't always a leader. As a boy, he was shy and teased at school. His family slaved in the fields for barely enough money to survive.
Cesar knew things had to change, and he thought that--maybe--he could help change them. So he took charge. He spoke up. And an entire country listened.
This beautifully illustrated book is recommended for ages 6-9.



Book: The Christmas Menorahs: How A Town Fought Hate
Hard Cover • 1995
THIS BOOK IS OUT OF PRINT & S NOT BEING REPRINTED BY THE PUBLISHER • LAST 2 COPIES in stock
by Janice Cohn, D.S.W.
It's Hanukkah, and menorahs glow in the windows of the Schintzer home in Billings, Montana. Then suddenly, a rock crashes through the window of Isaac Schnitzer's bedroom. "But why?" Isaac wants to know. "Because we are Jews," his father tells him. Christmas lights shine in the Hanley home where Isaac's friend Teresa and her family decide to do something brave so that the Schnitzers can celebrate their holiday without fear. Janice Cohn's powerful narrative tells how two children, two families, and a community resolve to stand together against bigotry and acts of hatred. Her story is based on real events that happened in Billings in 1993. Picture book, full color, 39 pages. With the rise of the white supremacist, racist "alt-right" this story needs to be read more than ever.
DVD: The "Not in Our Town" series $99.00

Book: "We Are All Born Free" The Universal Declaration of Human Rights in Pictures
$20.00
BK-WABF
Hardcover picture book. The Universal Declaration of Human Rights was adopted by the United Nations General Assembly on December 10, 1948. Compiled after the horrors of World War II, its purpose was to state and protect the rights of all people. A testament to freedom and the human spirit, it is a thoughtful gift for children and adults alike.

Click the book title for more info!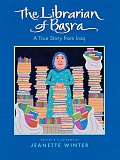 Book: "The Librarian of Basra" A True Story from Iraq
$16.00
BK-LOB
Written and illustrated by Jeanette Winter. Hardcover picture book.

This moving true story about a real librarian's brave struggle to save her war-stricken community's priceless collection of books is a powerful reminder that the love of literature and the passion for knowledge know no boundaries.

Click book title for more info!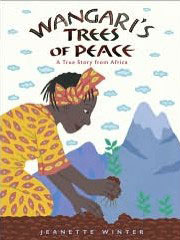 Book: Wangari's Trees of Peace : A True Story from Africa
$17.00
BK-WTP
by Jeanette Winter • 2008 • Hardcover Picturebook

As a young girl growing up in Kenya, Wangari was surrounded by trees. But years later when she returns home, she is shocked to see whole forests being cut down, and she knows that soon all the trees will be destroyed. So Wangari decides to do something—and starts by planting nine seedlings in her own backyard. And as they grow, so do her plans...

This true story of Wangari Maathai, environmentalist and winner of the Nobel Peace Prize, is a shining example of how one woman's passion, vision, and determination inspired great change.



Book: Todd Parr's The Peace Book
$16.00
Book: The Peace Book
by Todd Parr. Like Parr's bestseller "It's Okay to Be Different," this primer about peace gives parents and teachers a valuable tool in talking about this challenging subject to younger children. Peace is described as making new friends, sharing a meal, feeling good about yourself, and more. Another book we carry has the same title, but is not related to this book. It is by Louise Diamond.


Book: The Fight for Peace: A History of Antiwar Movements in America
$35.00 $25.00 On Sale!
BK-FFP
Ted Gottfried • 136 pages • 2006
Reinforced sturdy library binding • A book to donate to your local elementary, middle, high school or public library, in this era of tight budgets for public education. Reading level: Grade 7; Interest range: Grades 5 - 12.
There is no other book specifically on this subject avaiable for young and teen readers.
"A readable, engaging resource for reports that will also appeal to general readers." – Starred, Booklist
• "A well-organized, well-documented resource." – School Library Journal
Throughout U.S. history. antiwar activists have gathered and lobbied to prevent armed conflict. Often their work put them at odds with the majority population. Sometimes their antiwar positions gave their opponents reason to question the activist' loyalty to the U.S.
THE FIGHT FOR PEACE traces the work of antiwar activists from the Revoluionary War (1776-1783) to the conflict in Iraq in the 2000's. This book shines light on the U.S. peace movements and organizations that developed in the 1800's, as well as the international pacifist groups that bucked the majority in the 1900's. No other books present this history (besides Howard Zinn's classic 1980 "A People's History of the United States") The book also gives voice to those who argue that some causes are worth fighting for. In so doing, The Fight For Peace makes us face the ongoing tension between those who fight wars and those who fight to preserve peace.
• Click on title for two full reviews from School Library Journal and Booklist.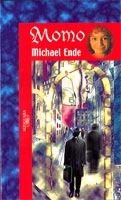 Book: Momo (in Spanish)
$12.00 $9.00 On Sale!
BK-MOMO-ESP
In Spanish. 274 pages. with 23 line drawing illustrations (not included in the English language edition) Paperback. (English edition out-of-print in the U.S.) 236 pages. Paperback.

Click title for book description and more information.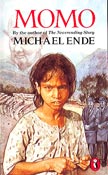 Book: Momo
$12.00
BK-MOMO-ENG
236 pages. Paperback. English language edition. Published in the U.K., imported. This classic juvenile-age book written in 1973 by German novelist Michael Ende has not been published in the U.S. since the 1980s. With the neocon cultural shift in 1980 with the election of Reagan, a sea change began in U.S. mainstream politics and fundamentalist Christian religion grew tremendously as the country shifted further to the right. The underlying message of this book must have seemed no longer relevant or market-worthy – but especially, it must have been considered too subversive, in its attitude toward the status quo, consumerism and the very notion of time as a commodity. Whatever caused the decision to not publish it again in the U.S., the last two generations have lost a great novel – a beautiful and important story – to read and pass down to their own children. "Mom" needs a grassroots revival to reach new audiences today more than ever in its 43+ years since it was first published. We also have the Spanish language edition (see Books section).

Click title for moire of the book's backstory, description and more!