Donnelly/Colt
Box 188
Hampton, CT
06247

(860) 455-9621



Can't find something you're looking for? Just ask, and we'll let you know if we have it or can get it.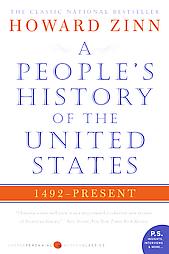 Book: A People's History of the United States: 1492-Present
$20.00 $13.00 On Sale!
BK-PH

by Howard Zinn • 729 pages • Paperback • Revised & updated (2014)


"[Howard Zinn's A People's History] made me feel that I was a player in this moment in history, as we all are... It gave me a sense of myself in the context of this huge American experience and empowered me to feel that in my small way, I had something to say, I could do something."
– Bruce Springsteen"

Zinn has written a brilliant and moving history of the American people from the point of view of those who have been exploited politically and economically and whose plights has been largely omitted from most histories. Extending its coverage...the book is an excellent antidote to established history. Seldom have quotations been so effectively used; the stories of blacks, women, Indians, and poor laborers of all nationalities are told in their own words. While the book is precise enough th please specialists it should satisfy any adult reader." Library Journal If your last serious read of American history was in high school - or even in a standard college course - you'll want to read this amazing account of America as seen throuigh the eyes of its working people, women and minorities.
• Click on title for more info . . .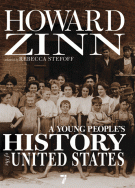 Book: A Young People's History of the United States
$20.00 $18.00 On Sale!
BK-YPH
by Howard Zinn with Rebecca Stefoff • 2007 •234 pages • paperback
Originally published as two volumes, it is now in one book. The Young Adult edition of Zinn's classic telling of U.S. history. It brings the viewpoints of workers, slaves, immigrants, women, Native Americans and others whose stories and their impact, are rarely included in history books.

• "A brilliant and moving history of the American people." - Library Journal

• "One of THE most important books I have ever read in a long life of reading... a book that should be read by every American, student or otherwise, who wants...more." – Howard Fast

• Click on the title for more information . . .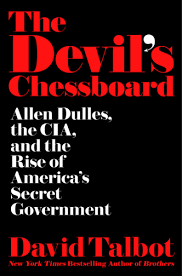 Book: The Devil's Chessboard - Allen Dulles, the CIA and the Rise of America's Secret Government
$30.00 $20.00 On Sale!
by David Talbot • Hardcover • October 2015 • 620 pages
From the founder of Salon and the author of the New York Times bestseller Brothers, an explosive, headline-making portrait of Allen Dulles, the man who transformed the CIA into the most powerful—and secretive—colossus in Washington.
America's greatest untold story: the United States' rise to world dominance under the guile of Allen Welsh Dulles, the longest-serving director of the CIA. Drawing on revelatory new materials—including recently discovered U.S. government documents, U.S. and European intelligence sources, the personal correspondence and journals of Allen Dulles's wife and mistress, and exclusive interviews with the children of prominent CIA officials—David Talbot reveals the underside of one of America's most towering and influential figures.
• Click here for more description and reviews . . .



Book: National Security & Double Government
$30.00 $25.95 On Sale!
by Michael Glennon • Oxford University Press • 272 pages • Hard cover • 2015
• "This work is of huge importance. It explains the phenomenon that myself and many other informed voters have seen - namely - how the policies of the United States government seem impervious to change no matter the flavor of administration. I found myself baffled and chagrined that President Obama, who I cheerfully voted for twice (and still would prefer over the alternatives) failed to end many of the practices that I abhor, such as the free reign of the NSA, the continual increase in defense budgets and the willingness to keep laws that are clearly against the wishes of the vast majority of Americans, be they Progressives or otherwise." – Tom Hunter

• Click on the book title to read more description, editorial and customers' reviews . . .


Book: The Fight for Peace: A History of Antiwar Movements in America
$35.00 $25.00 On Sale!
BK-FFP
Ted Gottfried • 136 pages • 2006
Reinforced sturdy library binding • A book to donate to your local elementary, middle, high school or public library, in this era of tight budgets for public education. Reading level: Grade 7; Interest range: Grades 5 - 12.
There is no other book specifically on this subject avaiable for young and teen readers.
"A readable, engaging resource for reports that will also appeal to general readers." – Starred, Booklist
• "A well-organized, well-documented resource." – School Library Journal
Throughout U.S. history. antiwar activists have gathered and lobbied to prevent armed conflict. Often their work put them at odds with the majority population. Sometimes their antiwar positions gave their opponents reason to question the activist' loyalty to the U.S.
THE FIGHT FOR PEACE traces the work of antiwar activists from the Revoluionary War (1776-1783) to the conflict in Iraq in the 2000's. This book shines light on the U.S. peace movements and organizations that developed in the 1800's, as well as the international pacifist groups that bucked the majority in the 1900's. No other books present this history (besides Howard Zinn's classic 1980 "A People's History of the United States") The book also gives voice to those who argue that some causes are worth fighting for. In so doing, The Fight For Peace makes us face the ongoing tension between those who fight wars and those who fight to preserve peace.
• Click on title for two full reviews from School Library Journal and Booklist.


Book: The Untold History of the United States
$30.00 $25.00 On Sale!
by Oliver Stone & Peter Kuznick • 2012 • 784 pages • hardcover
The companion to the Showtime documentary series (nov.-Dec. 2012), director Oliver Stone and historian Peter Kuznick challenge the prevailing orthodoxies of traditional history books in this thoroughly researched and rigorously analyzed look at the dark side of American history.
"At last the world knows America as the savior of the world!"—Woodrow Wilson
The notion of American exceptionalism, dating back to John Winthrop's 1630 sermon aboard the Arbella, still warps Americans' understanding of their nation's role in the world. Most are loathe to admit that the United States has any imperial pretensions. But history tells a different story as filmmaker Oliver Stone and historian Peter Kuznick reveal in this riveting account of the rise and decline of the American empire.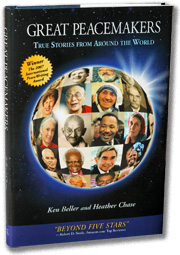 Book: Great Peacemakers: True Stories From Around The World
$27.00 $24.00 On Sale!
BK-GPM
by Ken Beller & Heather Chase • 2008 • Middle/High School, College/Adult • Hardcover
This book tells the true life stories of 20 great peacemakers from around the world, including famous leaders such as Mahatma Gandhi and Martin Luther King, Jr., as well as lesser-known individuals from various walks of life who are making a positive difference in the world. Winner of 30 book awards!
• "Powerful, well-researched and, above all, timely, Great Peacemakers should be required reading for the youth of the world. Classrooms are flooded with history textbooks that celebrate military heroes. It is long past time that our children learn from books that celebrate peace."
—Dr. Oscar Arias
president of Costa Rica and recipient of the Nobel Peace Prize

Ask about deep discounts as much as 45% off list price!

• Click on title for more endorsements and reviews of this important new book.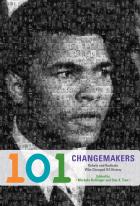 Book: 101 Changemakers
$20.00
BK-101CM
8.5" x 11" • Hardcover • 2013 • 215 pages • Edited by Michelle Bollinger & Dao X. Tran * Haymarket Books • History, Middle School reference
In the great tradition of Howard Zinn, 101 Changemakers offers a "peoples' history" version of the individuals who have shaped our country for middle school students. In the place of founding fathers, presidents, and titans of industry, are profiles of those who courageously fought for social justice in America: Tecumseh, Harriet Tubman, Mark Twain, César Chávez, Rachel Carson, Harvey Milk, Henry Wallace, and many more. 101 Changemakers aims to provide young students with new ways of understanding how history is written and made.
• Click on title for more info . . .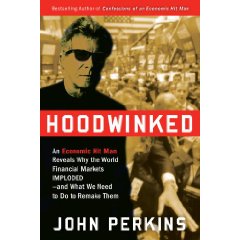 Book: Hoodwinked - An Economic Hit Man Reveals Why the World Financial Markets Imploded and What We Need Need To Do To Remake Them
$23.00 $19.00 On Sale!
BK-H
BK-H
Hardcover • 2009 • by John Perkins (author: Confessions of an Economic Hitman)
John Perkins has seen the signs of today's economic meltdown before. The subprime mortgage fiascos, the banking industry collapse, the rising tide of unemployment, the shuttering of small businesses across the landscape are all too familiar symptoms of a far greater disease. In his former life as an economic hit man, he was on the front lines both as an observer and a perpetrator of events, once confined only to the third world, that have now sent the United States—and in fact the entire planet—spiraling toward disaster.
• For more info click on the title of the book . . .



Book: Beyond Heroes and Holidays: A Practical Guide to K-12 Anti-Racist and Multicultural Education and Staff Development.
$27.00
edited by Enid Lee, Deborah Menkart, and Margo Okazawa-Rey. Beyond Heroes and Holidays is an interdisciplinary guide for teachers, administrators, students, and parents, offering lessons and readings developed by teachers that show how to analyze the roots of racism, investigate its impacts on our lives, examine its relationship to other forms of oppression, and learn to work to dismantle racism in our schools, communities, and the wider society.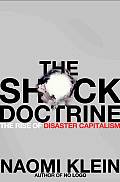 Book: The Shock Doctrine: The Rise of Disaster Capitalism
$18.00 $16.00 On Sale!
BK-SD
by Naomi Klein • 2007 • N.Y. Times Bestseller & bestseller in six countries. Paperback • Now in 20 languages! Seventeen publications consider this the Best Book of the Year. (Updated paperback edition, June 2008)
Naomi Klein is the award-winning author of the acclaimed international bestseller "No Logo" (2000) and the essay collection "Fences & Widows." An internationally syndicated columnist, she co-created with Avi Lewis, the documentary film "The Take"
• "This is a book that will anger you, yes, but in the best, most passionate way – by arousing the kind of anger that might provoke you into action. This is one book that could actually make a difference in society." - Powell's Books, Portland, OR (Staff Pick)
• "Superbly constructed and written... It deserves to be widely read." - S.F. Chronicle
• "Brilliant, brave and terrifying." - Arundahti Roy, author "The God of Small Things"
• Click on title for book description and websites...




Book: Conflict Resolution in the Middle School
$45.00
BK-CRMS
Middle School student are beginning to re-examine their relationships with peers, teachers, parents, and the world. Conflict Resolution in the Middle School presents over 150 classroom-tested activities to help students effectively handle the conflict that goes along with this developmental stage. This curriculum teaches students active listening, perspecting taking, negotiation, and mediation. Based on the unique needs of middle school students and their teachers the activities are cooperatively structured and presented for three levels (grades six through eight). Through discussion, role plays, and journal writing, students broaden their definition on conflict, discover how conflicts escalate, explore connections between diversity and conflict and learn how to de-escalate conflicts. 384 pages.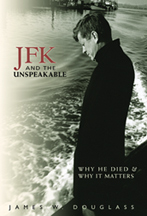 Book: J.F.K. & The Unspeakable: Why He Died & Why It Matters
$18.00 $14.00 On Sale!
BK-JFK
by James W. Douglass • 2010 • 560 pages • Paperback
Even before its official release date (Oct. 19, 2010) 15,000 of the 16,000 copies printed had been pre-ordered by retailers and distributors! A second printing of 6,000 quickly sold. After 15 years of meticulous research, fact-checking and verification, this book explains "why he died and why it (still) matters" to us, half-a-century later. James Douglass lays out the journey that led JFK in the course of three years from his position as a traditional Cold Warrior to his determination to break with the logic of the Cold War and lead the world in an entirely different direction. This sequence of steps led his adversaries in the military and intelligence establishment to view him as a virtual traitor who had to be eliminated.
Douglass's book has all the elements of a political thriller. But the stakes couldn't be higher. Only by understanding the truth behind the murder of JFK can we grasp his vision and assume the urgent struggle for peace today.
• "A remarkable book: devastating in its documented indictment of the dark forces that have long deformed the public life of this country, while also illuminating JFK's final vision of world peace and documenting beyond reasonable doubt the unspeakable assassination of our last partially admirable president. This book should be required reading for every American citizen. – Richard Falk, Milbank Professor of International Law Emeritus, Princeton University

• Click on title for more reviews...



Book: Elementary Perspectives One Teaching Concepts of Peace and Conflict
$28.00
by William J Kreidler This book is designed to help educators teach students to think about peace in new ways. Written by an experienced teacer and tested in classrooms across the country, "Perspectives" contains thought-provoking activities that help students explore the many facets of peace and conflict, including the value of conflict and its resolution, social justice issues, and the benefits of appreciating diveristy. This flexible curriculum guide offers over eighty activities designed to complement the standard curriculum. Students read, write, sing, role-play, draw, and discuss their way through a process that helps them acquire the concrete cooperative and conflict resolution skills needed to become caring and socially responsible citizens. 249 pages.


Book: The Spitting Image
$22.00 $16.00 On Sale!
BK-SI
Myth, Memory, and the Legacy of Vietnam. By Jerry Lembcke. 216 pages.

"The image is ingrained: A Vietnam veteran, arriving home from the war, gets off a plane only to be greeted by an angry mob of antiwar protesters yelling, 'Murderer!' and 'Baby killer!' Then out of the crowd comes someone who spits in the veteran's face. The only problem, according to Jerry Lembcke, is that no such incident ever has been documented. It is instead, says Lembcke, a kind of urban myth that reflects our lingering national confusion over the war." --Los Angeles Times

Lembcke builds a compelling case against collective memory by demonstrating that rememberances of Vietnam were almost at direct odds with circumstantial evidence." --San Francisco Chronicle

"The myth of the spat-upon veteran is not only bad history, but it has been instrumental in selling the American public on bad policy." --Maurice Isserman, Chicago Tribune



Book: Telling the Truth about History
$14.00
Appleby, Lyn Hunt & Margaret Jacob. "A wise and moderate book. The authors, all distinguished historians, speak with confidence about the value of both the historian's traditional craft and modern criticism of it. Their sane and readable discussion should give hope to [those] who...believe in the possibility--even the pleasure--of writing history." - Caroline Walker Bynum


Book: Sophie Scholl & The White Rose
$15.00
BK-SSWR
– Jud Newborn & Annette Dumbach • 256 pages • 2006 • 7 COPIES AVAILABLE • This book is OUT-OF-PRINT.
"Nothing is so unworthy of a civilized nation as allowing itself to be governed, without opposition, by an irresponsible clique that has yielded to base instinct." So wrote the White Rose, a group of ardent young activists inside Nazi Germany who opposed the reign of fascism in their country during the early 1940's.
• "The animated narrative reads like a suspense novel." – N.Y. Times
• "Inspiring - and could not be more timely." – Studs Terkel
• "Superbly written" – Library Journal
• "Heart-wrenching and inspiring...a story few readers will forget." – San Francisco Chronicle
• "Could change your life forever." – Dayton (Ohio) Daily News
• "A must for anyone – especially young people – to read." – Evelyn Rubin, author of Ghetto Shanghai
• "This is an impressive, highly readable and beautifully researched account of two brave German youths and their comrades who rejected Hitler's demonic vision and fought to open their countrymen's eyes to the horrors that lay ahead – at the cost of their lives ...This book drives home the high cost of courage in a world gone mad, and the brilliant light these brave young people shone into the dark night of Nazi Germany." – Susan Rubinowitz, political reporter, New York
Click on this link for a brief, powerful introductiion to Sopohie Scholl:
http://www.viruscomix.com/page474.html

• Click on title for more customer reviews...



Book: Facing History and Ourselves: Holocaust and Human Behavior
$24.00
The Facing History and Ourselves Foundation is a non-profit organization whose mission is to engage students of diverse backgrounds in an examination of racism, prejudice, and anti-semitism in order to promote the development of a more humane and informed citizenry. By tracing the historical roots of the events that led to the Holocaust and other examples of genocide, students make the essential connection between history and the moral choices they confront in their own lives. 576 pages.



Book: Power Politics
$12.00
Novelist Arundhati Roy challenges the idea that only "experts" can speak out on such urgent matters as the glodbalization of the world economy, the privatization of India's power supply and other issues. This new edition contains Roy's brilliant essays written after September 11 attacks and our government's attacks on Afghanistan, "The Algebra of Infinite Justice" and "War is Peace." She takes us to the frontlines of struggles for social justice and a humane, democratic future. Softcover, 192 pages.



Book: War Talk
$12.00
B-WT
by Arundhati Roy, the author of "The God of Small Things".

The eloquence, passion, and political insight of the author's political essays have added legions of readers to those already familiar with her Booker Prize-winning novel, "The God of Small Things." Roy's new essay collection, "War Talk," highlights the global rise of militarism and religous and racial violence. Against the backdrop of nuclear brinkmanship between India and Pakistan, the horrific massacre of Muslims in Gujarat, and U.S. demands for an ever-expanding war on terror, she calls into question the equation of nation and ethnicity.



Book: An Ordinary Person's Guide to Empire
$12.00
BK-OPG
by Arundhati Roy, the author of The God of Small Things

"The battle to reclaim democracy is going to be a difficult one. It is a battle that must range across continents and countries. It must not acknowledge national boundaries, but if it is to succeed, it has to begin in America. The only institution more powerful than the U.S. government is American civil society. Hundreds of thousands of you have survived the relentless propaganda you have been subjected to, and are actively fighting your own government. In the ultra-patriotic climate that prevails in the United States, that's as brave as any Iraqi or Afghan or Palestinian fighting for his or her homeland. I hate to disagree with your president: yours is by no means a great nation. But you could be a great people." --Arundhati Roy, An Ordinary Person's Guide to Empire.

Arundhati Roy masterfully draws the thread of empire through ostensibly disconnected arenas, highlighting the parallels between the poverty draft in the United States, caste poplitics in India, AIDS in South Africa, reconstruction contracts in Iraq, and the perverse machinery of mass media worldwide.

Essayis and novelist Arundhati Roy won the Book Prize for The God of Small Things, which spent 49 weeks on the New York Times bestseller lists and has been published in 33 languages.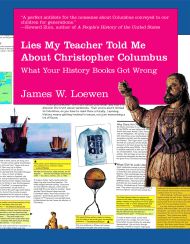 Book/Poster: Lies My Teacher Told Me About Christopher Columbus
$18.00 $17.00 On Sale!
BK-LMTCC
by James Loewen (author of "Lies My Teacher Told Me: Everything Your High School History Textbook Got Wrong" and "Lies Across America: What Our Historic Sites Get Wrong") • 9 pages • 8.5" x 11" • Includes a 22" x 34" full color poster, "The Truth About Columbus" printed on nontear material. The poster is folded to fit in the back of the book.
• Click on title for the description...





Book: Us and Them: A History of Intolerance in America
$25.00
by Jim Carnes. This book illuminates the dark corners of our nation's past and traces our ongoing efforts to live up to the American ideals of equality and justice. Fourteen case studies, enhanced by the use of original documents, historical photos, newly commisioned paintings, and dramatic narrative, bring readers a firsthand, personal account of the history and psychology of intolerance.



Book: Arab and Jew: Wounded Spirits in a Promised Land
$16.00
By David Shipler. This book was first written in 1986 and won a Pulitzer Prize. It was updated in 2002 . This book sheds light onto a very complicated situation. I read it before visiting Israel in 1988, during the first Intifada. At this point in history it helps to understand both sides of the conflict. Softcover, 656 pages.



Book: MoveOn's 50 Ways to Love Your Country
$10.95
BK-MO50
How to Find Your Political Voice and Become a Catalyst for Change

With section intros by Gail Sheehy and Nancy Pelosi, an inspiring collection of 50 call-to-action essays from MoveOn members around the country.

Click book title link below for a detailed description.



Book: Between Memory & Desire: The Middle East in a Troubled Age
$18.00 $12.00 On Sale!
By R. Stephen Humphreys. From medieval, to contemporary Middle East history, this book explains religious and secular politics of the Middle East. Its thoughtful analysis defines Islam's place and brings clarity to the ongoing struggle. Paperback, 319 pages, 2001.



Book: The No-Nonsense Guide to World History
$12.00
BK-NNWH
By Chris Brazier

Most people's idea of the history of the world is hazy and partial. We know bits and pieces - battles in a tiny corner of Europe, kings' love affairs - without ever knowing how they fit together. Here, in this book, are the hidden histories, the continents and communities left out of the conventional textbooks; from the civilizations of Asia, Africa and Latin America to the history of women which has been submerged beneath the flow of wars and politics.

"The No-Nonsense Guide to World History" integrates these hidden histories with the more familiar narrative of imperial dynasties and superpower battles. It stands back from history's great building to look at its outline instead of focusing on one brick. It aims to tell the whole story in the space of one slim volume - and to tease out some of the lessons of history that humanity needs to take into the 21st century. (taken from back cover)



Book: The No-Nonsense Guide to Globalization
$10.00
BK-NNG
by Wayne Ellwood

Globalization: it's a buzzword you can't escape. But what on earth does it mean? For some it's the ticket to a democratic world of instant communications and global prosperity. While for others it's a money-mad juggernaut, spinning wildly out of control, threatening both cultural and biological diversity.

The complex entaglement of cultures and economies has been growing since the colonial era and even before. So today commercial culture and the Western consumer model have seeped into every corner of the globe while gapes in wealth, food security and social provision continue to grow. (taken from back cover)



Book: Womankind: Faces of Change Around the World
$29.95
BK-WOMAN
text by Donna Nebenzahl, photographs by Nance Ackerman

"Womankind" shows us incredible individuals who are making a difference to others. Some of them are feminists, writers, artists; some of them are businesswomen, midwives or farmers; all of them are activists who are changing others' lives. Whether they are world-renowned or spring from grassroots organizations, all are justly celebratd in their own communities.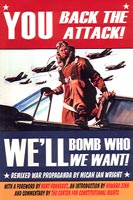 Book: You Back the Attack! We'll Bomb Who We Want!
$16.00
BK-YBAT
Remixed war propaganda posters by Micah Ian Wright. Using vintage World War II U.S. governemnt-issued War Department (yes, befor the euphemistic "Defense Department" was re-named after the war, it was more honestly called the War Dept.) posters, the author has updated them for the current war without end. The Appendix shows the original versions of the posters, as well Foreword by Kurt Vonnegut, introduction by Howard Zinn, and commentary by the Center for Constitutional Rights. 120 pages. Out-of-print, we have a few copies left.

(excerpt of Foreward)
"These antiwar posters by Micah Ian Wright are reminiscent in spirit of works by artists such as Kathe Kollwitz and George Grosz, during the 1920s."



Book: Why Unions Matter
$12.00
By Michael Yates. This book is an excellent introduction to the labor movement. It proves with irrefutable statistics and persuasive analysis that unionized workers get more pay and better benefits than employees who are not unionized. This book gives the history of the labor movement, basic understanding of issues, and its purpose and promise. Softcover, 180 pages.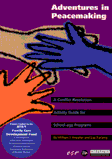 Book: Adventures In Peacemaking: A Conflict Resolution Activity Guide For School-age Programs
$28.00
"Adventures In Peace making" includes hundred of hands-on, engaging activities designed to meet the unique needs of after-school programs, camps and recreation centers. The activities teach the skills of creative confilct resolution to school-age children through games, cooperative team challenges, drama, crafts, music and even cooking. The guide includes easy-to-implement strategies and tips for providers to both reduce conflict in their programs and to intervene effectively when conflict does occur. 345 pages.


Book: Uprooting Racism
$17.00
Learn how to stand up against racism. There's a long tradition of white people opposing racism, but there are also hundreds of excuses we give ourselves for not getting involved. Uprooting Racism is designed to help white people act on their conviction that racism is wrong. It is a supportive 'how-to' book for white people who are willing to work to end racism. Uprooting Racism talks about racism without rhetoric or attack. It helps us understand the dynamics of racism in our society, insitutions and daily live, and it shares stories, suggestions, advise, exercises and approaches for working together to fight racism. It includes specific consideration of Latino/a, Asian American, African American, Native American and Jewish issues. 243 pages.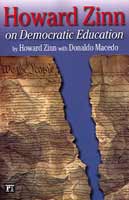 Book: Howard Zinn on Democratic Education
$23.95
by Howard Zinn with Donald Macedo. 213 pages.

This book describes what is missing from school textbooks and in classrooms--and how we can move beyond these deficiencies to improve student education. Critical skills of citizenship are insufficiently developed in schools, according to Zinn. Textbooks and curricula must be changed to go beyond merely reciting received wisdom, which is too common today in our schools. In these respects, recent Bush Administration education policies and those of most previous presidents have been on the wrong track in meeting educational needs.
This book seeks to redefine national goals at a time when public debates over deucation have never been more polaraized--nor higher in public visibility and contentiousness.



We Just Want to Live Here: A Palestinian Teenager, an Israeli Teenager an Unlikely Friendship
$12.00
BK: WJW
by Amal Rifai Palestinian Amal Rifa'i and Israeli Odelia Ainbinder are two teenage girls who live in the same city, yet worlds apart. They met on a student exchange program to Switzerland. Weeks after they returned, the latest, violent Intifada broke out in the fall of 2000. But two years later, Middle East correspondent Sylke Tempel encouraged Amal and Odelia to develop their friendship by facilitating an exchange of their deepest feelings through letters. In their letters, Amal and Odelia discuss the Intifada, their families, traditions, suicide bombers, and military service. They write frankly of their anger, frustrations, and fear, but also of their hopes and dreams for a brighter future. Together, Amal and Odelia give us a renewed sense of hope for peace in the Middle East.



Book: Why We Teach
$20.00
BK-WWT
by Sonia Nieta

These teachers listen closely to their students. They share in their students' struggles and successes. They create a classroom climate that encourages growth, direction, and purpose. They help students develop into thoughtful, engaged citizens. The teachers in this book show us the kinds of learning that really matter, and the kinds of lessons that students can take with them for their entire lives.



Book: Teacher Man
$26.00 $16.00 On Sale!
BK-TM
by Frank McCourt

In Teacher Man Frank turns his attention to the subject that he most often talks about in his lectures-teaching: why it's so important, why it's so undervalued. He describes his own coming of age-as a teacher, a storyteller, and, ultimately, a writer. He is alternately humble and mischievous, downtrodden and rebellious. He instinctively identifies with the underdog; his sympathies lie more with students than administrators. It takes him almost fifteen years to find his voice in the classroom, but what's clear in the thrilling pages of Teacher Man is that from the beginning he seizes and holds his students' attention by telling them memorable stories. And then it takes him another fifteen years to find his voice on the page.

With all the wit, charm, irreverence, and poignancy that made Angela's Ashes and 'Tis so universally beloved, Frank McCourt tells his most exhilarating story yet-how he became a writer.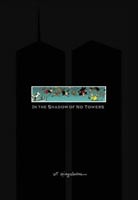 Book: In the Shadow of No Towers
$20.00 $18.00 On Sale!
BK-ITS
By Art Spiegelman. In his first new book of comics since the groundbreaking Maus, Art Spiegelman gives us a deeply personal, politically charged, graphically and emotionally stunning account of the events and aftermath of September 11, 2001. What Art Spiegelman saw in his lower Manhattan backyard on 9/11 was just the beginning of the horror for him. Panic soon gave way to fury as he watched the shameless co-opting of the tragedy by a government in the service of its own preconceived agenda. For Spiegelman, only one thing made sense — passionate dissent, and done in the best way he knew how: through comics! This amazing book is the result. In a large, two-page-spread format that echoes the scale of the earliest newspaper comics, Spiegelman relates his experience of the national tragedy in drawings and text that convey — with his singular artistry and his characteristic provocation, outrage, and wit — the unfathomable enormity of the event itself, the obvious and insidious effects it had on his life, and the extraordinary, often hidden changes that have been enacted in the name of post-9/11 national security and that have begun to undermine the very foundation of American democracy. Finally, Spiegelman shares with us a small folio of classic Sunday comics pages from the early years of the medium that resonate eerily today. Oversize book with hard 1/8" thick board pages.
Much more than a coffee table book or conversation piece, this one-of-a-kind book by a renowned American artist and author is already a classic in its genre. "In The Shadow of No Towers" is an invaluable first-person source document on the personal and national consequences of that horrific day.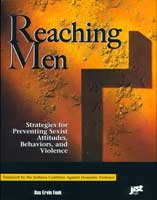 Book: Reaching Men
$39.95
BK-RM
Strategies for Preventing Sexist Attitudes, Behaviors, and Violence. By Rus Ervin Funk. 316 pages.

Sexist attitudes, behavior, and violence are not just women's issues; men must also join in the work if our society is to overcome them. Written in a clear, no-nonsense style, Reaching Men provides vital information and well-tested strategies that educators and advocates against sexism and violence can use to create effective men's programs. Among the topics this one-of-a-kind reference book addresses are sexual assault, rape, sexual harassment, pronography, prostitution, domestic violence, dating abuse, male and female victimization, and stalking.



Book: No Nukes
$20.00
BK-NN
By Anna Gyorgy & friends • 484 pages • 7" x 10" trade paperback


The classic 1980 definitive introduction to the issues around nuclear power. The book is out-of-print. Divided into sections containing multiple chapters on the following topics:

--What's a Nuke?

--The Economics of Nuclear Power

--Some Alternatives

--The Internal Story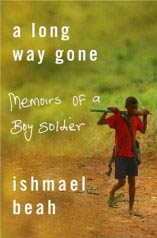 Book: A Long Way Gone: Memoirs of a Boy Soldier
$12.00
BK-ALWG
Paperback
This is how wars are fought now: by children, traumatized and hopped-up on drugs and wielding AK-47's. This beautifully written book tells Ishmael Beah's story beginning at 12 when separated from his family, he fled attacking rebels in Sierra Leone and wandered a land made unrecognizable by violence. By thirteen he'd been picked up by the government army and became a soldier with other boys his age. At sixteen, he was saved by a rehabilitation center. He learned how to regain his humanity and to heal. This is an extraordinary story of war and hope.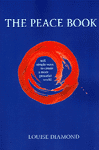 Book: The Peace Book
$12.00
BK-TPB
by Louise Diamond. 193 pages.

108 simple ways to create a more peaceful world. The Peace Book provides simple everyday tools that can help us have more peace in our lives and in the world. Not available in bookstores - this book is meant to be spread through our personal networks.

We also carry another book with the same title, by Todd Parr. It is an illustrated children's book and it is not related to this book. To avoid confusion, we've titled his book, "Todd Parr's The Peace Book."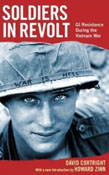 Book: Soldiers In Revolt: GI Resistance During the Vietnam War
$16.00 $14.00 On Sale!
BK-SIR
by David Cortwright * with a new introduction by Howard Zinn * 355 pages

SOLDIERS IN REVOLT documents one of the least known and most important aspects of the Vietnam War: the rebellion among U.S. soldiers opposed to the war. From the front lines to stateside military bases, the U.S. armed forces were wracked by widespread resistance, including combat refusals and mutinies. GI's produced more than 250 antiwar committees and underground newspapers to voice their discontent. A new chapter looks at the enduring imprint of this period on the U.S. military and the lessons this era holds for the U.S. occupation of Iraq.



Book: Rethinking Our Classrooms: Teaching for Equity and Justice
$12.00
Rethinking Our Classrooms begins where most school reforms never go, inside the classroom, this collection includes creative teaching ideas, compelling classroom narratives and hands-on examples of ways teachers can promote values of community, justice and equality and build academic skills. Nowhere is the connection between critical teaching and effective classroom practice made clearer or more accessible. 216 pages, 3rd revised and expanded edition.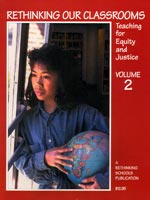 Book: Rethinking Our Classrooms, Vol. 2
$12.95
BK-ROC
Teaching for Equity and Justice.
With more than 100,000 copies in print, the first volume of this book broke new ground, providing teachers with hands-on ways to promote values of community, justice, and equality -- and build students' academic skills.

This companion volume continues in that tradition, presenting a rich new collection of from-the-classroom articles, curriculum ideas, lesson plans, poetry, and resources -- all grounded in the realities of school life.

This book is essential for every educator who seeks to pair con erns for social justice with students' academic achievement.



Book: 50 Facts That Should Change the World
$15.00
Book: 50 Facts That Should Change the World
By Jessica Williams In this book the BBC's Jessica Williams presents us with crucial information that is often missed, glossed over or hidden by the government and the media. 50 Facts That Should Change The World is simply presented with explanation and analysis backed by thorough references.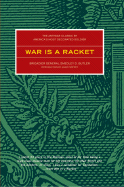 Book: War Is A Racket
$12.00 $10.00 On Sale!
BK-WIAR
by General Smedley Butler • 80 pages
This is the anti-war classic of all time. Written over seventy years ago by General Smedley Butler, who is still the most highly-decorated U.S. Marine in American history, This frank book shows how U.S. war efforts are animated and driven by big business interests, then as today. This extraordinary argument against war is more relevant today than ever. It remains the basic primer for all to read. Concisely tells the true story of his personal exoeriences as a soldier prtecting U.S. business interests in other countries. Coming as it does from the perspective of a brave and highly honored warrior, he is a source whom pro-military, pro-war readers will at least read, and may even find themselves agreeing with. A powerful, timeless document. Marine enlistees are taught about the history of the Marine Corps, and about Smedley Butler as a heroic U.S. Marine, but they don't teach about his personal conversion to opposition to war for corporate profit.



Book: Addicted To War: Why The U.S. Can't Kick Militarism
$10.00
BK-ATW
77 pages • 161 reference notes • 8.5" x 11" graphic format • Over 375,000 in print!
An illustrated expose by Joel Andreas, "Addicted to War" takes on the most active, powerful and destructive military in the world. Hard-hitting, carefully documented and heavily illustrated, it reveals why the United States has been involved in more wars in recent years than any other country.
The book reveals the terrible fact of the U.S.'s addiction to war and militarism, as well as powerful insights into the causes. In a format accessible to kids from nine to ninety-nine. Packed with historical photos and quotes, the book explains who benefits from our wars, who pays and who dies. Highly recommended from High school age and up. Donate a copy to your school and community library.

The book is endorsed by Veterans For Peace. This Third Edition has been updated in 2004 and 14 more pages have been added covering the war against Iraq. It has been translated into Japanese, Korean, Thai, Danish and German. A Spanish edition is also available from us. It is being used in hundreds of high schools and colleges as a supplemental U.S. history text. Watch a 4 minute video created from the first pages of the book.

Click on title for reviews and the author's Preface to the book...



Book: Adicto a la Guerra [Espanol ed.]
$10.00 $5.00 On Sale!
BK-AALG
The same best-selling graphic history book, "Addicted To War" translated into Spanish. A must-read for Spanish-speaking recruitment-age youth.



Book: Conflict Resolution in the High School: 36 Lessons
$38.00
by Carol Miller Lieber. The lessons in this guide teach high school students the essential skills they'll need to manage and resolve interpersonal conflict in creative, positive ways. Along the way studenst will also explore diversity, power and prejudice as they continue to develop greater emotional and social skillfulness. 338 pages.



Book: Lies My Teacher Told Me: Everything Your American History Textbook Got Wrong (Revised, Updated 2008 edition)
$27.00 $25.00 On Sale!
BK-LMTTM
High school students hate history. When they list their favorite subjects, history always comes in last. They consider it the most irrelevant of twenty-one school subjects; bo-o-o-ring is the adjective most often applied. James Loewen spent two years at the Smithsonian Institute surveying twelve leading high school textbooks of American history. What he found was an embarrassing amalgam of bland optimism, blind patriotism, and misinformation pure and simple, weighing in at an average of four-and-a-half pounds and 888 pages. • Click on title for rest of the description.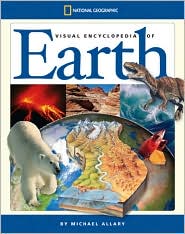 Book: National Geographic Visual Encyclopedia of Earth: Wonders of Our Living Planet
$25.00 $19.95 On Sale!
BK-NGEO
by Michael Allaby.
This hardcover book is the definitive guide to our incredible, ever-changing world. This is the single-volume reference every forward-looking library should include, sure to foster the next generation's sense of connectedness with our world and to inspire the ecologists and scientists of tomorrow.



Click the book title for more information!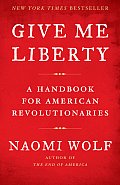 Book: Give Me Liberty - A Handbook for American Revolutionaries
$18.00
BK-GML
by Naomi (author of "The End of America") • 2008 • 400 pages
As the practice of democracy becomes a lost art, Americans are increasingly desperate for a restored nation. Many have a general sense the system is in disorder – if not on its way to functional collapse. Though it's easy to identify our political problems, the solutions are not always as clear. In "Give Me Liberty," bestselling author Naomi Wolf shows the breathtaking changes that can take place when ordinary citizens engage in the democratic system the way the founders intended and tells how to use that system, right now, to change your life, your community and, ulimately, the nation.


Book: A People's History of Sports in the United States: ...
$27.00 $23.00 On Sale!
BK-PHS
...250 Years of Politics, Protest, People, and Play

By David Zirin and various contributors • Hardcover • 320 Pages.

From the author Robert Lipsyte calls "the best young sportswriter in America," a rollicking, rebellious, myth-busting history of sports in America that puts politics in the ring with pop culture.

Click book title to read more!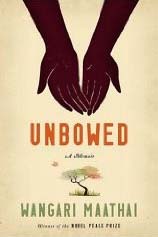 Book: Unbowed: A Memoir by Wangari Maathai
$14.95
BK-UMWM
April, 2006 • Paperback • 326 pages

In Unbowed, Nobel Prize winner Wangari Maathai offers an inspiriting message of hope and prosperity through self-sufficiency. We see her studying with Catholic missionaries, earning bachelor's and master's degrees in the United States, and becoming the first woman both to earn a Ph.D. in East and Central Africa and to head a university department in Kenya. We witness her numerous run-ins with the brutal Moi government and she makes clear the political and personal reasons that compelled her, in 1977, to establish the Green Belt Movement.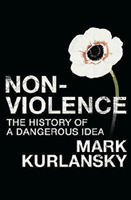 Nonviolence: The History of a Dangerous Idea By Mark Kurlansky
$14.00
BK-NVHDI
2006 • Paperback • 203 pages

New York Times bestselling author Mark Kurlansky discusses nonviolence as a distinct entity, a course of action, rather than a mere state of mind. Nonviolence can and should be a technique for overcoming social injustice and ending wars, he asserts, which is why it is the preferred method of those who speak truth to power.

Click the book title or cover to read more about this book...


Book: Americans Who Tell The Truth
$8.00
BK-AWTT
painting by Robert Shetterly • 2009
Portraits of Amerticans past and presnt who have helped change the world for the better, with a page about each of them.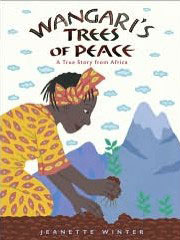 Book: We the People - a Call to Take Back America
$17.00
BK-WTPcall
by Thom Hartmann, Illustrated by Neil Cohn • 205 pages, graphic book format, all factual, all footnoted. A valuable, accessible history for anyone. Written by respected author and daily progressive, nationally broadcast radio host, Thom Hartmann. A genuine voice of reason and intelligence in broadcast media, in stark contrast o the windbags and blowhards across the political spectrum who have the radio audience's attention in this attention-deficit (and truth deficit) grim era in our nation. Check out Thom's website: www.thomhartmann.com. • FOR A LIMITED TIME ONLY: Get a FREE copy of "Addicted To War" when you buy a copy of "We The People"!

For a description, click the product title link.



Book: I Love Myself When I Am Laughing and Then Again When I Am Looking Mean and Impressive: A Zora Neale Hurston Reader.
$15.00
BK-ILM
BK-ILM • Edited by Alice Walker. I love the title of this book almost as much as the book. It sums up the work of Zora Neale Hurston quite well. In her introduction Alice Walker says, " We love Zora Neale Hurston for her work, first, and then again we love her for herself. For the humor and courage with which she encountered a life she infrequently designed; for her absolute disinterest in becoming either white or bourgeois, and for her devoted appreciation of her own culture, which is an inspiration to us all. Softcover, 313 pages.



Book: Signs of Change: Social Movement Cultures, 1960s to Now
$29.00
BK-SOC
Drawn from an exhibition at Exit Art, a cultural center in New York City, Signs of Change is a visual archive of more than 350 posters, prints, photographs, films, videos, music, and ephemera from more than twenty-five nations. Surveying the creative work of dozens of international social movements, from the do-it-yourself graphics and media of the 1960s to today's instantaneous digital technologies, it investigates the themes and representations of global struggles for equality, democracy, freedom, and basic human rights. This groundbreaking work illustrates the extraordinary aesthetic range of radical movements during the past fifty years and explores the rise of powerful countercultures that evolve beyond traditional politics, creating distinct forms of art, lifestyles, and social organizations. 178 pages of full-color illustrations!

"If you care about social change, this may well be the most important 'art history' book that you will ever read." —The Yes Men, art activists.

Paperback, 178 pages.
Mary Anne Staniszewski (Editor), George Katsiaficas (Contributor), Jeanette Ingberman (Contributor), Lauren Rosati (Contributor), Dara Greenwald (Editor), and Josh MacPhee (Editor)



Book: Click - When We Knew We Were Feminists
$17.00
BK-CLICK
by Courtney E Martin. Hardcover, 240 pages

Compiled by authors Martin (Perfect Girls, Starving Daughters) and Sullivan (Commencement), this volume looks at the catalytic moments when 28 women (and one man) found their way to feminism. Including writers, activists, and educators, contributors provide perspective and personal revelations from all stages of life. Joshunda Sanders, an Austin newspaper reporter, talks about growing up poor and black in 'the least desirable place in New York' and how it led to her embrace of 'womanist' thought; Indian American writer and educator Mathangi Subramanian describes years of struggle with the feminist 'label,' navigating the cross-currents of her grandmother's pressure to marry and her mother's enthusiasm for independence (and feminist classics like Susan Estrich's Sex & Power).



Book: Great Neighborhood Book: A Do it yourself Guide to Placemaking
$20.00
BK-GNB
by Jay Walljasper • Paperback • 192 pages

The Great Neighborhood Book explains how most struggling communities can be revived, not by vast infusions of cash, not by government, but by the people who live there. The author addresses such challenges as traffic control, crime, comfort and safety, and developing economic vitality. Using a technique called "placemaking"—the process of transforming public space—this exciting guide offers inspiring real-life examples that show the magic that happens when individuals take small steps and motivate others to make change.

This book will motivate not only neighborhood activists and concerned citizens but also urban planners, developers, and policymakers.



Book: Teaching for Joy and Justice : Re-Imagining the Language Arts Classroom
$20.00
BK-TJJ
by Linda Christensen. Paperback.

Linda Christensen creates passionate curriculum, centered on the lives and voices of her students. In Teaching for Joy and Justice she shows us how her students come to celebrate their own writing, value themselves, and stand up for others. Writing is embedded in curriculum that matters, in discussion about big ideas, and in literature rich with the full range of human experience.



Book: The Design of Dissent
$30.00
BK-DOD
by Milton Glaser & Mirko Ilic • forward by Tony Kushner • 11" x 9" • 240 pages
With a vibrant display of buttons, posters and leaflets that protest the Iraq war, the corporate media, the Israeli military and all points between, this book cuts a wide swath, indeed. Assembled by designer Glaser, best known for his " I [heart] NY" logo, and Ilic, a School of Visual Arts instructor and author of several books on design, the book bursts with compelling political designs from all over the world, but it lacks an overall direction and shape. Neither a deeply snoozeriffic foreword by playwright Tony Kushner nor a rambling interview of Glaser by the New York Times' Steven Heller give any clear indication of the books' overall purpose. Not that there aren't images here to make the skin crawl and the blood boil, including a photo montage of victims processed at a Khmer Rouge extermination facility, and silverware superimposed on either side of a cow collapsed in meat factory filth. The most fascinating section of the book focuses on conflicts in the former Yugoslavia, bringing the region's brutal recent history to life with a shocking immediacy and quiet rage. However, despite the book's striking and colorful individual parts, it comes across as a loosely organized compendium of leftist protest paraphernalia.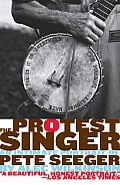 Book: The Protest Singer: An Intimate Portrait of Pete Seeger (Vintage)
$14.00
BK-PS
by Alec Wilkinson. Paperback, 151 pages.

A true American original is brought to life in this rich and lively portrait of Pete Seeger, who, with his musical grace and inextinguishable passion for social justice, transformed folk singing into a high form of peaceful protest in the second half of the twentieth century. Drawing on his extensive talks with Seeger, New Yorker writer Alec Wilkinson lets us experience the mans unique blend of independence and commitment, charm, courage, energy, and belief in human equality and American democracy.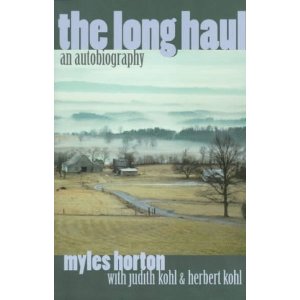 Book: The Long Haul
$30.00 $25.00 On Sale!
BK-LH
by Myles Horton • 1998 • 231 pages
In his own direct, modest, plain-spoken style, Myles Horton tells the story of the Highlander Folk School. A major catalyst for social change in the United States for more than sixty years, this school has touched the lives of so many people, Martin Luther King, Jr., Rosa Parks, Eleanor Roosevelt, and Pete Seeger. Filled with disarmingly honest insight and gentle humor, this is an inspiring hymn to the possibility of social change.
Click on title for more information . . .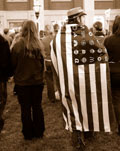 Book: Cost of Freedom: The Anthology of Peace & Activism
$26.00 $23.00 On Sale!
BK-COF
by Mike Palecek, Michael Annis & Whitney Trettien * 166 pages (14 full color) * 12" x 12.5" * 2007
Over 100 contributors from the U.S. and Canada.
"Not just a book, it's a national movement." – Claire Dinneen, Anthology Books, Colorado
"If the world is ever going to be changed, it will be through the efforts of millions of individuals and small organizations. Cost of Freedom tells the encouraging stories of many who have begun this work." – Pete Seeger
"Sexy, surreal, overwhelming. The definitive work of an era of alternative thinking, composition, visual art and publishing..." – Booklist
• Click on title for more information...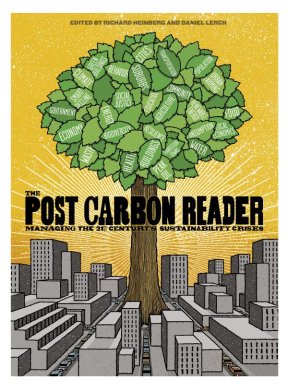 Book: The Post Carbon Reader
$22.00
BK-PCR
Edited by Richard Heinberg and Daniel Lerch • 540 pages • 6 x 9" • 4 b/w photographs • 26 line illustrations
A must-read collection. This book perfectly complements the resiliency-building efforts of Post Carbon Institute Fellow Bill McKibben and, we think is a must-have for any library. How do population, water, energy, food, and climate issues impact one another? What can we do to address one problem without making the others worse? The Post Carbon Reader features essays by some of the world's most provocative thinkers on the key issues shaping our new century, from renewable energy and urban agriculture to social justice and community resilience. This insightful collection takes a hard-nosed look at the interconnected threats of our global sustainability quandary and presents some of the most promising responses.
Contributors to The Post Carbon Reader are some of the world's leading sustainability thinkers, including Bill McKibben, Richard Heinberg, Stephanie Mills, David Orr, Wes Jackson, Erika Allen, Gloria Flora, and dozens more.
Publication date: 10/10/10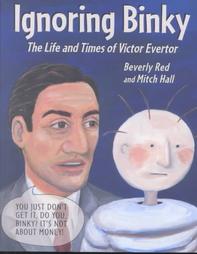 Book: Ignoring Binky: The Life & Times of Victor Evertor
$11.00
2001 • graphic novella • Beverly Red & Mitch Hall
A political graphic novel that tells the life story of Victor Evertor, head of EATU, a pollution-spewing, people-crunching multi-national and shows how this developmentally arrested corporate titan amalgamated power. A satirical treatment of the past six decades of American culture that connects the dots between personal pathology and the plight of the planet. Victor Evertor's dream is our nightmare.
Artist Beverly Red and author Mitch Hall have dissected and displayed the psychological components that make up a high-powered CEO. This comic follows the life of Victor Evertor from his neglected childhood to his ascent to the top of the corporate world. The "Binky" from the title is apparently an imaginary friend from Evertor's childhood who tries to comfort the child when his parents fail to. Imagination saves Evertor's life, but only human contact can save his soul. However, Binky's voice grows weaker with each of Evertor's conquests. This is simultaneously funny and sobering stuff.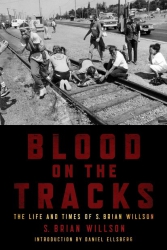 Book: Blood On The Tracks: The Autobiography of S. Brian Willson
$20.00 $18.00 On Sale!
BK-BOTT
by S. Brian Willson • 2011 • 536 pages • 9" x 6" • Paperback

"We are not worth more, they are not worth less." This is the mantra of S. Brian Willson and the theme that runs throughout his compelling psycho-historical memoir. Willson's story begins in small-town, rural America, where he grew up as a "Commie-hating, baseball-loving Baptist," moves through life-changing experiences in Viet Nam, Nicaragua and elsewhere, and culminates with his commitment to a localized, sustainable lifestyle.

In telling his story, Willson provides numerous examples of the types of personal, risk-taking, nonviolent actions he and others have taken in attempts to educate and effect political change: tax refusal, fasting, and obstruction tactics. It was such actions that thrust Brian Willson into the public eye in the mid-'80s, first as a participant in a high-profile, water-only "Veterans Fast for Life" against the Contra war being waged by his government in Nicaragua. Then, on a fateful day in September 1987, the world watched in horror as Willson was run over by a U.S. government munitions train during a nonviolent blocking action in which he expected to be removed from the tracks and arrested.
Losing his legs only strengthened Willson's identity with millions of unnamed victims of U.S. policy around the world. He provides details of his travels to countries in Latin America and the Middle East and bears witness to the harm done to poor people as well as to the environment by the steamroller of U.S. imperialism. These heart-rending accounts are offered side by side with inspirational stories of nonviolent struggle and the survival of resilient communities.

For the rest of the story and Reviews, click on title...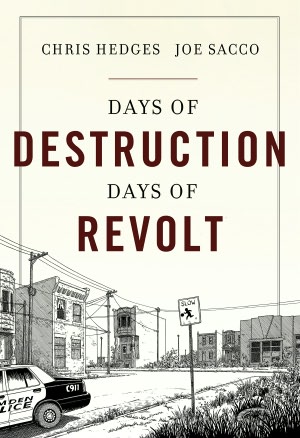 Book: Days of Destruction, Days of Revolt
$28.00 $25.00 On Sale!
BK-DDDV
by Chris Hedges, Joe Sacco (Illustrator)

Two years ago, Pulitzer Prize winner Chris Hedges and award-winning cartoonist and journalist Joe Sacco set out to take a look at the sacrifice zones, those areas in America that have been offered up for exploitation in the name of profit, progress, and technological advancement. They wanted to show in words and drawings what life looks like in places where the marketplace rules without constraints, where human beings and the natural world are used and then discarded to maximize profit. Days of Destruction, Days of Revolt is the searing account of their travels.

The book starts in the western plains, where Native Americans were sacrificed in the giddy race for land and empire. It moves to the old manufacturing centers and coal fields that fueled the industrial revolution, but now lie depleted and in decay. It follows the steady downward spiral of American labor into the nation's produce fields and ends in Zuccotti Park where a new generation revolts against a corporate state that has handed to the young an economic, political, cultural and environmental catastrophe.

Publication date: 6/12/2012
Hardcover, 320 pages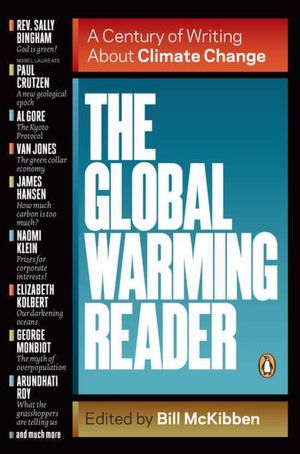 Book: The Global Warming Reader
$18.00 $16.00 On Sale!
BK-GWR
by Bill McKibben
Our most widely respected environmental writer brings together the essential voices on global warming, from its 19th-century discovery to the present.

What is happening to our planet? And what can we do about it? The Global Warming Readerprovides more than thirty-five answers to these burning questions, from more than one hundred years of engagement with the topic. Here is Elizabeth Kolbert's groundbreaking essay "The Darkening Sea," Michael Crichton's skeptical view of climate change, George Monbiot's biting indictment of those who are really using up the planet's resources, NASA scientist James Hansen's testimony before the U.S. Congress, and clarion calls for action by Al Gore, Arundhati Roy, Naomi Klein, and many others.

Publication date: 3/27/2012
Trade Paper, 432 pages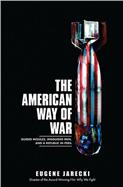 Book: The American Way Of War: Guided Missiles, Misguided Men and a Republic In Peril
$26.00 $10.00 On Sale!
BK-AWOW
BK-AWOW
by Eugene Jarecki (director, "Why We Fight" film, 2007) • 324 pages • 2008 • Simon & Shuster Publishers
What happens when an award-winning documentary film producer turns to a print monograph to make his case? If you are Eugene Jarecki, the answer (to borrow a baseball metaphor) is: you hit a solid triple, with an eye toward home plate.
This book is a provocative and personal exploration of the same crucial themes he explored in his Sundance Film Festival 2005 Grand Jury Prize-winning documentary, "Why We Fight."
• Click on title for the rest of Rob Williams' "Vermont Commons" review of the book...



Book: Ishmael
$24.00
BK-ISH

A modern-day classic. The book that has the whole world thinking and re-thinking. In this unforgettable novel, a man and a gorilla embark on an intellectual adventure that redefines what it means to be human. Their journey explores the most challenging problem humankind has ever faced: how to save the world from ourselves.

• Click on title for a review by Thom Hartmann...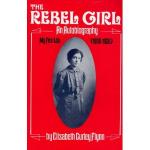 Book: The Rebel Girl: An Autobiography, My First Life (1906-1926)
$9.95
Elizabeth Flynn played a leading role in the Industrial Workers of the World (IWW). Born in Concord, NH in 1890, her family moved to N.Y.C. in 1900, where she was educated at the local public schools. Her parents introduced her to socialism. When she was 16 she gave her first speech, "What Socialism Will Do for Women", at the Harlem Socialist Club. Expelled from high school for her political activities, author Theodore Dreiser called her "an East Side Joan of Arc". In 1912 she worked in Lawrence, MA during the Great Textile Strike. With the arrests of Joseph Ettor and Arturo Giovannitti, Flynn at the end of January, became "the strike's leading lady" (Watson, Bread and Roses, p. 152). A major organizer of the various trips by children to supportive cities like New York, she called the children's demonstrations "the most wonderful that I have ever seen. I have been in strikes and battles for free speech but I have never seen such an outburst of human brotherhood..." (Boston Globe, Feb. 13, 1912.)

In her autobiography she said this about her time in Lawrence: "We talked especially to the women about the high cost of living here—how they had been fooled when they first came here when they figured the dollars in their home money. They thought they were rich till they had to pay rent, buy groceries, clothes, and shoes. Then they knew they were poor." Describing the strike scenes she witnessed she wrote: "As the terrible new England winter dragged along the terror and violence increased. On Feb. 19, 200 policemen with drawn clubs routed 100 women picketers. A Boston newspaper described the scene: 'A woman would be seen to shout from the crowd and run into a side street. Instantly two or three police would be after her. Usually a night-stick well aimed brought the woman to the ground like a shot and instantly the police would be on her, pulling her in as many ways as there were police.'"
• For more information click on the book title . . .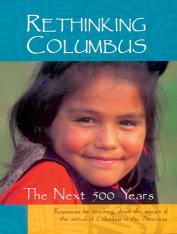 Book: Rethinking Columbus
$16.95 $14.00 On Sale!
by Bill Bigelow & Bob Peterson • 2003 • 192 pages * 8.5" x 11"
Why rethink Christopher Columbus? Because the Columbus myth is a foundation of children's beliefs about society. Columbus is often a child's first lesson about encounters between different cultures and races. The murky legend of a brave adventurer tells children whose version of history to accept, and whose to ignore. It says nothing about the brutality of the European invasion of North America. We need to listen to a wider range of voices. We need to hear from those whose lands and rights were taken away by those who "discovered" them. Their stories, too often suppressed, tell of 500 years of courageous struggle, and the lasting wisdom of native peoples. Understanding what really happened to them in 1492 is key to understanding why people suffer the same injustices today. More than 80 essays, poems, interviews, historical vignettes, and lesson plans reevaluate the myth of Columbus and issues of indigenous rights. Rethinking Columbus is packed with useful teaching ideas for kindergarten through college.
• Click on title for moire informatioin & reviews . . .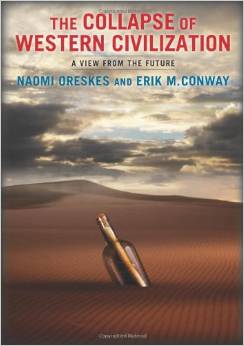 Book: The Collapse of Western Civilization - A View From the Future
$14.00
2014 • paperback • by Naomi Oreskes & Eric Conway
CURRENTLY SOLD-OUT • more copies on order
A much-needed antidote to the "AGENDA 21" nonsense promulgated by Glenn Beck and the far right, Oreskes and Conway provide us with a glimpse of the dystopian future we may ACTUALLY face should we fail to heed the warning of the world's scientists regarding the looming climate change crisis.
– Michael E. Mann, director, Penn State Earth System Science Center, and author of The Hockey Stick and the Climate Wars: Dispatches from the Front Lines

Oreskes and Conway's startling and all-too-plausible history of the century to come is in the spirit of George Orwell and Aldous Huxley and all the writers who have turned to prophecy in the attempt to ward off an oncoming disaster. Witty in its details and disturbing in its plausibility, this is an account of the Long Emergency we're entering that you will not soon forget.
- Kim Stanley Robinson, author of Shaman, 2312, Science In the Capital, and the Mars trilogy

A chilling view of what our history could be. Ignore it and it becomes more likely. Read this book, heed its warning, and perhaps we can avoid its dire predictions.
– Timothy Wirth, vice chairman, United Nations Foundation, and former U.S. Senator and Member, U.S. House of Representatives

Regret, Oreskes and Conway argue, is an equal-opportunity employer. Yes, climate change will be a nightmare for environmentalists. But global warming also threatens free marketeers, because unabated, it guarantees big government intervention. And that's the great service of this short but brilliant parable: it creates bipartisan empathy for our future selves. From that gift, perhaps we can summon the will to act today.
- Auden Schendler, Vice President, Sustainability, Aspen Skiing Company

• Click on the title to read more reviews . . .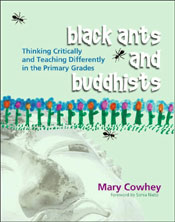 Book: Black Ants & Buddhists: Thinking Critically & Teaching Differently in the Primary Grades"
$20.00
BK-BAB
by Mary Cowhey • 2006 • 244 pages
What would a classroom look like if understanding and respecting differences in race, culture, beliefs and opinions were at its heart? Welcome to Mary Cowhey's Peace Class in Northampton, Mass., where first and second graders view the entire curriculum through the framework of understanding the world and trying to do their part to make it a better place.
• Click on title for the rest fo the description...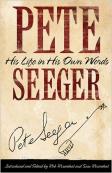 Book: Pete Seeger: His Life In His Own Words
$30.00 $27.00 On Sale!
BK-PSHL
by Pete Seeger, Rob Rosenthal, Sam Rosenthal and David Amram • 2012
300 pages • Hardcover (no paperback edition until 2015)

Long an icon of American musical and political life, Pete Seeger has written eloquently in books and for magazines, activist movements, and union newsletters. Although he has never written an autobiography, his life story is nowhere more personally chronicled than in the private writings, documents, and letters stored for decades in his family barn.
• For more info, click on the title . . .



Book: Because I Am a Girl
$16.95
BK-BIAG
by Rosemary McCarney, Jen Albaugh, Plan International
Paperback
Because I am a Girl is a global initiative from Plan International to end gender inequality, promote girls' rights and lift millions of girls out of poverty. Plan helped the UN declare October 11th the "International Day of the Girl" to recognize and advocate for girls' rights globally. This book illustrates the Because I am Girl call to change by telling stories of girls around the world. They begin by telling us "Because I am a girl, I eat if there is food left over when everyone is done" and "I am the Poorest of the Poor." But it ends with the inspiring section "Because I am a Girl, I can change the world." Each part begins with one real girl's story, illustrated with Plan's amazing photographs.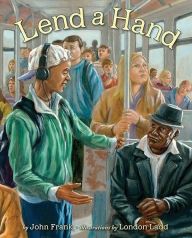 Book: Lend a Hand: Poems About Giving
$17.95
BK-LAH
by John Frank, London Ladd
Hardcover
A collection of original poems centered on giving and spontaneous acts of kindness, which also incorporate larger themes of community, intergenerational relationships, young mentors, and care for the environment. Acts of kindness happen every day, but often go unnoticed with the exception of the giver and receiver. In this book, every day acts of kindness are celebrated in a special way for the reader of this delightful book to see. Each page contains an anecdote about kindness in some capacity whether it is about training a service dog, a group of girl scouts serving the community by picking up trash, a young man helping an old man on a bus, a student sharing a sandwich with a classmate, and many more inspiring examples.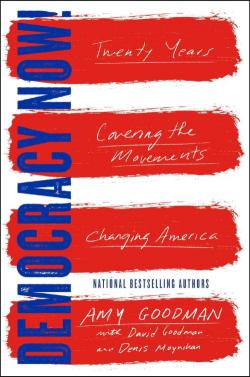 Book: "Democracy Now! 20 Years Covering the Movements Changing America"
$30.00 $24.00 On Sale!
BK-DN
by Amy Goodman, co-host & founder of daily independent radio/TV program "Democracy Now!" • 2016 • 384 pages • hardcover

A celebration of the acclaimed news program "Democracy Now "and the extraordinary heroes who have moved our democracy forward. In 1996 Amy Goodman started a radio show called "Democracy Now " to focus on the issues that are underreported or ignored by mainstream news coverage. Shortly after September 11, 2001, they were broadcasting on television every weekday. Today it is the only public media in the US that airs simultaneously on satellite and cable television, radio, and the Internet. Now Amy and her journalist brother, David, share stories of the progressive heroes--the whistleblowers, the organizers, the protestors--who have brought about remarkable, often invisible change over the last two decades in seismic ways. "Rebellion" looks back over the past twenty years of "Democracy Now " and considers that as the courts and government abdicate their responsibilities, it has fallen to ordinary people to hold the powerful to account. Amy gives voice to these leaderful, not leaderless, movements: the countless charismatic leaders who are taking to the streets in Ferguson, Staten Island, Wall Street, and other places where people are rising up to demand justice. This is the guiding principle of "Democracy Now ," which is front and center in the powerful, important "Rebellion." "A sweeping look at both the origins of the show and its unique role in American political life. It's also a scathing critique of corporate media and its corrosive culture." Sean Illing, Salon "An impassioned book aiming to fuel informed participation, outrage, and dissent." – Kirkus Reviews "Democracy Now! presents the voices of people prevented from earning livable wages, fired for organizing for labor rights, incarcerated unjustly, bombed illegally, discriminated against, foreclosed on, spied upon, disenfranchised and deported. They call us to the better angels of our democracy." – Jim Swearingen, The National Book Review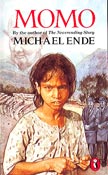 Book: Momo
$12.00
BK-MOMO-ENG
236 pages. Paperback. English language edition. Published in the U.K., imported. This classic juvenile-age book written in 1973 by German novelist Michael Ende has not been published in the U.S. since the 1980s. With the neocon cultural shift in 1980 with the election of Reagan, a sea change began in U.S. mainstream politics and fundamentalist Christian religion grew tremendously as the country shifted further to the right. The underlying message of this book must have seemed no longer relevant or market-worthy – but especially, it must have been considered too subversive, in its attitude toward the status quo, consumerism and the very notion of time as a commodity. Whatever caused the decision to not publish it again in the U.S., the last two generations have lost a great novel – a beautiful and important story – to read and pass down to their own children. "Mom" needs a grassroots revival to reach new audiences today more than ever in its 43+ years since it was first published. We also have the Spanish language edition (see Books section).

Click title for moire of the book's backstory, description and more!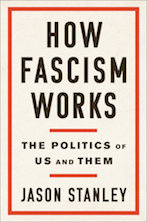 Book: How Fascism Works - The Politics of Us and Them
$26.00 $21.00 On Sale!
BK-HFW
Just publsihed 9/11/18 • by Jason Stanley
Penguin/Random House Books • 241 pages • Hardcover
Fascist politics are running rampant in America today—and spreading around the world. A Yale philosopher identifies the ten pillars of fascist politics, and charts their horrifying rise and deep history. As the child of refugees of World War II Europe and a renowned philosopher and scholar of propaganda, Jason Stanley has a deep understanding of how democratic societies can be vulnerable to fascism: Nations don't have to be fascist to suffer from fascist politics. In fact, fascism's roots have been present in the United States for more than a century. Alarmed by the pervasive rise of fascist tactics both at home and around the globe, Stanley focuses here on the structures that unite them, laying out and analyzing the ten pillars of fascist politics—the language and beliefs that separate people into an "us" and a "them."
• Click on title to read more . . .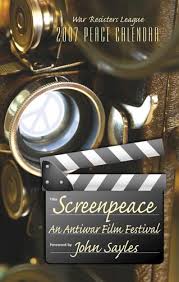 Book: Screenpeace - An Anti-War Film Festival
$16.00
BK-SCREENPEACE
Spiral-bound • 5.25" x 8.5" •72 pages • Introduction by John Sayles
Edited by Judith Pasternak & Gloria Williams • Published by the War Resisters League, New York, 2007.
Originally published as the 2007 annual desk appointment calendar with the theme of anti-war films, with the calendar pages removed, it is a 72-page reference guide to anti-war films made since the previous "Films For Peace & Justice" (1987) desk calendar and film guide.
From Director John Sayles' Foreword:
"Movies, since their inception, have been a vital part of the cultural conversation. Some of the earliest "'moving pictures' with stories were battle scenes of the Philippine-American War presented by Thomas Edison's Biograph Company. That the footage had been staged in New Jersey with African-Americans standing in as Filipino soldiers was apparently less important to audiences of the day than the novelty, action, and patriotic fervor displayed within these one-minute 'views.'
• For more of Sayles' Foreword, click on the title of this book . . ./