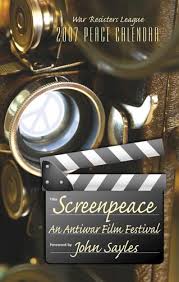 Book: Screenpeace - An Anti-War Film Festival
$16.00 $12.00 On Sale!
BK-SCREENPEACE

"Rather than pro-war or anti-war. most movies about deadly conflict tend to break down into two categories: those that humanize the characters on both sides and invite us to think more about the killing, and those that dehumanize or demonize at least one side in the fight and encourage us to think less and just root for our side. Both types of films have existed since the silent era, though timing is a major factor in the acceptance of the more humanist works. Nazi aggression put a chill on the reaction to Jean Renoir's 'The Grand Illusion' in 1937, and Oliver Stone's 'Heaven & Earth', released in 1993, would never have been financed by a major studio during the Vietnam War..."

From Judith Pasternak & Gloria Williams' Introduction:
"like the War Resisters League itself, the movies in this calendar/guidebook resist war in different ways . . .