Magnetic Bumpersticker Backing
$4.00
Magnetic Bumpersticker Backing
Add magnetic backing any bumpersticker you get from now on. The sticker adheres onto the magnet and the magnet mounts on your car. When it's on the vehicle it isn't doesn't look different than any other sticker. Now you can quickly remove bumper stickers and switch them to different vehicles. Display different stickers at different times for different reasons. Take stickers off any time you want. As easy to change as wearing a button. This adds a whole new dimension to displaying your views. It also lets you put them on a rental vehicle, so you can be as opinionated in a rened car as in your own. You can even tag that U-Haul truck you rent for a day.
• Our 3 & 3/4" x 15" heavy duty (.035 mil thick) flexible magnetic material will hold any size sticker or decal.
• The material can be easily trimmed to any size or shape with scissors. Sturdy grip will not come off at any speed.
Now change your stickers easier than you change your oil! We recommend you take the magnetic stickers off before going through a car wash; the high-pressure water could blow them off.
NOTE: It's also a good idea to remove magnetic-backed bumperstickers every 3 to 4 weeks because dust and dirt can build up along the edge and work its way under the magnetic material. Temperature extremes of hot and cold can make the magnetic material difficult to remove if left on a vehicle for a longer length of time than a month.



Bumpersticker: People Who Abuse Animals Rarely Stop There
$2.25
S-PWAA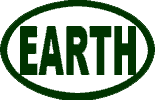 Bumpersticker: Earth--Oval
$2.25
S-EARTH
4" x 6" European style oval sticker used to identify one's country. This version is for the rest of us who identify as citizens of the world. A 21st century classic.



Bumpersticker: Give Earth a Chance
$2.25
S-GEAC
3.75" x 15" • art of one hand hold one leaf on left, and more hands and leaves joining in the images to the right. The images works with or without the wording "Give Earth A Chance." Ask for one Free copy of this sticker and we will send it with any order. Just write "Add one free S-GEAC sticker" in the "Ordering Instructions" or the "Comments" field at check out.



Bumpersticker: 5% of the World's People consume a third of its resources and make nearly half the waste. That 5% is US
$2.25 $1.00 On Sale!
S-5%
You can't see it, but the "stars"on the U.S. flag are corporate logos. This is the corporate U.S. flag designed by Adbusters magazine in Vancouver, B.C., Canada. The design works either way: close up where you can see that they are corporate logos, or, from a distance, when they just appear to be the white "stars"of the flag. 3" x 11.5"



Bumpersticker: Question Internal Combustion
$2.25
S-QIC



Sticker: Boycott Bottled Water
$2.50
1.75" x 5" • clear mylar with White, green & light blue imprint
Designed to put on your own re-usable steel, glass or Nalgene water bottle.



Bumpersticker: Wake up and Smell the Fumes
$2.25
S-WU



Bumpersticker: Question Consumption
$2.25
S-QC



Small Vinyl Sticker: Warning: This machine emits...
$1.00
SVS-WARNING
WARNING: This machine emits Carbon Dioxide, Carbon Monoxide, Nitrogen Oxides, Sulphur Dioxide, Hydrocarbons, Benzene, Methane, Aldehydes and VOC's. Causes respiratory disease and cancer. ESPECIALLY HARMFUL TO CHILDREN. Also Contributes to climate warming and rising ocean level.



Small Vinyl Sticker: No Nukes
$1.00
SVS-NN
3.5" diameter round. The original design made by Donnelly/Colt in 1977 which became the international symbol of the anti-nuclear power movement.



Small Vinyl Sticker: Bikes Not Bombs
$1.00
SVS-BKNB



Small Vinyl Sticker: Bicycle More Drive Less Breathe Easier
$1.00
SVS-BMDLBE



Small Vinyl Sticker: Start Walking, Biking, Using Public Transit
$1.00
SVS-SWBPT



Small Vinyl Sticker: Question Internal Combustion
$1.00
SVS-QIC



Small Vinyl Sticker: Go By Bike, Start Seeing Bikes
$1.00
SVS-GBB



Small Vinyl Sticker: Wake Up and Smell the Fumes
$1.00
SVS-WU



Small Vinyl Sticker: End Oil Addiction, Bike for Peace
$1.00
SVS-EOA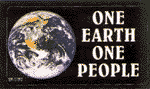 Pack of TEN Postcard/Sticker: One Earth One People
$5.00
PC-OEOP
PACKAGE OF TEN for $5.00 • This is a unique hybrid product: both a postcard and a bumpersticker. The front is a full color, high-resolution N.A.S.A. photograph of the earth from space with the words "One Earth One People" on 4 mil weatherproof, adhesive-backed vinyl that peels off from the postcard-formatted backing card. The back side has a writeable matte finish and a typical postcard layout. Send it to someone, or just use it as a bumpersticker. Overall size: 3-5/8" x 6" • Sticker size: 3-1/8" x 5-9/16"



Bumpersticker: Question Authority
$2.25
S-QA



Small Vinyl Sticker: Another SUV Driver for War
$1.00
SVS-ASD
Discreet 2" x 6" mini-bumpersticker designed to apply to big, gas-guzzling S.U.V.s Small enough to not be noticed by the driver, yet bright and legible enough to be easily read by anyone stuck at a traffic light in back of the monstrosity from Vehicular Hell. Disclaimer: Always politely ask SUV owners permission to apply this message of truth to their property, they will appreciate your thoughtfulness and concern.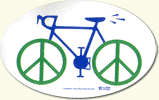 Small Vinyl Sticker: Bike with Peace Sign Wheels Graphic
$1.00
SVS-BIKEPEACE
oval 2.5" x 3.5" decal



Bumpersticker: "The universe is wider than our views of it." -Henry David Thoreau
$2.25 $0.75 On Sale!
S-TQ
3.75" x 11.5" Bumperstickrer



Bumpersticker: Earth Can No Longer Afford The Rich
$2.25
S-RICH
This is actually a metalic silver sticker with dark green lettering, which may not be clear from the scanned image. The material it is screenprinted on is a polyester with a brushed chrome appearance to the finish.



Bumpersticker: How Many Lives per Gallon? www.democracynow.org
$2.25
S-HML
The website given is to the outstanding one hour news broadcast every Monday through Friday, "Democracy Now!" Go to the website and see how you can see, hear or read it every weekday to get the news you won't find on mainstream media.



Bumpersticker: Think Globally/Act Locally
$2.25
S-TGAL



Bumpersticker: What do you do to make the world a better place?
$2.25
S-WDYD
S-WDYD
3" x 11.5"



Bumpersticker: "Live simply that others may simply live." --Elizabeth Seaton
$2.25
S-LS



Bumpersticker: We All Live Down Wind
$2.25
S-WALD
Red circle & slash over incinerator or industrial factory emitting toxic waste.



Bumpersticker: I get my electricity from the SUN
$2.25
S-IGME
3" x 11.5" bumpersticker



Bumpersticker: Never underestimate the power of stupid people in large groups
$2.25
S-NUPS
3" x 11.5" New version is black and white text on white and red background.



Bumpersticker: Drive & Pollute
$2.25
S-D&P



Bumpersticker: The Environment: A National & Global Security Issue!
$2.25
S-ENGSI



Bumpersticker: Don't Mourn, Organize
$2.25 $1.00 On Sale!
S-DMO
3.75" x 11.5" Bumpersticker • Joe Hill's famous last words



Small Vinyl Sticker: 5% of the world's people consume a third of its resources and makes nearly half its waste. That 5% is the U.S.
$1.00 $0.50 On Sale!
SVS-5%
3" x 4.5" Small Vinyl Sticker


Bumpersticker: No Fracking Way
$2.25 $0.75 On Sale!
S-NFW
3" x 11.5"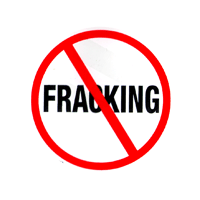 Small Vinyl Sticker: No Fracking (circle/slash graphic)
$1.00 $0.25 On Sale!
SVS-NF
3.5" diameter • screenprinted on vinyl for 5-8 year outdoor durability.



Bumpersticker: Stop Tar Sands Pipeline
$2.25 $1.00 On Sale!
S-STSP
3.75" x 7.5" Bumpersticker. Also available as a 1.5" square button; code: STSP




Bumpersticker: Tobacco kills 3 times more people than AIDS, Alchohol, Car Accidents, Murder, Illegal Drugs and Suicide all Combined
$2.25
SVS-TK3



Bumpersticker: RESIST
$2.25
S-RESIST
3" x 9" Bumpersticker
Inspired by the Greenpeace banner drop from a crane near the White House, Washington, D.C. on January 26, 2017.
Here's what it looked like.



Bumpersticker: What Would Pete Do?
$2.50
S-WWPD
3" x 11.5 • Vinyl Bumpersticker • concept courtesy of Veterans Fellowhsip of Reconciliaion • this version designed by Donnelly/Colt 2019.
Pete seeger (1919-2014) lived 94 years as a folk singer, banjo player, environmental and peace activist in Beacon, New York. From Wikipedia: Pete Seeger (May 3, 1919 – January 27, 2014) was an American folk singer and social activist. A fixture on nationwide radio in the 1940s, he also had a string of hit records during the early 1950s as a member of the Weavers, most notably their recording of Lead Belly's "Goodnight, Irene", which topped the charts for 13 weeks in 1950. Members of the Weavers were blacklisted during the 1950s McCarthy Era. In the 1960s, Seeger re-emerged on the public scene as a prominent singer of protest music in support of international disarmament, civil rights, counterculture, and environmental causes.
A prolific songwriter, his best-known songs include "Where Have All the Flowers Gone?" (with Joe Hickerson), "If I Had a Hammer (The Hammer Song)" (with Lee Hays of the Weavers), and "Turn! Turn! Turn!", which have been recorded by many artists both in and outside the folk revival movement. "Flowers" was a hit recording for the Kingston Trio (1962); Marlene Dietrich, who recorded it in English, German and French (1962); and Johnny Rivers (1965). "If I Had a Hammer" was a hit for Peter, Paul and Mary (1962) and Trini Lopez (1963) while the Byrds had a number one hit with "Turn! Turn! Turn!" in 1965.
Seeger was one of the folk singers responsible for popularizing the spiritual "We Shall Overcome" (also recorded by Joan Baez and many other singer-activists) that became the acknowledged anthem of the Civil Rights Movement, soon after folk singer and activist Guy Carawan introduced it at the founding meeting of the Student Nonviolent Coordinating Committee (SNCC) in 1960. In the PBS American Masters episode "Pete Seeger: The Power of Song", Seeger said it was he who changed the lyric from the traditional "We will overcome" to the more singable "We shall overcome".



Small Vinyl Sticker: STAND WITH UKRAINE
$1.00
2.5" x 3.5" Bright blue & yellow Screenprinted waterproof vinyl sticker for phones, laptops, tablets, water bottles, anywhere • 2022 • BULK PRICING of .50¢ each for 25 or more. $12.50 for fifty; $25 for 100; $45 for 200; $55 for 250. The website doe not re-calculate to Bulk pricing. Just write "BULK PRICE for SVS-SWU" in the Ordering Instructions" or "Customer Comments" field and we will adjust the cost of this item and charge you the correct bulk price.