Magnetic Bumpersticker Backing
$4.00
Magnetic Bumpersticker Backing
Add magnetic backing any bumpersticker you get from now on. The sticker adheres onto the magnet and the magnet mounts on your car. When it's on the vehicle it isn't doesn't look different than any other sticker. Now you can quickly remove bumper stickers and switch them to different vehicles. Display different stickers at different times for different reasons. Take stickers off any time you want. As easy to change as wearing a button. This adds a whole new dimension to displaying your views. It also lets you put them on a rental vehicle, so you can be as opinionated in a rened car as in your own. You can even tag that U-Haul truck you rent for a day.
• Our 3 & 3/4" x 15" heavy duty (.035 mil thick) flexible magnetic material will hold any size sticker or decal.
• The material can be easily trimmed to any size or shape with scissors. Sturdy grip will not come off at any speed.
Now change your stickers easier than you change your oil! We recommend you take the magnetic stickers off before going through a car wash; the high-pressure water could blow them off.
NOTE: It's also a good idea to remove magnetic-backed bumperstickers every 3 to 4 weeks because dust and dirt can build up along the edge and work its way under the magnetic material. Temperature extremes of hot and cold can make the magnetic material difficult to remove if left on a vehicle for a longer length of time than a month.



Bumpersticker: We The People Not We The Corporations
$2.25
S-WTP
The Supreme Court considers corporations to have the same rights as human beings, and they've given them that status for over a century. But people have a limited lifespan, while corporations go on indefinitely. Challenging and overturning this false and wrong legal status for corporations is one of the overriding issues f our time.



Bumpersticker: 2% of U.S. Owns 90% of the Wealth. What's your share?
$3.00 $1.00 On Sale!
S-2%
3" x 9" Bumpersticker



Bumpersticker: "Never doubt that a small group of thoughtful, comitted citizens can change the world; indeed it's the only thing that ever has." -Margaret Mead
$2.25
S-MMQ



Bumpersticker: "The most violent element in society is ignorance." -Emma Goldman
$2.25
S-TMV



Bumpersticker: 5% of the World's People consume a third of its resources and make nearly half the waste. That 5% is US
$2.25 $1.00 On Sale!
S-5%
You can't see it, but the "stars"on the U.S. flag are corporate logos. This is the corporate U.S. flag designed by Adbusters magazine in Vancouver, B.C., Canada. The design works either way: close up where you can see that they are corporate logos, or, from a distance, when they just appear to be the white "stars"of the flag. 3" x 11.5"



Bumpersticker: "In a time of universal deceit, telling the truth is a revolutionary act" George Orwell
$2.25
S-OQ
3" x 11.5" • George Orwell quote




Bumpersticker: Earth Can No Longer Afford The Rich
$2.25
S-RICH
This is actually a metalic silver sticker with dark green lettering, which may not be clear from the scanned image. The material it is screenprinted on is a polyester with a brushed chrome appearance to the finish.



Bumpersticker: End Sweatshops
$2.25
S-ES



Bumpersticker: Fair Trade NOT "Free" Trade
$2.25
S-FTN



Bumpersticker: I'd Rather Be Smashing Imperialism
$3.00
S-RBSI



Bumpersticker: Organize
$2.25
S-ORG



Bumpersticker: Organize Locally / Resist Globally
$2.25
S-OLRG



Bumpersticker: Revolt against Globalization
$2.25
S-RAG



Bumpersticker: Subvert The Dominant Paradigm
$2.25
S-SDP



Bumpersticker: Think Globally/Act Locally
$2.25
S-TGAL



Bumpersticker: Sprawl Marts Suck the Life out of Your Town
$2.25
S-SM



Bumpersticker: Revolt Against Globalization
$2.25
S-RAG


Small Vinyl Sticker: Corporate Downsizing, Automation, Global Movement of Investment and Jobs, Use and Abuse of More Temp Workers (4 horsemen of th economic global apocalypse)
$1.00
SVS-4HORSE
5" diameter white 4 mil thick vinyl, silkscreen printed.
These are today's Four Horsemen of the Apocalypse.



Small Vinyl Sticker: Mean Corporations Suck
$1.00
SVS-MCS



Small Vinyl Sticker: Seven Deadly Social Sins: Politics without Principle. Wealth without work. Commerce without morality. Pleasure without Conscience. Education without Character. Science without Humanity. Worship without Sacrifice. --Mohandas K. Gandhi (1869-1948)
$1.50 $0.75 On Sale!
SVS-DS7
3.75" x 4.25" • Quote from Gandhi, also available on the poster P-SDSS in the poster section of the website.



Small Vinyl Sticker: Death Squads & Democracy Don't Mix
$0.50
SVS-DS&D



Small Vinyl Sticker: If the world were a global village of 100 people...
$1.00 $0.50 On Sale!
SVS-GV100
3" x 3" square sticker
Text: "If the world were a global village of 100 people, one third of them would be rich or of moderate income, two thirds would be poor. Of the 100 residents, 47 would be unable to read, and only one would have a college education. About 35 would be suffering from hunger and malnutrition, at least half would be homeless or living in substandard housing. Of the 100 people, 6 of them would be Americans. These 6 would have over a third of the village's entire income, and the other 94 would subsist on the other two thirds. how could the wealthy 6 live in peace with their neighbors? Surely they would be driven to arm themselves against the other 94... perhaps even to spend, as Americans do, about twice as much per person on military defense as the total income of two thirds of the villagers."



Bumpersticker: "There is no flag large enough to cover the shame of killing innocent people." - Howard Zinn
$2.25
S-ZQ



Bumpersticker: These Colors Don't Run The World
$2.25 $0.75 On Sale!
S-TCDR
An honest re-working of an old pro-war cliche: the addition of the last two words brings truth to a powerful myth. 3" x 11.5"



Bumpersticker: Question Authority
$2.25
S-QA



Bumpersticker: Commit Planned Acts of Organized Resistance & Premeditated Solidarity
$2.25
S-CPA



Bumpersticker: Never underestimate the power of stupid people in large groups
$2.25
S-NUPS
3" x 11.5" New version is black and white text on white and red background.



Bumpersticker: You Reap Just What You Sow
$2.25
S-YRJ
3.75 x 7.5" REFLECTIVE bumpersticker



Bumpersticker: "The moral arc of the universe is long, but it bends toward justice." - M.L.K.
$2.25 $0.75 On Sale!
S-MAJ
3" x 11.5" bumpersticker • Martin Luther King quote;
One free sticker with every order IF you ask for one in the Ordering Instructions field.



Bumpersticker: If you think the system is working ask someone who isn't
$2.25 $1.00 On Sale!
S-SYSTEM
Unemployed special on sale from now on...



Bumpersticker: War is Not the Answer
$2.25 $2.50 On Sale!
S-WINA
This is a REFLECTIVE bumpersticker: headlights at night make it show up brilliantly. Most stickers are not reflective because it is much more expensive to use the reflective base material.
• Click on title for some anecdotal evidence...



Bumpersticker: "The universe is wider than our views of it." -Henry David Thoreau
$2.25 $0.75 On Sale!
S-TQ
3.75" x 11.5" Bumperstickrer



Bumpersticker: How Many Lives per Gallon? www.democracynow.org
$2.25
S-HML
The website given is to the outstanding one hour news broadcast every Monday through Friday, "Democracy Now!" Go to the website and see how you can see, hear or read it every weekday to get the news you won't find on mainstream media.



Bumpersticker: Our Ignorance Is Their Power
$2.25
S-OITP



Bumpersticker: Don't Mourn, Organize
$2.25 $1.00 On Sale!
S-DMO
3.75" x 11.5" Bumpersticker • Joe Hill's famous last words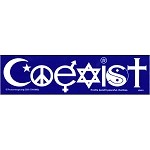 Bumpersticker: Coexist
$4.00 $3.00 On Sale!
3" x 11" • white design on royal blue



Bumpersticker: What Would Pete Do?
$2.50
S-WWPD
3" x 11.5 • Vinyl Bumpersticker • concept courtesy of Veterans Fellowhsip of Reconciliaion • this version designed by Donnelly/Colt 2019.
Pete seeger (1919-2014) lived 94 years as a folk singer, banjo player, environmental and peace activist in Beacon, New York. From Wikipedia: Pete Seeger (May 3, 1919 – January 27, 2014) was an American folk singer and social activist. A fixture on nationwide radio in the 1940s, he also had a string of hit records during the early 1950s as a member of the Weavers, most notably their recording of Lead Belly's "Goodnight, Irene", which topped the charts for 13 weeks in 1950. Members of the Weavers were blacklisted during the 1950s McCarthy Era. In the 1960s, Seeger re-emerged on the public scene as a prominent singer of protest music in support of international disarmament, civil rights, counterculture, and environmental causes.
A prolific songwriter, his best-known songs include "Where Have All the Flowers Gone?" (with Joe Hickerson), "If I Had a Hammer (The Hammer Song)" (with Lee Hays of the Weavers), and "Turn! Turn! Turn!", which have been recorded by many artists both in and outside the folk revival movement. "Flowers" was a hit recording for the Kingston Trio (1962); Marlene Dietrich, who recorded it in English, German and French (1962); and Johnny Rivers (1965). "If I Had a Hammer" was a hit for Peter, Paul and Mary (1962) and Trini Lopez (1963) while the Byrds had a number one hit with "Turn! Turn! Turn!" in 1965.
Seeger was one of the folk singers responsible for popularizing the spiritual "We Shall Overcome" (also recorded by Joan Baez and many other singer-activists) that became the acknowledged anthem of the Civil Rights Movement, soon after folk singer and activist Guy Carawan introduced it at the founding meeting of the Student Nonviolent Coordinating Committee (SNCC) in 1960. In the PBS American Masters episode "Pete Seeger: The Power of Song", Seeger said it was he who changed the lyric from the traditional "We will overcome" to the more singable "We shall overcome".