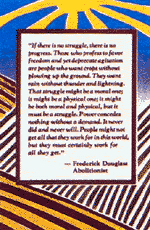 Postcard: Frederick Douglass, Abolitionist.
$0.75
PC-FDQ
"If there is no struggle, there is no progress. Those who profess to favor freedom and yet deprecate agitation are people who want crops without plowing up the ground. They want rain without thunder and lightning. That struggle might be a moral one; it might be a physical one; it might be both moral and physical, but it must be a struggle. Power concedes nothing without a demand. It never did and never will. People might not get all that they work for in this world, but they must certainly work for all they get." – Frederick Douglass
Abolitionist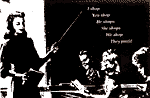 Postcard: I shop You shop He shops She shops We shop They Profit
$0.75
PC-SHOP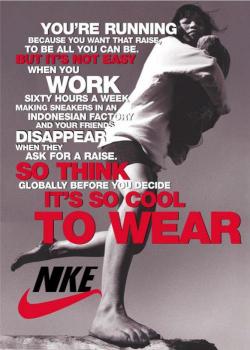 Postcard: Anti-Sweatshop (from Adbusters)
$1.50 $0.75 On Sale!
PC-NKE
This powerful image was designed by Adbusters, the anti-corporate quarterly magazine, to address the issue oif the Nike corporation's sweatshop labor policies in Indonesian where their shoes are made by an exploited labor force under poor working conditions, where trying to organize a labor union to improve these problems is illegal.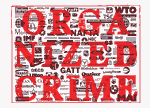 Postcard: Organized Crime (from Adbusters, Vancouver, B.C.)
$0.95
PC-OC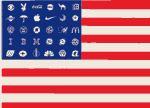 Postcard: Corporate American Flag
$0.95 $0.75 On Sale!
PC-CAF
The Classic Adbusters American flag with fifty corporate logos in place of the fifty stars. The best graphic rendition of the corporatization of the United States, and the colonization of our minds to apathetically accept it. Use them to send protest messages to corporations and politicians. Sell them on street corners like people sold apples and pencils in that other Great Depression.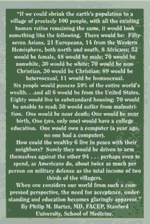 Postcard: If we could shrink the world's population to 100 people
$0.50
PC-GV
TEXT of postcard: "If we could shrink the earth's population to a village of precisely 100 people, with all the existing human ratios remaining the same, it would look something like the following. There would be: Fifty-seven Asians, 21 Europeans, 14 from the Western Hemisphere, both north and south, 8 Africans; 52 would be female, 48 would be male; 70 would be nonwhite, 30 would be white; 70 would be non-Christian, 30 would be Christian; 89 would be heterosexual, 11 would be homonsexual. Six people would possess 59% of the entire world's wealth . . . and all 6 would be from the United States. Eighty would live in substandard housing; 70 would be unable to read; 50 would suffer from malnutrition. One would be near death; One would be near birth. One (yes, only one) would have a college education. One would own a computer (a year ago no one had a computer). How could the wealthy 6 live in peace with their neighbors? Surely, they would be driven to arm themselves against the other 94 . . . perhaps even to spend, as Americans do, about twice as much per person on military defense as the total income of two thirds of the villagers. When one considers our world from such a compressed perspective, the need for acceptance, understanding and education becomes glaringly apparent." by Philip M. Harter, MD, FACEOP, Stanford University School of Medicine.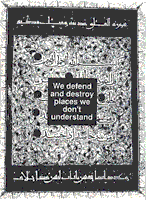 Postcard: We defend and destroy places we don't understand
$0.95
PC-WDAD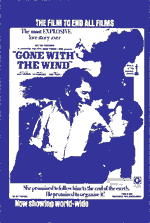 Postcard: "Gone With the Wind" with Reagan & Thatcher Nuclear Armageddon Satire Movie Poster
$1.25 $0.50 On Sale!
PC-GWTW
The classic 1981 poster spoof featuring Ronald Reagan and Margaret Thatcher as the rightwing icons in the hysterical roles they were born to play in global nuclear brinksmanship. As a poster it was a worldwide underground classic through that grim decade. Collectible, these are the last remaining copies from the original print run. Also available as a 24" x 36" poster (P-GWTW)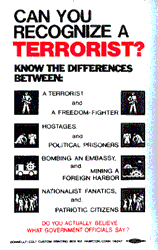 Postcard/Post-Cal: Can You Recognize a Terrorist?
$3.00 $1.00 On Sale!
PC-CYRT
This is both a postcard and a peel-off vinyl sticker. The hybrid "Post-Cal" is both a postcard and a decal. Use it as a sticker, or mail it to a friend to stick up. It is even more timely and accurate today than it was back in 1982 when we first published it. Here's what it says: "Know the differences between: * a Terrorist and a Freedom-Fighter * Hostages and Political Prisoners * Bombing an embassy and Mining a foreign harbor * Nationalist Fanatics and Patriotic Citizens Do you actually believe what government officials say?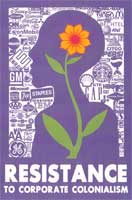 Postcard: Resistance to Corporate Colonialism
$1.25
PC-RTCC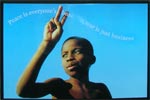 Postcard: Peace is everyone's business, war is just business
$1.25
PC-PIEB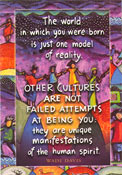 Postcard: "The world in which you were born is just one model of reality. Other cultures are not failed attempts at being you; they are unique manifestations of the human spirit." --Wade Davis
$1.25
PC-TWIW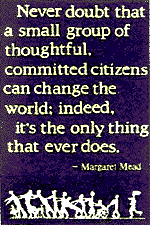 Postcard: "Never doubt that a small group of thoughtful committed citizens can change the world: indeed, it's the only thing that ever does." (Margaret Mead)
$1.25
PC-MMQ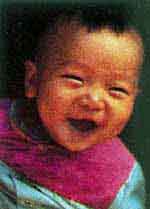 Postcard: Chinese Baby
$0.95
PC-CB
4" x 6" Postcard • Photograph of baby in China • Out-of-print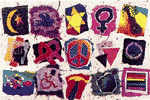 Postcard: Signs & Symbols
$0.95
PC-SIGNS
art by Amy Bartell • also available as a poster (P-SIGNS) and T-Shirt (T-SIGNS)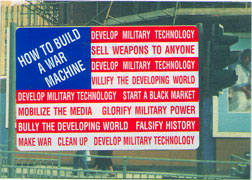 Postcard: How to build a war machine
$1.25
PC-HTBWM
• Develop military technology
• Sell weapons to anyone
• Villify the developing world
• Develop military technology
• Start a black market
• Mobilize the media
• Glorify military power
• Bully the developing world
• Falsify history
• Make war - Clean up - Develop military technology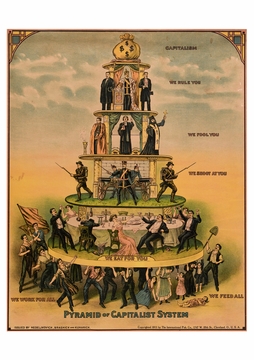 Postcard: Pyramid of Capitalist System
$1.25
4" x 6" coated card stock • Pyramid of Capitalist System, 1911
Also available as a Poster: Item # P-POC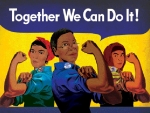 Postcard: Together We Can Do IT!
$1.25
4" x 6" Postcard • 2016 • Digital union printed • designed by Innosanto Nagara © 2015 Design Action Collective / Innosanto Nagara.
This celebration of women's power and the strength of diversity, by Innosanto Nagara, is a descendant of the classic Rosie the Riveter poster.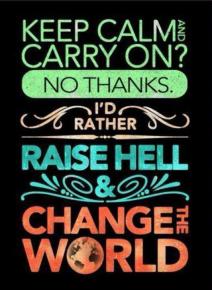 Postcard: Keep Calm & Carry On. No Thanks. I Want to Raise Hell & Change the World
$0.95 $0.75 On Sale!
PC-KC
4" x 6" postcard • union printed • 2013 • also available as a poster (P-KC)
An activist response to the old Brit status quo meme.