Custom Silkscreened Non-Woven Tote Bags
Sturdy, durable, re-useable non-woven bags are ideal for grocery shopping or to provide to conference and trade show attendees (put info packet and/or incentive item inside the bag). Offer them in shops and at events, as a lowcost re-useable shopping bag. Imported.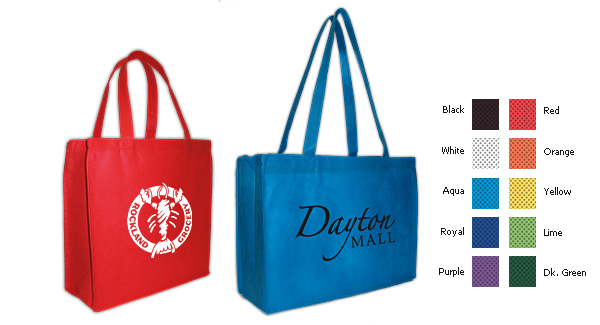 • Fabric Color - Red, Black, Royal Blue, Orange, White, Yellow, Lime , Dark Green, Aqua Blue, and Purple. Also available but not shown on color chart: Pink, Khaki, and Chocolate. (For 4 Day Rush orders: only Red, Black or Royal Blue available).

• Prices include a one color, one side custom imprint.
• Second Side Imprint - Add .38¢ per bag.
• Full Color Imprint - Add 1.75 per bag (per side).
• Set-Up Charge - $45.00 (Repeat Orders $30.00).
• Production Time - 7-9 working days • 4 Day RUSH available for $60 rush charge.
• Union Label - Available on request.
Many more sizes, styles, shapes, thicknesses., color, trim color, pocket, closure and handle length options are available. Email or call if you have specific needs not found in these basic. popular styles.
Prices:
Size

100

250

500

1,000

2,500

13" H x 13" W x 5"D
18" Handle

each

$ 2.93

$ 2.48

$ 2.32

$ 2.20

$ 2.17

12" H x 16" W x 6"D
28" Handle

each

$ 3.17

$ 2.72

$ 2.55

$ 2.43

$ 2.40
25 Reasons To Go Reuseable
. These non-woven tote bags are sturdy, lightwear, durable and reuseable. The goal is to wean ourselves off the wasteful, environmentally senseless and short-sighted habit of single-use throwaway bags. Disposable shopping bags - they're everywhere. The average American uses seven every week. So what's the big deal? Multiply that seven by our current popuation of 300 million, and you begin to see the enormity of the problem. Here are twenty-five very good reasons to get in the habit of keeping reuseable bags in your car or by your door when you go out to shop. Make that next plastic bag you throw out your last.
• 1. A plastic shopping bag can take anywhere from 15 to 1,000 years to de-compose. In a compressed landfill, deprived of oxygen to help them bio-degrade, paper bags don't fare much better.
• 2. Plastic bags don't biodegrade, but are at risk for photo degradation: exposure to light dissolving them into toxic polymer particles. Most often, when this happens, it ocurrs in the ocean.
• 3. The cost to recycle plastic bags so outweighs their value that most recycling facilities will not take them, leading more and more to just be thrown out with the rest of the trash.
• 4. According to the Wall Street Journal, only 1% of plastic bags are recycled worldwide; the other 99% are left to live on indefinitely in landfills.
• 5. The United States alone uses about 100 BILLION (100,000,000,000!) new plastic bags each year. The average person goes through between 350 and 500 each year.
• 6. Due to their light weight, plastic bags are the debris most likely to blow away from landfills, settling instead in trees, storm drains, beaches and oceans.
• 7. Public agencies in California alone spend over $300 MILLION dollars each year on coastal litter clean-up.
• 8. Plastic bags make up over 10% of washed-up debris polluting the U.S. coastline.
• 9. According to the British Antarctic Survey, discarded plastic bags have been found as far north as the Arctic Circle and as far south as the Falkland Islands.
• 10. An estimated one million birds and 100,000 turtles and other sea animals die of starvation each year, after ingesting discarded plastic bags which block their digestive tracts.
• 11. Made from petroleum products and natural gas, plastic bags use non-renewable resources, ultimately helping drive up fuel prices.
• 12. It takes 12 MILLION barrels of oil to produce the amount of plastic bags the U.S. uses each year.
• 13. Think paper bags are better? The U.S. cuts down 14 million trees per year simply to supply the demand for paper shopping bags.
• 14. It requires 13% more energy to produce one single paper bag than to produce two plastic bags.
• 15. Made with chemicals processed at high temperatures, paper bag production releases many toxins into the atmosphere at much the same rate as plastic production.
• 16. Paper bags weigh nearly ten times their counterparts in plastic, requiring more fuel to ship them out to stores.
• 17. Despite their high recyclability factor, research shows that only 20% of all paper bags end up recycled, while the rest pile up in landfills.
• 18. In landfills, paper bags produce over twice as much atmospheric waste as plastic, making them questionable at best as being the better choice for the environment.
• 19. Ireland, the first European country to impose a tax on them, has decreased plastic shopping bag consumption by 90% since 2002, reducing overall plastic bag usage by 1.08 billion! As a small country with a large amount of tourism, this shows that tourism is not adversely affected by doing without the perceived "convenience" of throwaway plastic bags.
• 20. From 2004 through 2008, over a dozen countries have banned or put a tax on disposable bags. You can take part in getting them banned or taxed in your town, city, county or state. Look into which way is bestto proceed in your community. Real change takes place at the grassroots: that means us. Wal-Mart actively works to prevent local bans on plastic bags, using petitions in their stores, misleading ads, deceitful fear-mongering and teams of corporate lawyers wherever people are trying to do away with throwaway plastic bags. We need to be as determined and more effective than they are, and do it with little or no money, but a strong will, determination and effective strategy.
• 21. Reusable bags come in all sorts of smart and stylish shapes and prints, making your shopping trips a little less routine and a little more fun. We realize that old habits take some time to change; we've all grown up in a culture that continually promotes a throwaway attitude. This attitude dies hard: still today DVDs are marketed that have a limited time use and are designed to be thrown away after viewing. "Rip it and toss it" is even an ad slogan today. Corporate advertisers still try to perpetuate the wasteful, disposable attitude andlifestyle. They try to instill in us an endless cycle of consumption and encourage us to ignore the consequences. It's easy, because they know people tend to be lazy and do what's easiest, so they push that as the way to go. They falsely believe that endless growth of consumption is necessary to a healthy economy. This idea is one of the most crucial and fundamental issues of our time. Watch the 20 minute video "The Story of Stuff" to get the larger picture of this cycle of production-to-consumption-to-waste at the website: www.storyofstuff.com
• 22. Some grocery stores even offer discounts for customers who bring in their own bags. Some offer 5¢ off for each bag the customer brings and uses. The food co-op in Northampton, Mass. gives shoppers a token worth 5¢ for each bag they bring. The shopper chooses among several local non-profit projects, and puts the tokens in the jar of their choice. The money raised by re-using bags goes to these local organizations. Now that's incentive!
• 23. In New York City alone, one less grocery bag per person would reduce waste by 5 million pounds and save $250,000 in disposal costs.
• 24. The average reusable bag has the lifespan of over seven hundred disposable plastic bags.
• 25. Over a lifetime, use of reusable bags by just one person would save over 22,000 to 28,000 plastic bags. Isn't that even better incentive?
[ You are welcome and encouraged to reprint and distribute the above fact sheet, "25 Reasons To Go Reusable" in classrooms, clubs, environmental groups, community centers, places of worship, libraries, shops, co-ops ]