Custom Silkscreened or Full-Color U.S. Made Canvas Tote Bags
Sturdy, durable canvas in two different thicknesses: 10 oz. and 4.5 oz. The Largest bag is ideal for grocery shopping and travel. The lighter weight 4.5 oz. flat cotton tote is ideal to provide to conference and trade show attendees. It does not have a bottom gusset.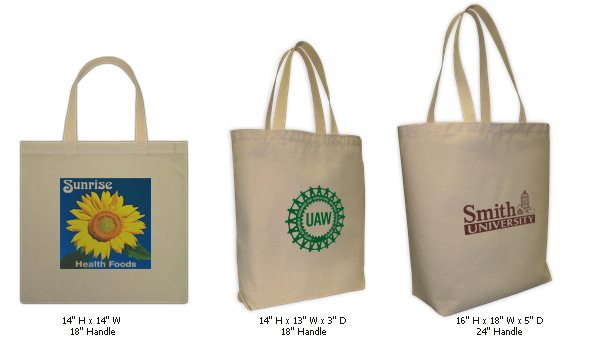 • Fabric Color - Natural only, bag and handles.

• Prices include a one color, one side custom imprint.
• Additional color imprint, add 60' per color. • Second Side Imprint - Add .44' per bag.
• Full Color Imprint - Add 1.75 per bag (per side).
• Set-Up Charge - $45.00 per imprint color (Repeat Orders $30.00).
• Production Time - 7-9 working days.
• Union Label - Available on request.
Many more sizes, styles, shapes, thicknesses, color, trim color, pocket, closure and handle length options are available. Email or call if you have specific needs not found in these basic, popular styles.
Prices:
Size

100

250

500

1,000

2,500

7 oz. 65% Cotton / 35% Poly, with 100% Cotton Natural web handles reinforced at pressure points Flat Tote (no gusset) - Made in U.S.A. (Bayside™)
13.5" H x 12.5" W
17" Handle

each

$7.70

$ 6.70

$6.50

$5.50

$5.25/div>

8 oz. Gusseted Canvas Tote - Made in U.S.A.
14" H x 13" W x 3" D
18" Handle

each

$12.50

$12.15

$11.95

$11.70

$11.65

10 oz. Gusseted Canvas Tote - Made in U.S.A.
16" H x 18" W x 5" D
24" Handle

each

$13.30

$12.85

$12.70

$ 12.50

$12.40