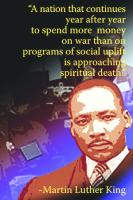 Postcard: "A Nation That Continues..." (M.L.K. Quote)
$0.95
PC-NTC
4" x 6" Postcard • union printed • 2013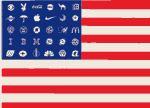 Postcard: Corporate American Flag
$0.95 $0.75 On Sale!
PC-CAF
The Classic Adbusters American flag with fifty corporate logos in place of the fifty stars. The best graphic rendition of the corporatization of the United States, and the colonization of our minds to apathetically accept it. Use them to send protest messages to corporations and politicians. Sell them on street corners like people sold apples and pencils in that other Great Depression.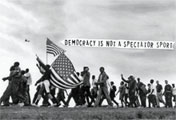 Postcard: Democracy is not a spectator sport
$1.25
PC-DNSS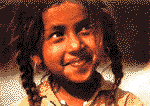 Postcard: Girl in Pujili, Equador
$0.75
PC-NG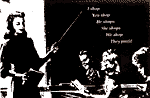 Postcard: I shop You shop He shops She shops We shop They Profit
$0.75
PC-SHOP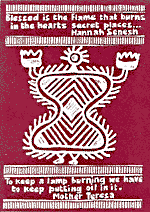 Postcard: "Blessed is the flame that burns in the heart's secret places." (Hannah Senesh) and "To keep a lamp buring we have to keep putting oil in it." (Mother Teresa)
$0.95
PC-HSMT
Over-Size postcard: 5" x 7"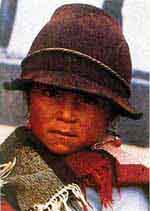 Postcard: Child with Hat
$0.95
PC-GP
4" x 6" postcard• Girl in hat • Out-of-print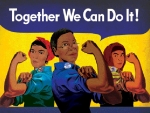 Postcard: Together We Can Do IT!
$1.25
4" x 6" Postcard • 2016 • Digital union printed • designed by Innosanto Nagara © 2015 Design Action Collective / Innosanto Nagara.
This celebration of women's power and the strength of diversity, by Innosanto Nagara, is a descendant of the classic Rosie the Riveter poster.



Postcard: One Nuclear Family Can Ruin Your Whole Life.
$0.75
PC-ONF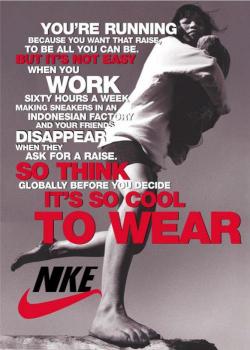 Postcard: Anti-Sweatshop (from Adbusters)
$1.50 $0.75 On Sale!
PC-NKE
This powerful image was designed by Adbusters, the anti-corporate quarterly magazine, to address the issue oif the Nike corporation's sweatshop labor policies in Indonesian where their shoes are made by an exploited labor force under poor working conditions, where trying to organize a labor union to improve these problems is illegal.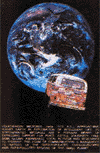 Postcard: VW Bus in Space
$0.75
PC-VW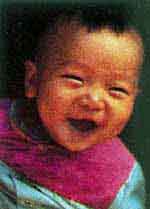 Postcard: Chinese Baby
$0.95
PC-CB
4" x 6" Postcard • Photograph of baby in China • Out-of-print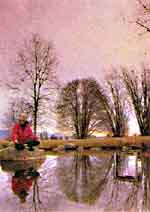 Postcard: TV, Man, Pond
$0.50
PC-ME


Postcard: I'm Not A Feminist, But...
$0.75
PC-INAF
2007 • One Angry Girl Designs • Standard size (4" x 6") postacrd, shown large for readability.



Postcard: Everyone Makes A Difference
$0.75
PC-EMAD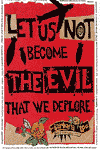 Postcard: "Let us not become the evil that we deplore." --Barbara Lee, House of Representatives 9/14/01
$0.95
PC-BLQ


Postcard: When Injustice Becomes Law, Resistance Becomes Duty
$1.25
PC-WIBL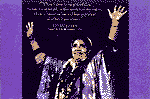 Postcard: "When I dare to be powerful, to use my strength in the service of my vision, then it becomes less and less important whether I am afraid." (Audre Lorde)
$1.25
PC-AL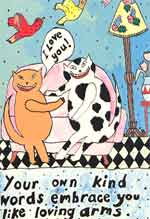 Postcard: Your Own Kind Words Embrace You Like Loving Arms. "I Love You!"
$1.95
PC-ILY
Permanently out-of-print; a very few remaining.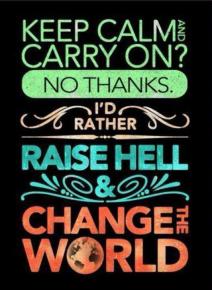 Postcard: Keep Calm & Carry On. No Thanks. I Want to Raise Hell & Change the World
$0.95 $0.75 On Sale!
PC-KC
4" x 6" postcard • union printed • 2013 • also available as a poster (P-KC)
An activist response to the old Brit status quo meme.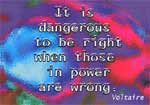 Postcard: It is dangerous to be right when those in power are wrong.
$1.25
PC-DTBR


Postcard: Girl in Taizz, Jemen
$1.25
PC-GIT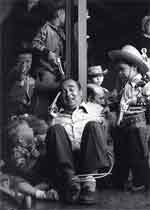 Postcard: Fun
$1.25
PC-FUN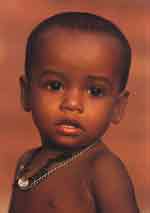 Postcard: Child in Delhi
$1.25
PC-CID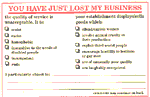 Postcard: You Have Just Lost My Business
$0.50
PC-LMB
The text on the card continues: "the quality of service is unacceptable. It is: -sexist -racist -homophobic -insensitve to the needs of disabled people -incompetent -rude. Yourestablishment displays/sells goods which: -offend/exploit women -involve animal cruelty in their production - exploit third world people -encourage hostility to lesbians or gay men -are of unusually poor quality -are laughably overpriced. I particularly object to:_______."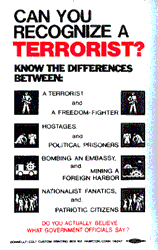 Postcard/Post-Cal: Can You Recognize a Terrorist?
$3.00 $1.00 On Sale!
PC-CYRT
This is both a postcard and a peel-off vinyl sticker. The hybrid "Post-Cal" is both a postcard and a decal. Use it as a sticker, or mail it to a friend to stick up. It is even more timely and accurate today than it was back in 1982 when we first published it. Here's what it says: "Know the differences between: * a Terrorist and a Freedom-Fighter * Hostages and Political Prisoners * Bombing an embassy and Mining a foreign harbor * Nationalist Fanatics and Patriotic Citizens Do you actually believe what government officials say?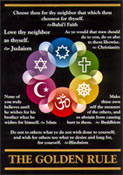 Postcard: The Golden Rule (Islam, Judaism, Christianity, Baha'i Faith, Hinduism, Buddhism)
$1.25
PC-GR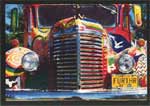 Postcard: Front of Bus
$1.25 $0.75 On Sale!
PC-FURTHER
The infamous "electric kool-aid acid trip" refurbished 1946 school bus as it looked in 1965 when Ken Kesey and his Merry Pranksters drove it across the United States from the east coast to the west, beginning the downfall of the empire and western civilization in general. Another piece of counter-cultural Americana.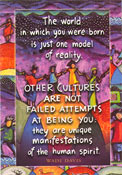 Postcard: "The world in which you were born is just one model of reality. Other cultures are not failed attempts at being you; they are unique manifestations of the human spirit." --Wade Davis
$1.25
PC-TWIW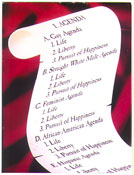 Postcard: A. Gay Agenda: 1. Life 2. Liberty 3. Pursuit of Happiness • Straight White Male Agenda: 1. Life 2. Liberty 3. Pursuit of Happiness. • Feminist Agenda: 1. Life 2. Liberty 3. Pursuit of Happiness  • African American Agenda: 1. Life 2. Liberty 3. Pursuit of Happiness • Hispanic Agenda 1. Life ...
$1.25
PC-HA
4.25" x 5.5" postcard • OUT-OF-PRINT • limited few left
The "Gay Agenda" is teh same as every other demograoghic group's "agenda" We all want the same things that are spelled out by the U.S. Constitution.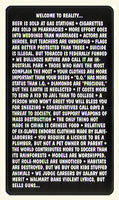 Postcard: Welcome to Reality...
$0.75
PC-WTR



Postcard: Homeland Security - "Fighting Terrorism Since 1492"
$1.25
PC-HS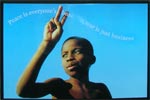 Postcard: Peace is everyone's business, war is just business
$1.25
PC-PIEB



Postcard: Nelson Mandela - The Struggle is My Life
$1.25
PC-NM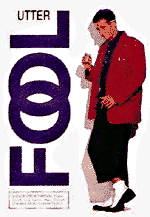 Postcard: Anti-Smoking
$0.25
PC-FOOL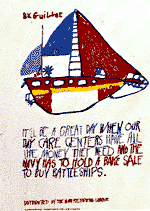 Postcard: It'll be a great day when our day care centers have all the money they need and the army has to hold a bake sale to buy battleships
$1.25
PC-GD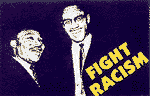 Postcard: Fight Racism
$0.50
PC-FR
Image from the only photograph ever taken of Martin Luther King, Jr. and Malcolm X together, in 1964, Washington, D.C., duing an event they both attended.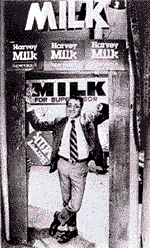 Postcard: Harvey Milk
$0.95 $0.50 On Sale!
PC-HM
Photograph of San Francisco (and the world's) first openly-gay elected official, Supervisor Harvey Milk (1930-1978), also known as "The Mayor of Castro Street," as he was a prominent gay rights activist. He was assassinated at age 48, at the same time George Moscone, the mayor of San Francisco was also assassinated, November 27th 1978.
Also avaiulable as an 11" x 17"poster (P-HM)


Postcard: The sin must not be repeated / Hiroshima-Nagasaki / 50 years resistance to the bomb.
$0.50 $0.25 On Sale!
PC-HN
1995 • Erika Weihls • Desighned for the 50th Commemnoration of the Atomic Bombings of Hiroshima & Nagasaki, Japan
The crane birds depicted ibn the design are Japanese symbols of oeace. Legend in Japan is that anyone who folds one thousand paper cranes will be granted a wish. Sadako Sasaki was 2 years old when she survived the atomic destruction of Hiroshima on August 6th 1945. A ddcade later she developed leukemia. While hospitalized, she began to fold origami paper cranes. She folded over one thousand of the cranes. She died October 25, 1955. Her wish was for world peace. The 1977 children's book, "Sadako & The Thiousand Paper Cranes" tells her story. The story told in the book was that she only made 644 before she died, and that her friends folded the remaining ones to reach one thousand. In 1958 a statue of Sadako Sasaki was erected in Hiroshima's Peace Memorial Park. Each year on the anniversary of the atomic bombing, August 6th, children from all over Japan bring thousands of folded paper cranes to lay at the base of the statue. The origami crane has become an enduring symbol of the worldwide movement against nuclear weapons.
The United States is still the only country on earth to ever detonate atomic bombs on human beings (August 6th on Hiroshima and August 9th 1945 on Nagasaki, Japan). The U.S. has an arsenal of thousands of nuclear weapons of far greater desrtructive power than the original bombs used in 1945. The U.S. nuclear arsenal is far greater than any other of the seven nations that have nuclear weapons.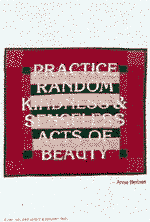 Postcard: Practice Random Kindness & Senseless Acts of Beauty
$0.75 $0.25 On Sale!
PC-PRK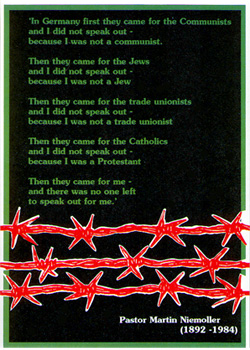 Postcard: "In Germany, first they came for the Communists..."
$1.25
PC-NQ
"In Germany they first came for the Communists, and I did not speak out - because I was not a Communist.
Then they came for the Jews and I did not speak out - because I was not a Jew.
Then they came for the trade unionists, and I did not speak out - because I was not a trade unionist.
Then they came for the Catholics and I did not speak up because I was a Protestant.
Then they came for me - and there was no one left to speak out for me." --Pastor Martin Niemoller

This quotation is widely used to voice the need for unity and supporting one another under authoritarian governments and is a popular model for describing the dangers of political apathy. Repression always begins with specific and targeted fear and hatred which soon escalates to encompass more and more targeted groups.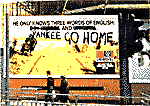 Postcard: Yankee Go Home
$0.25
PC-YGH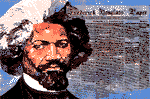 Postcard: Frederick Douglas
$0.75 $0.50 On Sale!
PC-FD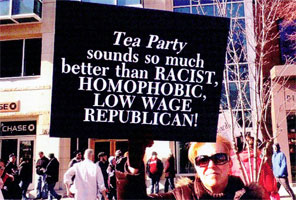 Postcard: Tea Party sounds so much better than RACIST, HOMOPHOBIC, LOW WAGE REPUBLICAN!
$1.25
PC-TP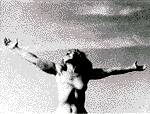 Postcard: " I am no longer afraid..."
$2.00
PC-IANLA
This photograph of Deena Metzger by Hella Hmmid has been discontinued by the publisher, Fotofolio. We purchased th last 100 copies of the postcard from them in 2023. They are only available at the retail price, not at wholesale. When these remaining postcards are sold out, they will not be reprinted by the publisher. The inscription reads: "I am no longer afraid of mirrors where I see the sign of the amazon, the one who shoots arrows. There was a fine line across my chest where a knife entered, but now a branch winds about the scar and travels from arm to heart... On the book of my body, I have permanently inscribed a tree." - Deena Metzger, 1988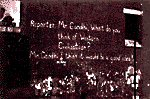 Postcard: Graffiti on wall: "Mr. Gandhi, What do you think of western civilization?" "I think it would be a good idea."
$1.25
PC-WC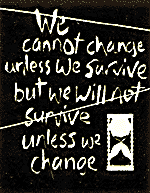 Postcard: We cannot change unless we survive. We cannot survive unless we change.
$0.50
PC-CHANGE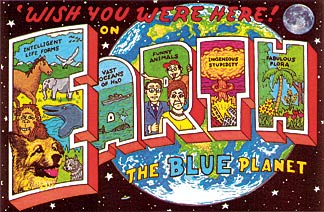 Postcard: Wish You Were Here EARTH The Blue Planet
$1.50
PC-G
a classic funny take on our home planet and its inhabitants.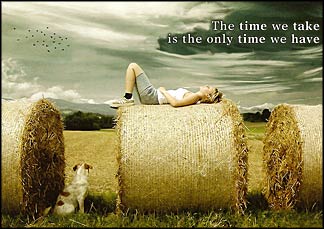 Postcard: The time we take is the only time we have
$1.25
PC-TWT
Postcard imported from Germany.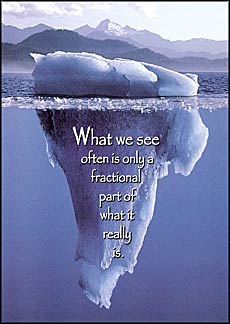 Postcard: What we see often is only a fractional part of what it really is.
$0.95
PC-WWS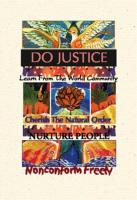 Postcard: Do Justice...
$1.25
PC-DJNF
Do Justice
Learn From The World Community
Cherish The Natural Order
Nurture People
Nonconform Freely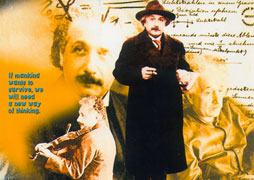 Postcard: "If mankind wants to survive, we will need a new way of thinking."
$0.95
PC-NWT
quote from Albert Einstein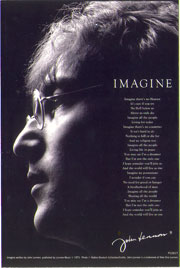 Postcard: "Imagine" song lyrics
$1.25
PC-I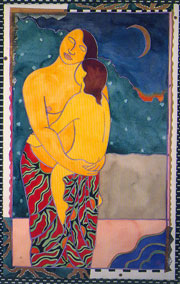 Postcard: Mother and Child
$1.25
PC-M&C
watercolor by Anna Price-Oneglia (American, b. 1951). 1992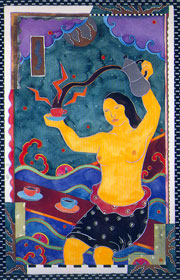 Postcard: Coffee Goddess
$1.25
PC-CG
watercolor by Anna Price-Oneglia (American, b. 1951). 1992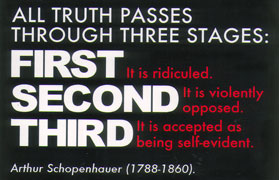 Postcard: Arthur Schopenhauer Quote
$1.25
PC-ATP
"All truth passes through three stages: First it is ridiculed. Second it is violently opposed. Third it is accepted as being self-evident." --Arthur Schopenhauer (1788-1860) • a powerful truism


Postcard: Aboriginal Artwork
$1.25
PC-AAA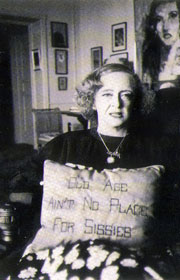 Postcard: "Old Age Ain't No Place For Sissies"
$1.25
PC-OAA


Postcard: UNICEF Photo of Twins Breast-feeding
$0.50
PC-TBF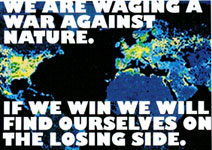 Postcard: We are waging war against nature. If we win we will find ourselves on the losing side
$1.00
PC-WAN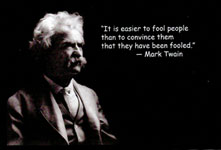 Postcard: "It is easier to fool people than to convince them that they have been fooled." --Mark Twain
$1.25
PC-MTQ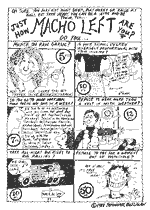 Postcard: Just How Macho Left Are You?
$1.25
PC-ML
Oh sure. You may not Hunt Deer, Play Hockey or raise pit bulls, but take heart. You can be a leftie and be tough too... do you...



Postcard: We Can Do It! (Rosie the Riveter)
$0.95
PC-WCDI
"We Can Do It!" Reprint of U.S. government WWII poster. 20"x28". Famous image of iconic woman factory worker known as "Rosie the Riveter". She was a symbol of pride, accomplishment and perseverance then and continues to be today. Original painting by J. Howard Miller, 1942.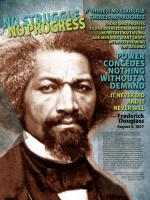 Postcard: No Struggle No Progress
$0.95
4" x 6" • union printed • 2013 • also available as a poster (P-NSNP)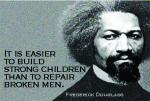 Postcard: "It is easier to build strong children than to repair broken men"
$1.25
4" x 6" • 2013 • Quotation from ex-slave, abolitionist, women's rights advocate, newspaper publisher, and orator, Frederick Douglass.
"It is easier to build strong children than to repair broken men"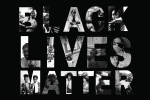 Postcard: Black Lives Matter
$1.25 $1.00 On Sale!
PC-BLM
Black & White • photograph: Andre Wagner • design: Aaron Yeboah 2014
"Black Lives Matter:" became a rallying cry which echoed across the country in 2014 in the aftermath of the police killings of Eric Garner (Staten Island, N.Y.) and Michael Brown (Ferguson, MO) and then the lack of accountability of the U.S. judicial system.
Also available as a button, code BLM, and as a sticker, code S-BLM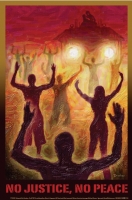 Postcard: No Justice No Peace
$0.95
PC-NJN P
2014 • painting by N.Y.C. artist Eric Drooker>mr> Inspired by the powerful protests in response to the killing of unarmed African American teenager Michael Brown in Ferguson, MO. This image speaks to people throughout the U.S. standing against police violence, judicial indifference and racism.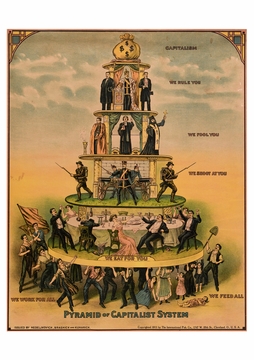 Postcard: Pyramid of Capitalist System
$1.25
4" x 6" coated card stock • Pyramid of Capitalist System, 1911
Also available as a Poster: Item # P-POC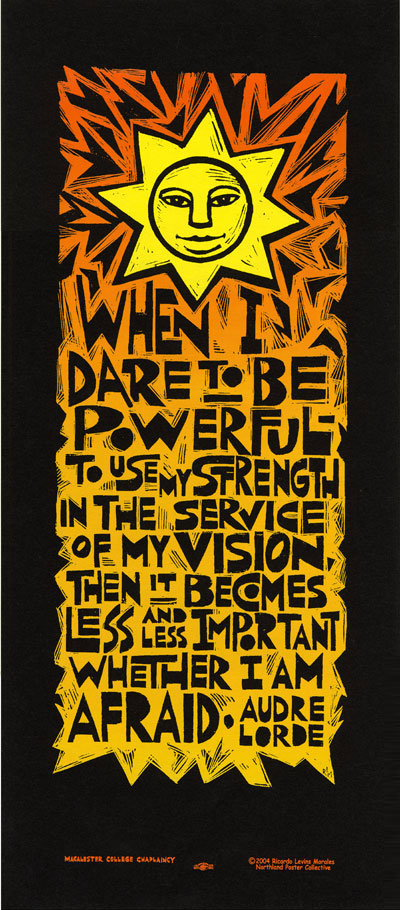 Postcard: Dare To Be Powerful
$1.25
4" x 6" Postcard • 2015 • designed by Ricardo Levins Morales • digital printAlso available as an 8" x 17" hand silkscreened poster (code: P-DTBP)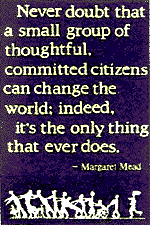 Postcard: "Never doubt that a small group of thoughtful committed citizens can change the world: indeed, it's the only thing that ever does." (Margaret Mead)
$1.25
PC-MMQ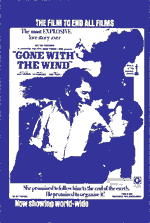 Postcard: "Gone With the Wind" with Reagan & Thatcher Nuclear Armageddon Satire Movie Poster
$1.25 $0.50 On Sale!
PC-GWTW
The classic 1981 poster spoof featuring Ronald Reagan and Margaret Thatcher as the rightwing icons in the hysterical roles they were born to play in global nuclear brinksmanship. As a poster it was a worldwide underground classic through that grim decade. Collectible, these are the last remaining copies from the original print run. Also available as a 24" x 36" poster (P-GWTW)



Postcard: Same Struggle Different Difference
$1.25
4" X 6" • 2015 • union printed on 100% recycled paper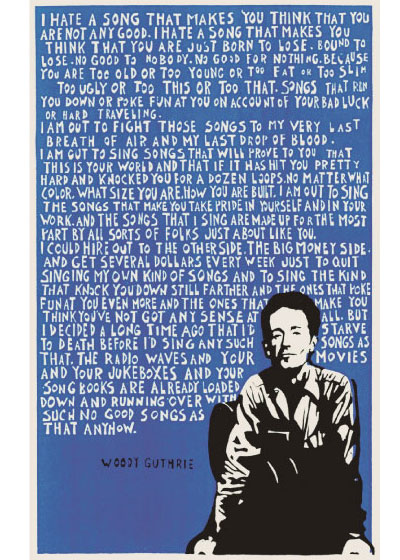 Postcard: Woody Guthrie Quote
$0.95
PC-WGQ
Woodcut design from the poster by Ricardo Levins Morales • 2012 • 4" x 6"
2012 is the 100th aniversary of the birth of Woody Guthrie. (see poster version: P-WG)
Click on title for the complete text.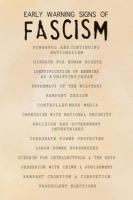 Postcard: Early Warning Signs of Fascism
$1.25 $1.00 On Sale!
Laurence W. Britt wrote about the common signs of fascism in April, 2003, after researching seven fascist regimes: Hitler's Nazi Germany; Mussolini's Italy; Franco's Spain; Salazar's Portugal; Papadopoulo's Greece; Pinochet's Chile; Suharto's Indonesia.
Today, all these warning signs are frighteningly clear right here in the United States. Snd this postcard to your Senator and member of Congress the next time you contact them. Invite friends and have a postcard -writing event. Do it monthly. Keep the pressure on this new regime.
• Also available as a 12" x 24" poster: P-EWSF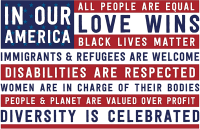 Postcard: IN OUR AMERICA ALL PEOPLE ARE EQUAL LOVE WINS BLACK LIVES MATTER IMMIGRANTS & REFUGEES ARE WELCOME DISABILITIES ARE RESPECTED WOMEN ARE IN CHARGE OF THEIR BODIES PEOPLE & PLANET ARE RESPECTED OVER PROFIT DIVERSITY IS CELEBRATED
$1.00
PC-IOA
4" x 6" Recycled cardstock • Union Printed • In response to the 2016 election, a group of Portland (OR) women decided to support an era of activism, democracy and resistance. They call themselves Nasty Women Get Shit Done PDX. Also available as a Magnet ($5), Button ($3), Poster ($10) and corrugated plastic yard sign ($15)



Postcard: God Almighty Hates Book Lerners
$1.25
PC-GAH
4" x 6" • published in the U.K. by Gathered Images • sign with Biblical scripture citations by verse and line in opposition to secular literacy by a fundamentalist zealot.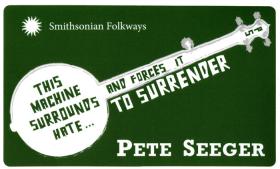 Postcard/Decal hybrid (Post-Cal): This Machine Surrounds Hate & Forces It to Surrender" - Pete Seeger
$1.25
PC-PSQ
Postcard Vinyl Screenrinted Decal Hybrid itwm can e mailed as a postcard for our recipient to use as a sticker. orit can be used as a sitcker by anyone. utdoor durbility 10 years. 3-5/8" x 6" overall size. Peel off decal size: 31/8" x 5-9/16" Union made.